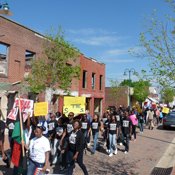 More than 100 supporters marched through downtown Jackson today to call for a full pardon of Jamie and Gladys Scott.
Stories this photo appears in:
Paroled sisters Jamie and Gladys Scott deserve a full pardon for their alleged 1993 crime, protesters argued today. A crowd of more than 100 marched this morning from Farish Street ...