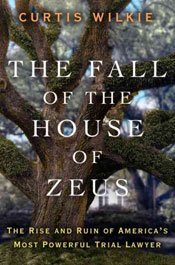 Also see: Adam Lynch's interview with Curtis Wilkie
When award-winning journalist Curtis Wilkie sets out to cover the downfall of Mississippi's foremost trial attorney, he goes at it like a neurotic terrier digging in a graveyard--with a macabre cloud of grotesque tidbits flying out over his furry back. And unlike partisans who try to twist the saga their direction, he then lets the bits fall where they may.
Wilkie, who personally knew attorney Richard "Dickie" Scruggs, unveils the complicated web that was Scruggs' network. His book, "The Fall of the House of Zeus" (Crown Publishers, 2010, $25.99), is an account born of painstaking attention to detail and exhausting interviews that no doubt contained questions such as, "How did you feel when X started rifling through your file cabinets?"
But this is not a soap-opera-style jaunt into the drama behind how federal authorities uncovered judicial corruption in Mississippi. This is, above all, a studied journalistic depiction of a longstanding state tradition of back-scratching that turned criminal.
The book describes one incident, captured on FBI tape, where Scruggs associate Tim Balducci demanded that former Hinds County District Attorney Ed Peters arrange to indict two attorneys who "'screwed (Balducci) over ... on a deal.'"
Wilkie writes that Peters replied, almost casually, that he could do this, and added that the incoming district attorney was already gearing up to indict other people who had "'tried to screw him out of a percentage of fees and things.'" Peters, who campaigned for current District Attorney Robert Shuler Smith and helped him unseat Democratic incumbent Faye Peterson in 2007, even agreed to "'have Robert with us'" when they got together with Balducci in Jackson. "'You need to meet Robert anyway,'" Peters said on the tape. "'It'll be good for you.'" Smith said this week that he was unaware of Peters' comments and needed to read the book before commenting.
Wilkie uses his book to dissect the decades-old power structure that he says Scruggs, Peters and others are part of--a network established by the late Sen. James O. Eastland, who ironically the current federal courthouse in Jackson is named after.
Eastland, Wilkie reports, helped put in place a tightly knit community of statewide lawyers with roots in the Sigma Nu fraternity at Ole Miss. Sigma Nu is a kind of Skull and Bones club for Mississippi good ole boys, containing a host of powerful individuals, both Democrats and Republicans. Its membership ranges from former Sen. Trent Lott to Ed Peters and business connectors like Steve Patterson, who helped orchestrate the corruption of Hinds County Circuit Court Judge Bobby DeLaughter, now in prison for his role in the Scruggs drama.
The system found a powerful new enemy in the U.S. Chamber of Commerce, which dedicates millions of dollars to judicial races in a successful crusade to install a corporate-friendly justice system. The Mississippi College Law Review found in 2009 that the Mississippi Supreme Court, with its many Chamber-funded justices, reversed twice as many civil plaintiff verdicts as defense verdicts from 2004 to 2008, while trial-court judges and juries were more balanced, with 310 verdicts for the plaintiff and 281 for the defense.
The book indirectly references how the Chamber and its limitless money squared off against trial lawyers, siding with openly corporate Republicans in elections. The book made clear Scruggs' belief that conservative judges had it in for attorneys who dedicated money to Democrats, and alluded to U.S. District Judge Henry Wingate's "adverse rulings" and harsh sentence in relation to the corruption trial of attorney Paul Minor, now in prison.
Wilkie also reveals how Scruggs made his enemies--many of them former friends--including his broken connections with Peters, who walked away free from prosecution, despite having been the go-between for Scruggs' people and the disgraced Judge DeLaughter, formerly Peters' assistant district attorney. Peters remained close to DeLaughter, so Joey Langston and Steve Patterson went to Peters to buy DeLaughter off on Scruggs' behalf. Peters admitted that he took hundreds of thousands of dollars from Scruggs' helpers in an effort to purchase a favorable decision from DeLaughter.
The book is infinitely better researched and written than the politically charged polemic by conservative blogger Alan Lange and former federal prosecutor Tom Dawson , "Kings of Tort" (Pediment Publishing, 2009, $27.95). "Kings of Tort" is a vent of animosity by U.S. Chamber (and Republican) apologists, and offers little of the complex reporting by reporter Wilkie.
In fact, "The Fall of Zeus" recounts how at one point Ed Peters hugged his old friend Tom Dawson during meetings with prosecutors, which included Dawson. Such camaraderie may explain why the Justice Department's Public Integrity Division back in Washington was furious at Dawson's decision to give Peters immunity in exchange for his cooperation in a corruption scandal that he made possible.
Also, where "Kings of Tort" labors to incriminate current Attorney General Jim Hood, a Democrat, by linking Hood's campaign to Scruggs' dirty money, Wilkie uncovers no connection beyond Scruggs' habit of donating to Democrats (as well as Republicans).
Wilkie also notes Republican Senate candidate Roger Wicker's attempt to link his Democratic opponent, former Gov. Ronnie Musgrove, to Scruggs through campaign loans, but points out that Scruggs' son, Zack, used to work in Wicker's congressional office and that both father and son donated heavily to Wicker--also Ole Miss Sigma Nu.
The book, to be sure, does not side with trial lawyers. Don't look for political ammo, but you will get a revealing look inside an old bi-partisan power fraternity in the state.
Curtis Wilkie will sign and read from "Fall of the House of Zeus" Thursday, Oct. 21, at Lemuria Books (202 Banner Hall, 4465 Interstate 55 N., 601-366-7619) at 5 p.m. Call ahead to reserve your copy.
Previous Comments
ID

160304

Comment

Maybe I don't read enough book reviews, but it is S.O.P. to take shots at a separate book in a review? I understand for comparison sake, but am just curious. I can't imagine Wilkie stating I should read his book because it's not an aggressive political attack book with the same topic as another piece of writing.

Author

RobbieR

Date

2010-10-13T12:59:16-06:00
ID

160310

Comment

Yes, Robbie, it is very common to compare books on similar topics in book reviews. And book reviews in publications like the NYT Book Review can be much more vicious than Adam's factual statements about the Lange-Dawson book.

Author

DonnaLadd

Date

2010-10-13T15:42:21-06:00
ID

160311

Comment

BTW, all, an interview with author Curtis Wilkie about many of the above topics will be posted shortly. Will add a link, so check back.

Author

DonnaLadd

Date

2010-10-13T15:48:06-06:00
ID

160325

Comment

Thanks for the heads up. I usually go on word of mouth by what I read and rarely peruse reviews, but I'm looking forward to reading this book.

Author

RobbieR

Date

2010-10-13T17:54:40-06:00
ID

160326

Comment

Me, too, Robbie. It sounds incredible. I was really excited to hear that a journalist the calibre of Curtis Wilkie was writing the definitive book on the case.

Author

DonnaLadd

Date

2010-10-13T19:06:28-06:00
More stories by this author
Support our reporting -- Follow the MFP.