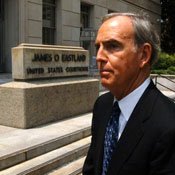 Also see: Lynch's review of Wilkie's "The Fall of the House of Zeus"
Author and University of Mississippi professor Curtis Wilkie speaks with a degree of sadness when he references the life of disgraced Mississippi attorney Richard "Dickie" Scruggs.
The former Boston Globe reporter turned Ole Miss journalism professor spent two years assembling court materials, periodicals and more than 200 personal interviews on the painful destruction of one of the state's most prominent trial attorneys. His book "The Fall of The House of Zeus" (Crown Publishers, 2010) hits stores Oct. 19.
You described the difference between the two men who you depict as the initiators of Scruggs' downfall, P.L. Blake and Tim Balducci, almost as if you marveled that two such personalities could inadvertently topple a giant.
I am surprised that Dick Scruggs was consorting with some of the people that we learned that he did. He said to me one of the last times I saw him—he was in confinement—he said, "Are you going to be able to tell people how I got mixed up with these guys?" That's one of the many questions I had to address in my reporting. I consider the book as much a political book as it is about white-collar crime. As you get into politics, you begin to see how Scruggs got mixed up with some of the people who helped get him in trouble—people in the old (Sen. James) Eastland network and people like Steve Patterson and Tim Balducci. Scruggs already had his adversaries: ... Republicans did not like him; the U.S. Chamber of Commerce did not like him; and big business obviously would not like him.
Plenty of attorneys who represent business interests—corporate defense attorneys—wouldn't like Scruggs, so he developed a lot of powerful enemies over the years. He also created enemies among people who had once been his associates, and their lawsuits against him set the stage for his downfall.
The book doesn't read like you're making excuses for him.
No. Dick Scruggs pleaded guilty. He acknowledged that he was involved in this in open court. That's a matter of record. Case closed. And the book makes no effort to exonerate him. What we try to do is explain what happened.
What is your overall assumption of former Hinds County District Attorney Ed Peters at the end of this huge book project?
I'll let the reader draw their own conclusion, but certainly, there are all sorts of questions about Peters' involvement, not only in this case but in many others. There was that one interesting colloquy in the book from an FBI recording between Balducci and Peters where they're talking about indicting some guy that Balducci feels screwed him out of $20,000, so he calls up Peters to get him indicted. I think this is questionable conduct. Peters is no longer DA, but he says, "Well, we've got a new DA coming in, and he'll take care of it." This is an FBI-recorded conversation between those two that is indicative of the way Peters operated. He was part of that old Eastland network.
Tell me your description of the old Eastland network. What's that about?
It's probably not accurate to call it the Eastland network anymore, but it continues to exist. It's got people in it that have been doing this kind of thing since the 1940s. This is an old organization. It's loose—it's not like there's a membership roll—but there are people who've been scratching each other's backs and fixing things for most of my lifetime. Eastland's been out of office for over 30 years, and dead for close to 30 years, but it lives on. It's a fact of life that we're not the only place that has old legal networks and organizations. Chicago's had one for years. There have been people who have been a part of ours for 40 or 50 years. Ed Peters is a good example. Steve Patterson is loosely connected. P.L. Blake is a quintessential player in the Eastland organization. This kind of thing does happen in Chicago, although I expect the one in Chicago is tighter and better run than the Eastland operation.
Who, in your opinion, was the biggest wrongdoer, providing it's fair to make that kind of assessment?
Several people went to prison I knew, but I don't think any of them are hardened criminals or evil people. They are people who made some very bad judgments and broke the law, and they're paying the price. But I don't think there's any evil-incarnate force here. There's just a bunch of people who've been operating this way for years, protecting friends and punishing enemies. That's pretty much what the book's all about and how Dick Scruggs was drawn into the network.
Bloggers sympathetic to the U.S. Chamber of Commerce are forever trying to tie Scruggs' behavior to alleged misbehavior by Attorney General Jim Hood. Is there a connection?
There are certainly political connections and friendships between the three of them, but I don't have any evidence that there's anything sinister between them. There was a question raised about $500,000 Scruggs gave to Balducci and Patterson to bring Hood onboard during the State Farm litigation. There are people who made inferences about that, but I have no evidence that there was anything improper between Scruggs and attorneys general (Hood and Mike Moore).
Do you see the U.S. Chamber of Commerce's influence on Mississippi Supreme Court?
There's no question but that there's an impact. You don't pour $4 million into a relatively small state without having some influence. They clearly have gained the upper hand with the state Supreme Court.
What did you think of the fact that Scruggs was almost out of the business, that he could have retired making more than $1 million a year if Katrina hadn't come along.
Knowing Dick, I find it hard (to think) that he would have ever peacefully retired. I know he thought about it. For all his wealth, he's a type-A personality. You're not a Navy jet pilot without having a lot of energy and derring-do. It's inconceivable to me that he would have retired and quietly played golf for the rest of his life. He would've always been involved in something. Maybe he would have run his own charitable foundation or become a professor, but he would've always stayed busy. I know that his friends wished he'd gotten out of the law practice when he did, but he didn't.
More stories by this author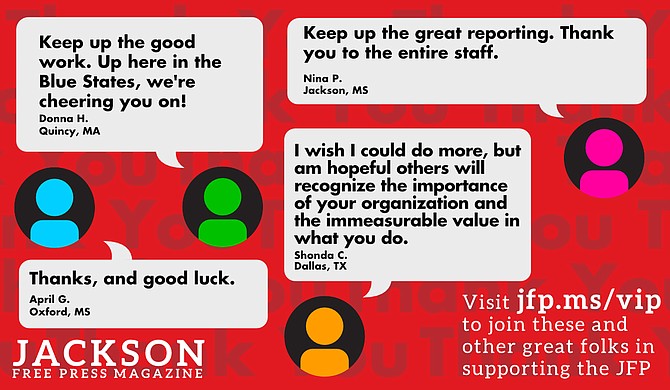 Thanks to all our new JFP VIPs!
COVID-19 has closed down the main sources of the JFP's revenue -- concerts, festivals, fundraisers, restaurants and bars. If everyone reading this article gives $5 or more, we should be able to continue publishing through the crisis. Please pay what you can to keep us reporting and publishing.