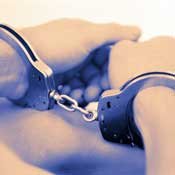 By corporate standards, the Walnut Grove Youth Correctional Facility has been a success. Since opening in 2001, the private prison has generated roughly $100 million for the companies that have operated it. The prison has grown from 500 beds to 1,500, and has expanded from holding juveniles between 13 and 19 years old to keeping prisoners until they are 22.
A new lawsuit suggests, however, that the facility is a failure on a human level.
In a class-action lawsuit filed Nov. 15, the Mississippi Youth Justice Project, along with Jackson civil-rights lawyer Rob McDuff and the ACLU's National Prison Project, condemns "barbaric" conditions at Walnut Grove. The suit, filed in U.S. District Court, presents a litany of allegations, ranging from unsafe conditions and malicious treatment by prison guards to inadequate health care and educational services.
The suit alleges that, beyond not providing adequate supervision, prison guards actually facilitate violent attacks between prisoners.
"Many correctional officers knowingly instigate fights and attacks by purposefully opening cell doors to allow youth who are in conflict to leave their cells at the same time," the suit states. "Some officers order or persuade youths to attack other youths. Many officers also facilitate attacks by intentionally leaving cell blocks unsupervised and cell doors unsecured."
In January 2010, one inmate, referred to in the suit as "John Doe," warned prison supervisors that he feared an attack by a cellmate assigned to him by guards. Prison staff ignored the inmate's warnings. The suit alleges that on Jan. 23, the cellmate raped and physically assaulted the inmate over the course of almost 24 hours before officers intervened. In August, another inmate, Christopher Coleman, requested a separation from his cellmate because of fears for his safety. The suit alleges that a prison guard later encouraged and then watched as the cellmate beat Coleman.
A massive fight that broke out Feb. 27 and nearly killed two inmates was also due to staff negligence, the suit argues. The fight started when an understaffed crew of officers in one unit of the facility failed to lock the cells of one group of inmates before letting another group out for recreation.
In other cases, the suit alleges, guards themselves use excessive force, including the use of mace, in unprovoked or malicious beatings.
The suit assails Walnut Grove's lack of proper and adequate mental-health care. Prison guards use a suicide-watch cell as a form of punishment, the suit alleges. Inmates in the cell are stripped naked except for a paper gown, confined for 24 hours a day and given only a blanket for the cell's mattress-less steel frame bed. While guards assign inmates to the suicide-watch cell despite the juveniles' protestations that they are not suicidal, they have also ignored threats by actually suicidal inmates.
In October 2009, inmate Victor Allen committed suicide by hanging himself from a light fixture in his cell. The suit alleges that staff ignored Allen's repeated threats to kill himself. Over the course of several hours, Allen cut his arm and showed it to a nurse and officer and reiterated his threat to four other officers. At one point, a supervisor ordered Allen to untie an object around his neck and told an officer to leave him alone. Staff found Allen's body found hanging two hours later, the suit alleges.
In the first half of 2010, Walnut Grove recorded nine suicide attempts by inmates, the suit states.
Staff do not dispense medications regularly and delay responding to requests for medical attention, the plaintiffs argue. They also claim that Jackson-based Health Assurances LLC, which handles medical care for the facility, violates its contract with MDOC by providing fewer mental-health employees for less time than it is contractually obligated to provide.
A request for comment to The Geo Group's corporate offices was not immediately returned. MDOC spokeswoman Suzanne Singletary told the Jackson Free Press, "We make our comments in court."
The MYJP lawsuit comes only weeks after the U.S. Department of Justice informed Gov. Haley Barbour that it was opening an investigation into conditions at Walnut Grove. In a letter dated Oct. 25, Assistant Attorney General Thomas Perez notified the governor, Epps and Walnut Grove Warden Walter Tripp that DOJ investigators would begin looking into "systemic violations of the Constitution" and "focus on the protection of juveniles from harm, suicide prevention and the provision of medical and mental health care."
A similar combination of federal investigations and civil lawsuits led the state to close it Columbia Training School for girls in 2008. In 2003, DOJ investigated conditions at the facility for female juvenile offenders and found evidence of cruel and unusual punishment, leading to a 2005 consent decree. The Youth Justice Project filed a suit in 2007 on behalf of a group of the girls, arguing that conditions at the facility had not improved.
Previous Comments
ID

161127

Comment

Mississippi's disgraceful treatment of its youth continues. Given the state's long, disgusting history, the fact that these problems continue is willful negligence from state officials, at best. And handing their responsibilities off to a private company smacks of passing the buck. How exactly do they think that privatizing youth detention centers can save money except by allowing conditions to deteriorate? MDOC is an absolute disaster. They should be ashamed.

Author

Brian C Johnson

Date

2010-11-30T13:23:57-06:00
ID

161131

Comment

Just wait, Brian. Just wait.

Author

DonnaLadd

Date

2010-11-30T15:12:49-06:00
ID

161140

Comment

WGYCF, a goldmine of despair, is no place for kids. It's known as a "gladiator school". I've been supporting an inmate at Walnut Grove for the past 4-1/2 years and have "watched" him grow up and adapt to the depraved and inhumane conditions at this facility he calls home. He's serving life. He arrived there at age 15. He says the place is like a cancer of the soul. He says he's seen and heard things he'll never forget, things he said no one should ever see, let alone someone his age. He's never been to high school, yet he longs for his innocence. We talk almost every day. For the past 4 years I've experienced through him life at Walnut Grove: violence; the constant THREAT of violence; non-existent and mediocre medical help; sexually charged environment between inmates and female guards; dishonest, brutal and vengeful officers; indifferent captains, majors and wardens; corrupt company officials; cover-ups of inmate deaths; mace attacks; inmates left to burn after the attacks; and the daily fights, stealing and predatory behavior of inmates toward other inmates; loose security; inmate-run zones; gangbanging; shabby visitation schedule and shabby treatment of visitors. And much more. From what I can tell, it's a warehouse where teenage males with raging hormones are sent for punishment, living in deprivation with nothing to do and no rehabilitative services, anger and resentment bubbling and building like a time bomb. It's a recipe for disaster (or more disaster). Rehabilitation? Non-existent. Psychological help? No way, partly because most inmates believe everything they tell the psyche doctor will be held against them and partly because there IS no psyche doctor. Without gang protection or affiliation, an inmate is screwed, literally. Even some of the officers are affiliated. Drugs? as available as on the streets. Contraband? for sex. Weapons? Most of these kids would make good ironworkers. Yes, Walnut Grove YOUTH facility (correctional n/a), is a really good place to sink millions and millions of taxpayer dollars if you are GEO where half the kids leave without a GED and a new violent criminal mindset making guaranteed repeat customers. The taxpayers paid $41 million to build a facility that a private company has mined for gold ever since on the backs of the youth of Mississippi (mainly black youth, based on the fact that I can count on two hands the number of white inmates at visitation in a room with at least 100 inmates).

Author

savebrettjones

Date

2010-12-01T10:41:18-06:00
ID

161141

Comment

A cellmate of the young man I've been helping had a similar experience to the inmate in the complaint who had activated the sprinklers to get medical attention who was then charged with a crime. Apparently necessary destruction of property for medical attention is not an isolated incident. In this case, the cellmate had a severely infected spider bite and was ignored for weeks without the antibiotic treatment he was prescribed. Unable to walk and vulnerable in GP, he was wheeled to the "hole" because the medical unit was full. Left in the hole for over a week, suffering in 24 hour isolation, in excruciating pain, in fear of losing his leg and no working panic button, he eventually resorted to starting his mat on fire to create smoke to set off the smoke alarm. It worked, the guards came, beat the crap out of him, brought him to medical, and over 2 years later as he was about to go home he received an indictment for 3rd degree arson. A jury convicted him and the judge, while admitting Walnut Grove wasn't fit for anyone, gave him the max, 3 more years at Walnut Grove. Among the many things that didn't seem to matter were his medical intake form which we obtained for trial that noted he was severely allergic to spider bites having spent 2 weeks as a child hospitalized and an employee at Walnut Grove who falsely testified that the panic buttons worked fine. The result of WCYCF unchecked negligence is that a $25 mat cost the taxpayers another $33,000 and this young person 3 more years in maximum security prison. That's on top of the $10,000 it cost to defend him and who knows how much to prosecute him. The judge and jury took it out on him and the taxpayers, not the facility at fault. I had heard from other inmate accounts that spider bites were rampant that year and many inmates had infections that they took care of themselves mainly by having other inmates squeeze the pus out in the showers while they screamed in agony. That's because immediate medical care was non-existent. This is the WGYCF that I have been exposed to and have been dealing with for over 4 years. This is a place that has contempt for the inmates, contempt for their visitors and contempt for basic human decency. When I go down there I see kids sitting at those tables, not adults that look like kids. I don't see menacing hardened criminals. I see young people and kids. Some of the kids are small, immature and I shake my head in disbelief, I just can't imagine what in the hell they are doing there. They still have baby faces, don't even shave, are short, seem to be only interested in the pile of snacks and candy piled up on the table in front of them. I'm puzzled and confused. These kids wearing stripes and MDOC shirts look like they haven't taken a shower in weeks. Kids whose whole bodies fit into their Daddy's arms, who look like they are going to cry when they leave. I say to myself, WTF? Is this the best we can do? Whatever these kids have done to society, society has done worse to them and this is the lesson they have learned at Walnut Grove.

Author

savebrettjones

Date

2010-12-01T10:42:30-06:00
ID

161148

Comment

Thank you for your comments, savebrettjones. These stories are heartbreaking. Jesus said, "Whatever you do unto the least of my people, you do unto me." The state of Mississippi is allowing children to be neglected, assaulted, and raped under its supervision. It is allowing a corporation to profit from these horrors. What would Jesus do about that?

Author

Brian C Johnson

Date

2010-12-01T16:01:11-06:00
ID

161190

Comment

well Brian, as far as I know Jesus already died on the cross so I think the rest is up to us. And praying won't be enough I fear.

Author

savebrettjones

Date

2010-12-04T16:11:53-06:00
More like this story
More stories by this author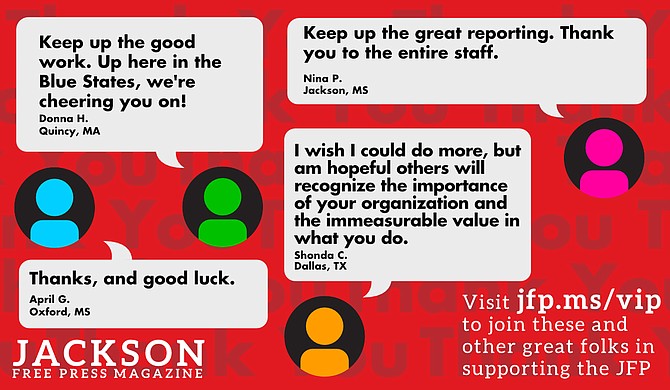 Thanks to all our new JFP VIPs!
COVID-19 has closed down the main sources of the JFP's revenue -- concerts, festivals, fundraisers, restaurants and bars. If everyone reading this article gives $5 or more, we should be able to continue publishing through the crisis. Please pay what you can to keep us reporting and publishing.