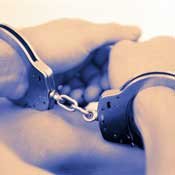 The proposed set of rules would include a bond schedule for suspects charged with crimes and outline arrest procedures.
Stories this photo appears in:
A proposed set of rules to govern the state's criminal cases would streamline court proceedings and make cases fair for prosecutors, defendants and victims, Mississippi College School of Law professor ...
The day after the Southern Poverty Law Center filed a lawsuit against a Hinds County-run youth detention center, the county denied SPLC and its clients access to the children detained ...
Juvenile-justice advocates filed a lawsuit last week that raises questions about how much the Hinds County Board of Supervisors knew about alleged abuses at the county's Henley-Young Detention Center.
Read the report here.
States are examining their laws for trying children as adults for certain crimes. More than 20 states have reformed or are reforming their policies in the last five years, according ...
Politics
The House took up a controversial bill demanding that state and local law-enforcement officials request proof of residency status from civilians they suspect are undocumented immigrants. The version of Senate ...
Justice
By corporate standards, the Walnut Grove Youth Correctional Facility has been a success. Since opening in 2001, the private prison has generated roughly $100 million for the companies that have ...