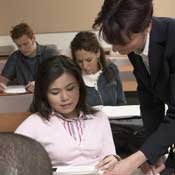 Mississippi schools with higher rates of poverty and percentages of African American students generally have fewer of the highly qualified teachers that improve test performance, a study released yesterday finds. The study, "An Analysis of Teacher Quality in Mississippi," uses state education data from 2007 and 2008 to find that a greater percentage of highly-qualified teachers is associated with better test scores, lower rates of poverty and a lower African-American student population.
Community-organizing group Southern Echo commissioned the study from the Institute for Democracy in Education at Ohio University.
The study's authors divided Mississippi's school districts into quartiles based on the percentage of teachers meeting the federal designation of "highly qualified," defined as having a bachelor's degree, fully licensed to teach their subject area and have demonstrated proficiency in that subject, either through college credit or an exam.
The study found that school districts with the highest percentages of highly qualified teachers, students performed better on high-school subject area exams and had higher levels of proficiency in language arts and math in grades third through eight.
The quartile of districts with the lowest percentage of highly qualified teachers had 81.5 percent of students in poverty and an 89.5 percent African-American student population. By contrast, the highest quartile had a 51.8 percent poverty rate and 39.5 percent African-American population.
Mike Sayer, senior organizer and training coordinator for Southern Echo, said that the study showed that budget cuts threatened to exacerbate the state's education problems.
"The results of this study should make it clear that slashing the public-education budget and freezing teacher pay raises will exacerbate the critical teacher shortage," Sayer said in a statement. "To recruit highly qualified teachers for every classroom will require a pay scale competitive in this region. If the state slashes MAEP funding and freezes teacher wages, then the state must take responsibility for the under-performance of students in the classroom."
In his 2012 budget proposal last week, Gov. Haley Barbour recommended saving $18 million for one year by foregoing the automatic salary increases that teachers typically receive based on their years of service. Barbour also recommended changing the way that the state pays teachers, switching from a pay scale based on years of experience, advanced degrees and training to one based on student test scores.
"We need to reexamine how we compensate good teachers," Barbour said in his budget proposal. "Teachers who achieve better results for students should be paid more."
More stories by this author