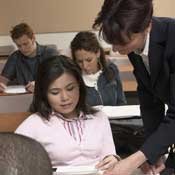 Stories this photo appears in:
Business
A report on Mississippi's economy lists education, work-force development, and strengthening and expanding the economy at the top of a list of goals for the state's future.
Education
The Mississippi Youth Justice Project will host "How to Advocate at the School Board" Saturday, Jan. 8, to help parents and students become more involved in their school districts.
Education
Jackson Public Schools has one month to improve the way it educates special-education students, according to a Mississippi Department of Education's Nov. 22 decision. The decision states that JPS fails ...
Education
State Medicaid officials are optimistic that a long-delayed program to help school districts with some of their administrative costs could begin reimbursing schools soon. Speaking at a budget hearing last ...
Education
Three Jackson public elementary schools earned the Mississippi Department of Education's "Star School" status—the state's highest rating for school performance—in accountability results MDE released Friday.
Education
Next month, a panel appointed by Gov. Haley Barbour will deliver a report on the possibility of consolidating some of Mississippi's 152 school districts. Barbour tasked the Commission on Education ...