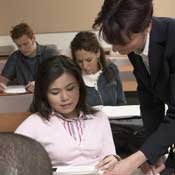 Jackson Public Schools has one month to improve the way it educates special-education students, according to a Mississippi Department of Education's Nov. 22 decision. The decision states that JPS fails to provide appropriate special-education services to students with behavioral and emotional disorders, a violation of the federal Individuals With Disabilities Education Act, referred to as the IDEA.
The Department of Education's order follows an administrative complaint by the Mississippi Youth Justice Project and Disability Rights Mississippi filed. The two advocacy organizations submitted their complaint--which is an administrative action and not a lawsuit--on behalf of nine JPS students on Sept. 8, 2010.
The students, who all have classifications requiring some special education, have not received counseling and psychological services that they need to address their behavioral and emotional problems, the groups argued. As a result, teachers and administrators have effectively punished them for their disability with suspensions and transfers to the district's alternative school for relatively minor infractions. Officials from MDE investigated their allegations over the course of four days in October before issuing their findings.
At a press conference yesterday, representatives from the advocacy groups hailed MDE's report as confirmation of their allegations and the first step in improving conditions for students with disabilities.
"Too many students with disabilities in Jackson Public Schools are denied special- education services," MYJP Managing Advocate Jed Oppenheim said. "When these students don't receive the educational services to which they are entitled under federal law, they endlessly cycle between the alternative school and the juvenile detention center."
JPS Public Relations Director Peggy Hampton did not immediately return a request for comment.
While the complaint and finding identify a handful of students, the complaint and MDE's decision both find "systemic" failures in JPS that could impact all special-education students in the district with behavioral or emotional disorders. Roughly 3,000 students, or 10 percent of the district, have special education IEPs, or Individualized Education Plans which is a document, specific to each special education student, detailing the student's disability and what special instruction or services he or she should receive. The group of students affected by the finding is some subset of those 3,000, Oppenheim said.
MDE's decision gives the district 30 days to identify all the students under the systemic violations and to start providing appropriate counseling, psychological and other services. The department also instructs JPS to begin regular reviews and updates of affected students' education plans and provide training to administrators on proper discipline under the federal IDEA law.
The Mississippi Youth Justice Project and Disability Rights Mississippi would also like JPS to speed up its adoption of a new discipline approach called Positive Behavioral Intervention and Supports. An alternative and response to zero-tolerance discipline policies, PBIS emphasizes keeping students in the classroom as much as possible while addressing the roots of behavior problems. JPS has plans and federal funding to implement PBIS across the district over the course of five years. The district is now in its second year of implementing PBIS.
Wendell Hutchinson, managing attorney for Disability Rights Mississippi, said that it was likely that other districts in the state are also not providing adequate services to their special education students. The JPS complaint was a response to the number of cases his group received from Jackson students.
More like this story
More stories by this author