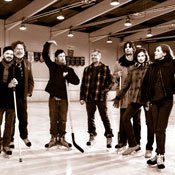 The New Pornographers have long been the pop-music snob's dream band. It is a guitar pop band, but is also able to seamlessly add layered instrumentation and multipart harmonies when necessary. The band is blessed to have three distinct vocalists in A.C. Newman, Neko Case and Dan Bejar, whose voices mesh strongly. Similarly, all three clearly have an ear for pop music. Because of these traits, letting any New Pornographers' album wash over you for the first time is a treat. Regretfully, subsequent listens reveal a lyrical shallowness, or denseness, depending on how you look at it, that ultimately dooms the record. Their new album, "Together," is no exception.
While technically always being a super group, the New Pornographers have become even more super in recent years. That is because the past half-decade has led to the rise of both Neko Case and A.C. Newman as solo artists. Case's 2006 "Fox Confessor Brings the Flood" and 2009's "Middle Cyclone" both rank among the best albums released in their respective years. Newman's solo work, 2004 "The Slow Wonder" and 2009's "Get Guilty," similarly have raised him into the upper echelon of contemporary singer-songwriters.
The band has always been largely Newman's project, as he is the chief songwriter on all New Pornographers records. Indeed, his sound and influence is all over "Moves," the opening track on "Together." It is a quality pop song with an orchestral guitar sound and pounding piano chords keeping time. The song typifies the two aforementioned strengths of The New Pornographers: the vocals and the production. Unfortunately, it also captures their lyrical weakness.
The subsequent songs continue to offer little lyrical substance. Good pop music lyrics, almost by definition, provide either instant accessibility or interesting abstraction, things that Case and Newman exhibit in droves on their solo records. "Together" offers uninteresting abstraction. The lyrics of lead single, "Your Hands (Together)," are as unnecessarily dense as the title itself. Neither the music nor repeated listens clarifies references to silver bullets and playing "scientist and vandal sweating either way." Like reading a contortedly symbolic book or watching an overly plotted movie, you have to truly be invested in it to bring yourself to care. And The New Pornographers, as talented as they are, just aren't quite good enough to do that.
Granted, some of the songs have a catchy enough chorus or strong enough instrumentation to sink under your skin. The final three songs, "Valkyrie in the Roller Disco," "A Bite Out of My Bed," and "We End Up Together," are all affecting songs that will have you singing along. Unfortunately, you will not have any idea what your words mean.
The New Pornographers have released another solid album in "Together." It is tight musically and continues to exhibit an assured pop sound. However, it's not tight enough to overcome its lyrical inaccessibility. This fact sadly assures that while it will gain some kudos in the coming weeks and months, it will ultimately be forgotten in the pop music canon.
More stories by this author
Support our reporting -- Follow the MFP.