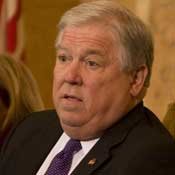 In response to Attorney General Jim Hood's statement yesterday that his office needed additional time to assess the constitutionality of the health-care reform bill signed by President Barack Obama earlier this week, Gov. Haley Barbour released a statement restating his intention to sue the federal government. To date, 13 states have joined a lawsuit to stop the legislation.
"The states in the lawsuit already have determined 'the healthcare reform law violates the U.S. Constitution with its unprecedented attempt to regulate an individual's choice not to engage in economic activity,' Barbour wrote in his response to Hood.
Oregon Attorney General John Kroger is among those who disagree, saying that the challenges are without merit and would be a "waste of taxpayer dollars," reports The New York Times.
Writing in The Herald Tribune in Sarasota, Fla., one of the states that joined the suit, Robert J. Martineau, distinguished research professor of law (emeritus) at the University of Cincinnati, also disagrees: "[T]he courts have long held that the government can accomplish indirectly what it can do directly. In the case of health insurance, if the government could require individuals to participate in a government health insurance program paid for by a tax on individuals, it can achieve the same result by requiring the purchase of private insurance. The fine for not purchasing the private insurance is nothing more than the equivalent of a tax to pay for the insurance.
"It is certainly ironic that those who are most vociferous in support of the free market system are the ones challenging the use of that system to achieve a government objective."
Martineau also cites the commerce clause, and the extent that the federal government is already involved in America's health care via Medicaid, Medicare and the Veteran's Administration as reasons why the suit challenging the law's constitutionality will fail.
Read Barbour's letter to Hood.
Previous Comments
ID

156931

Comment

Thanks Ronni M for links to articles from scholars of the law and with their opinions. For some reason, too many of our so called leaders in this state don't learn from history. The people fighting the hardest against this bill are those who have good insurange policies, a good job and money to pay for services, even if thier Medicare runs out. The people who are the pawns, the foot soldiers for the wealthy are running with threats of a "revolution" and preparing for a march with guns on April 15th. It's Chicken Little all over again. These folks know that the sky is not falling; however, they are pleased that they are able to convience others, those who are without the ability to explore the facts, keep their positions of prestige, wealth, power and control.

Author

justjess

Date

2010-03-26T10:09:37-06:00
ID

156934

Comment

I think all of this could be rather costly to the Republicans this November. A while back, it was believed that the Republicans could pick up a number of Senate and House seats. Now, I believe the numbers could either be stagnant or even lose seats. This will be especially true if Obama and supporters of reform really hit home the idea of, for example, repealing the bill would cause a reopening the doughnut hole for prescription drugs and taking away the high-risk pool for pre-existing conditions.

Author

golden eagle

Date

2010-03-26T11:35:38-06:00
ID

156935

Comment

I agree. I think the wing nuts who are already avid supporters will applaud and the more moderate folks will see it for what it is, a blustering waste of money and time.

Author

Izzy

Date

2010-03-26T11:53:53-06:00
ID

156936

Comment

The Governor really never expected Hood to join in this charade, and I'm sure already has in place a team of attorneys willing to donate their services to continue this onslaught of undeserved outrage against health reform. Isn't that how it always works? And at the end of the day, good hard-working people like you me, regardless of color, get screwed by big insurance. Happened to me just yesterday.

Author

lanier77

Date

2010-03-26T12:43:08-06:00
ID

156938

Comment

Martineau makes what seems to me to be the crucial point, which is that the requirement to buy individual insurance is really a tax policy. It is essentially saying that if you meet condition X, we will provide you with tax credit Y. Considering how often our tax code has provided such incentives, I don't see how the plaintiffs could possibly prevail on constitutional grounds.

Author

Brian C Johnson

Date

2010-03-26T15:38:55-06:00
ID

156939

Comment

This seems like 1861 all over again.

Author

DrumminD21311

Date

2010-03-26T20:09:28-06:00
ID

156940

Comment

DrumminD- off your meds again? lol

Author

BubbaT

Date

2010-03-26T21:32:40-06:00
ID

156941

Comment

Hey Bubba, that's a personal attack. JFP censors those.

Author

DrumminD21311

Date

2010-03-27T16:50:47-06:00
ID

156942

Comment

Or at least they are supposed to...

Author

DrumminD21311

Date

2010-03-27T16:55:05-06:00
ID

156943

Comment

Drummin: In your case it's a legitimate question. I'll allow it. ;-P

Author

Todd Stauffer

Date

2010-03-28T15:09:04-06:00
ID

156946

Comment

Did anyone see Barbour with Gov. Ed Rendall on National TV yesterday? (Sunday) 3/28/10

Author

justjess

Date

2010-03-29T09:56:59-06:00
ID

156947

Comment

Justjess, see the current top story.

Author

Ronni_Mott

Date

2010-03-29T11:02:04-06:00
ID

156951

Comment

Ronni M., Do I feel "IGNORANT?" Yes I do. You know, I didn't read the link; thinking it was the long link we posted on last week. Thanks for reporting Ronald Regan's Solicitor General's comments. That was priceless. I sincerely hope that MS will stand behind Jim Hood and that he will no enjoin the Gov. in this act of ignorance. How can you convience a man/woman who hasn't any coverage or one who has loss a job and insurance benefits that your State needs to sue the feds to make sure that you don't have any. OR better still, how about a Gov. of a state refusing to accept funds for an extension of un-employment. Just asking.

Author

justjess

Date

2010-03-29T12:51:17-06:00
More stories by this author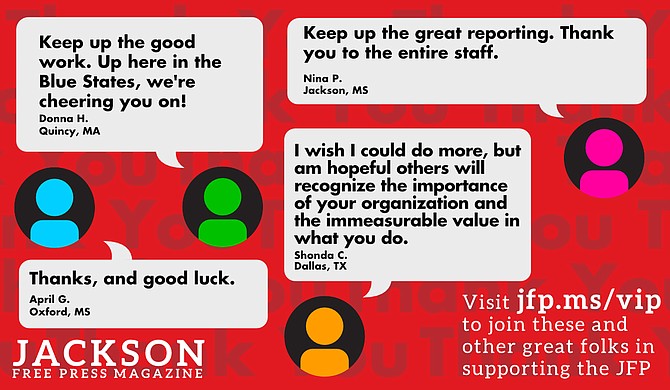 Thanks to all our new JFP VIPs!
COVID-19 has closed down the main sources of the JFP's revenue -- concerts, festivals, fundraisers, restaurants and bars. If everyone reading this article gives $5 or more, we should be able to continue publishing through the crisis. Please pay what you can to keep us reporting and publishing.