Veronica Rodriguez, the outspoken mother of Wesson Attendance Center student Ceara Sturgis, a lesbian, says that the Itawamba School District is mistreating senior Constance McMillen by cancelling the high school prom rather than allowing her to attend with her girlfriend. "They knew what they were doing when they canceled the prom," Rodriguez said Thursday about the Itawamba school district's decision. "They're trying to make that girl some kind of exile. They're trying to turn her whole class against her so they'll pressure her to drop her case."
The Itawamba County School district in Fulton, Miss., decided to cancel Itawamba Agricultural High School's April 2 prom in response to a request by the American Civil Liberties Union of Mississippi to allow same-sex dates to attend the event. The ACLU filed suit this week (PDF) on behalf of McMillen, demanding the school district to reinstate the prom, stating that the district violated her First Amendment rights.
Rodriguez supported her daughter's decision to wear a tuxedo for her yearbook picture in the fall of 2009. When principal Ronald Greer and other faculty members made the decision to not include Sturgis' photo in the yearbook, Sturgis and the ACLU launched a challenge to the Copiah County School District, demanding a legal basis for its decision to refuse Sturgis her spot in the book.
The latest ACLU lawsuit in Itawamba states that McMillen hoped to attend the prom with her girlfriend but is prohibited because of the district's policy stating "all prom dates must be of the opposite sex."
The suit also states that McMillen wanted to wear a tuxedo to the prom, but IAHS Superintendent Teresa McNeece informed McMillen that only males could do so.
Sturgis' story made national headlines. Read Adam Lynch's cover story on Ceara Sturgis.
A previous verision of this article erroneously stated that the ACLU of Mississippi and Ceara Sturgis filed a lawsuit against the Copiah County School District. The ACLU and Sturgis challenged the district by asking for legal basis in their decision for not allowing Sturgis to appear the yearbook. We apologize for the error.
Previous Comments
ID

156718

Comment

If you replaced "lesbian" with "black" in either of these stories, I think most people (even in Mississippi) would be outraged. So, why is this ok? Why has such blatant bigotry risen to the surface? I have a pretty good idea why...

Author

Tre

Date

2010-03-12T09:38:11-06:00
ID

156720

Comment

Too bad they can't just cancel all the proms. What a waste of limited school resources.

Author

Mark Geoffriau

Date

2010-03-12T10:12:24-06:00
ID

156721

Comment

Baquan says: "What if a group of guys go together or group of girls go together - or as we used to say "stag", because they can't find dates - are we to think they are gay?" I don't understand this comment. What are you trying to say?

Author

ellen

Date

2010-03-12T10:51:48-06:00
ID

156724

Comment

I appreciate your honesty about being uncomfortable with it, baquan. That's fine. You don't have to be comfortable with it or accept it, you just have to be tolerant. Just because somebody disagrees with something doesn't mean it can't exist. I wouldn't say that homosexuality is a personal choice though. Why would anybody choose to be discriminated against? If you are attracted to people of the the same sex, that isn't a choice. There is no changing that either. Anybody that "was" gay, but is now reformed is living a lie.

Author

Tre

Date

2010-03-12T11:56:22-06:00
ID

156725

Comment

good post, Tre

Author

Izzy

Date

2010-03-12T12:37:14-06:00
ID

156726

Comment

I understand what you are saying now, Baquan. Thanks for clearing that up. I believe the issue here is that Constance's girlfriend is a sophomore at this high school. Typically proms are for juniors and seniors, and lower classmen are not allowed to attend unless accompanied by a junior or senior date. The school is clearly discriminating against Constance and other homosexual students who wish to enjoy an evening at the prom with their girlfriend/boyfriends just as their heterosexual counterparts are allowed to do.

Author

ellen

Date

2010-03-12T12:51:14-06:00
ID

156727

Comment

BTW, here is the full ACLU press release from yesterday: ACLU SUES MISSISSIPPI SCHOOL THAT CANCELED PROM RATHER THAN LET LESBIAN COUPLE ATTEND OXFORD, MS - The American Civil Liberties Union filed a lawsuit today against a Mississippi High School that has canceled the prom rather than let a lesbian high school student attend with her girlfriend and wear a tuxedo. In papers filed with the U.S. District Court for the Northern District of Mississippi, the ACLU asks the court to reinstate the prom for all students at the school and charges Itawamba County School District officials are violating Constance McMillen's First Amendment right to freedom of expression. "All I want is the same chance to enjoy my prom night like any other student. But my school would rather hurt all the students than treat everyone fairly," said McMillen, an 18-year-old senior at Itawamba Agricultural High School in Fulton, Mississippi. "This isn't just about me and my rights anymore - now I'm fighting for the opportunity of all the students at my school to have our prom." Today's filing comes after the Itawamba County School District issued a statement yesterday saying it was canceling the prom, following a letter from the ACLU and the Mississippi Safe Schools Coalition demanding that it reverse its decision to prohibit McMillen from attending the prom with her girlfriend, also a student at IAHS. McMillen said that before that happened, school officials had told her that she could not arrive at the prom with her girlfriend and that they might be thrown out if any other students complained about their presence at the April 2 event. "Itawamba school officials are trying to turn Constance into the villain who caused the prom to be cancelled, but that just isn't what happened. She's fighting for everyone to be able to enjoy the prom," said Kristy Bennett, Legal Director of the ACLU of Mississippi. "The government, and that includes public schools, can't censor someone's free expression just because some other person might not like it." In today's legal complaint, the ACLU asks the court to reinstate the prom for all students, charges that the First Amendment guarantees students' right to bring same-sex dates to school dances, and cites cases holding that other parties' objections don't justify censorship. The ACLU also said that the school further violates McMillen's free expression rights by telling her that she can't wear a tuxedo to the prom. "It's shameful and cowardly of the school district to have canceled the prom and to try to blame Constance, who's only standing up for herself. We will fight tooth and nail for the prom to be reinstated for all students," said Christine P. Sun, Senior Counsel with the ACLU national LGBT Project, who represents McMillen along with the ACLU of Mississippi. The ACLU will ask the court in the next few days to grant McMillen a preliminary injunction ordering the school to reinstate the April 2 prom, let McMillen and her girlfriend go to the prom together and let McMillen wear a tuxedo to the event. McMillen is represented by Bennett and Sun, as well as by Norman C. Simon and Joshua Glick of Kramer Levin Naftalis & Frankel LLP. The case name is Constance McMillen v. Itawamba County School District, et al. Also named as defendants are Superintendent Teresa McNeece and Itawamba Agricultural High School Principal Trae Wiygul and Vice Principal Rick Mitchell. Additional information, including a copy of today's legal complaint, is available at http://www.aclu.org/lgbt-rights/fulton-ms-prom-discrimination. There is also a Facebook group for people who want to support McMillen, "Let Constance Bring Her Girlfriend to the Prom," at http://www.facebook.com/pages/Let-Constance-Take-Her-Girlfriend-to-Prom/357686784817. ###

Author

DonnaLadd

Date

2010-03-12T14:19:20-06:00
ID

156736

Comment

Gay Power! We're here, we're queer, get used to it!!!!

Author

DrumminD21311

Date

2010-03-12T20:11:52-06:00
More like this story
More stories by this author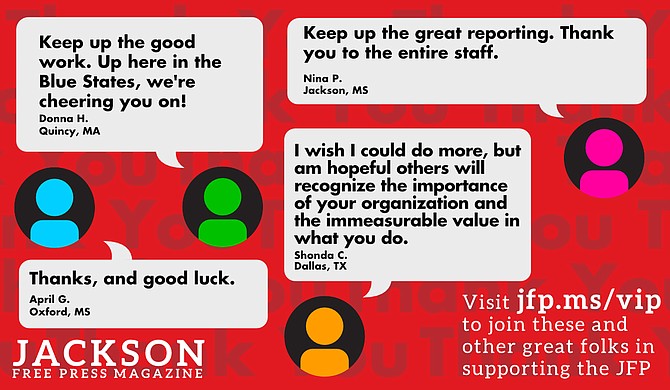 Thanks to all our new JFP VIPs!
COVID-19 has closed down the main sources of the JFP's revenue -- concerts, festivals, fundraisers, restaurants and bars. If everyone reading this article gives $5 or more, we should be able to continue publishing through the crisis. Please pay what you can to keep us reporting and publishing.