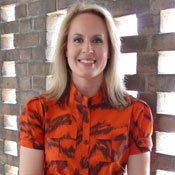 Every year, the Jackson Free Press chooses a delightful slate of Chicks We Love to spotlight, and each year we host the JFP Chick Ball to raise money to fight domestic abuse in our community. This year, we decided to put them together in a new and fun way to help seed the new legal fund at the Center for Violence Prevention. We chose 15 fabulous and strong women to name as "honorary chicks" for the July 24 Chick Ball; 11 of those women are featured in this issue as the Chicks We Love. (The other four " Julie Skipper, Nicole and Susan Marquez and Beth Poff-were recently featured in the JFP and are already lifetime "Chicks We Love.") We will honor all 15 of these women at a special Chick-a-Boom reception in Hal & Mal's brew pub at 7 p.m. Saturday during the Chick Ball. Tickets to the reception are $50, and include food and cocktails. Call 601-932-4198 or see http://www.jfpchickball.com for ticket info.
Amanda Barbour
by Kate Brantley
Amanda Barbour has been a Jacksonian for only six years, but during that time, she has made her mark on the city by using her legal expertise to help those in need. The petite blonde attorney is quick to describe herself as opinionated and outspoken.
Moving to Mississippi was not something Barbour planned. A native of Houston, Texas, Barbour, 38, attended law school at George Washington University in Washington, D.C. She met her husband, Robert Barbour, a native of Yazoo City, while in the city. After living in Houston and Birmingham, the Barbours moved to Jackson to settle down, and she began working at Butler Snow Commercial Litigation Group.
Barbour is a former member of the Junior League of Jackson, where she played an important role in securing funding for the Mississippi Children's Museum.
Now she contributes to the community by making sure people from every walk of life can obtain legal counsel; she does pro-bono work at the Hinds County district attorney's office. She also volunteers with the Mississippi Volunteer Lawyers Project Legal Line, giving free legal advice over the phone.
"Obviously, what happens in the criminal-justice system is important, whether you are the victim or the defendant. And both sides deserve the best legal advice and legal representation, and sometimes people need help," she says.
Barbour says she has a busy schedule but values Jackson's slow pace because it allows her to spend more time with her sons, Harlan, 6, and Fritz, 4. She adds that she wants other chicks to know that balancing a family and career is doable, especially in a city with a small-town feel like Jackson.
"Just know going in that if you want to have a career and a family, it's possible," Barbour advises working women.
Kimberly Campbell Buck
by Lacey McLaughlin
It isn't often that Kimberly Campbell Buck gets to take a vacation, but when she does, she prefers to use that time helping others.
Buck, who is an attorney and state representative for District 72, took time off this month to help organize and run the Junior League of Jackson's arts camp for inner-city youth.
"All children, not just the fortunate ones, are the future, and my thing is that we will have a better society if every child is healthy, afforded a great educational opportunity, job training, and if every child has the opportunity to learn a trade or go to college," said Buck, an active Junior League member.
Buck, 38, grew up in Jackson, and says no matter how far she went, she knew she wanted to back and use her skills to improve the city. She earned a bachelor's degree in English from Mississippi State in 1994, a master's degree in organizational communications from Auburn University in 1994, and a law degree from the University of Mississippi in 2001. She has worked as a policy analyst for the city of Jackson and clerked for the state Supreme Court. Buck has served as a state representative since 2008, and is an associate attorney at the Knight Mozingo & Quarles law firm in Ridgeland.
"I remember when I was graduating from high school, and so many times you'd hear people say 'don't forget about Jackson,'" she recalls. "When I did come back, and thought I had laid some ground work, I was ready to serve my community"that was my platform. I am a native daughter of the (city with) soul. I am here to serve. I feel as though this is the community that created me, so who better to represent them?"
Buck also is a member of Leadership Jackson, the Magnolia Bar Association and the Mississippi Bar Association. She is married to District 5 Rep. Kelvin Buck and has two daughters and three stepchildren.
Tiffany M. Graves
by Lacey McLaughlin
Mississippi wasn't always on Tiffany M. Graves' radar, but as an attorney working to improve the lives of children and families, she has found an outlet in the south for her passion.
Graves, 35, who says she was an outspoken teenager, decided she wanted to be a lawyer while attending high school in Winchester, Va. She earned a bachelor's degree in political science and Spanish from Hollins College in 1997 and a law degree from the University of Virginia in 2006, where she met her husband, Jackson native James Graves III.
"I never thought I'd live in Mississippi. I knew I would stay in the South, ... but the transition was better than I expected," Graves says. "... I've met a lot of wonderful people who have welcomed me."
During college, Graves started doing child-advocacy work with students who had disabilities or discipline issues, ensuring that they were receiving adequate care in schools. At her law school graduation, she won the Herbert L. Kramer/Hebert Bangel Community Service Award for completing more than 300 hours of pro-bono work.
When she came to Jackson in 2006, Graves completed a one-year fellowship at the Mississippi Center for Justice where she worked on juvenile justice and children's mental-health issues. During her fellowship, she realized her legal expertise with children was needed.
"I didn't know much about Mississippi before I came here, aside from hearing about its negative racial history," Graves says. "... When I started to look into (juvenile justice) issues, that opened up the door to look up more about Mississippi in general, and I thought, 'That's where I need to be.'"
Graves is now a lawyer with the Corlew, Munford & Smith law firm. She volunteers with the Mississippi Women Lawyers Association, and she serves on the executive board of the Jackson Young Lawyers.
Pam Johnson
by Katie Bonds
In the early '80s, while she was a news editor for the News-Commercial in Collins, Miss., Pam Johnson heard about how hospitals and police mistreated rape victims. That experience inspired Johnson to help form a forensic nursing program across the state, now known as the Sexual Assault Response Team.
Johnson grew up in Mount Olive, Miss., but has lived in Brandon for the past 24 years with her husband, Bill. She attended the University of Southern Mississippi earning a bachelor's degree in English and secondary education. She has two children, Kasey and Abe, and two grandchildren, Kalyn and Perrin. When asked about her hobbies, Johnson laughs.
"My work is my hobby," she says.
She recently became the executive director of the Mississippi Commission on the Status of Women, which she helped lobby the state to create in 2001. Johnson will help gather information on policies and procedures that affect women in Mississippi, and report the findings to the Legislature. Its mission is to improve the quality of life for women by creating a dialogue about the status of women in Mississippi.
Johnson previously was executive director of the Mississippi Association for Justice from 2007 to 2010 where she helped raise awareness about the challenges that female lawyers face.
Johnson also serves on the board of directors of the Center for Violence Prevention. She was board president from 2005 through 2006. Johnson helped get the Center back up and running after it underwent a full renovation in 2005.
Mary Ann Kirby
by Kate Brantley
Mary Ann Kirby knows her strengths. As a member of Comcast Spotlight's advertising team, Kirby has found ways to use her marketing skills to garner exposure for her clients and for charitable organizations around the Jackson community.
"I am a promoter. I can figure out a way to elevate and escalate exposure," she says.
Kirby, 43, grew up in Yazoo City and Jackson. She attended the University of Mississippi and earned her bachelor's degree in fashion merchandising and marketing. She pursued a career in fashion until she found that her enthusiasm and energy were a perfect combination for a career in radio and television marketing.
"I've developed lots of relationships throughout the community- "business leaders"and it's just great fun," she says of her current job. "Plus, it gives you the opportunity to help someone's business grow. It's great to watch people win."
Kirby also uses her marketing skills to promote charities like the Mississippi Animal Rescue League and the Diabetes Foundation of Mississippi. Following the death of Heather Spencer, who was killed by her boyfriend in 2007, Kirby founded the Heather Spencer Memorial Fund, which morphed into Heather's T.R.E.E., a charity benefitting domestic-abuse victims. A portion of the funds go to the Mississippi Coalition Against Domestic Violence, and the rest goes toward grants to help women escape violent situations.
In her free time, Kirby likes attending her 7-year-old son Parker's baseball games and enjoying the restaurants and clubs in Jackson.
"I love Jackson; I love what it has to offer," she says. "I love the smallness of it despite the fact that it's the state capital."
Lisa Paris
by Angelyn Irvin
"Mississippi is like the best gumbo you've ever eaten," says local painter Lisa Paris. "You never know what you'll get in each spoonful."
Although Paris was born in Nancy, France, she calls the south home. Her father, a U.S. Air Force lieutenant, and her mother, both Mississippi natives, moved from France to Greenwood, Miss., in March 1960, shortly after their daughter was born.
Paris discovered her interest and talent for painting early in life, in a kindergarten art class. What began as an after-school hobby became her career. After graduating from Ole Miss in 1981 with a degree in art and interior design, Paris moved to Jackson and established a name for herself as an artist.
Her paintings, which mainly feature vibrant landscapes and still lifes, hang in several local galleries including the Jackson Street Gallery in Ridgeland and Interiors Market in Jackson.
"Jackson inspires me with its natural beauty. We have a great climate, lots of natural lighting," Paris says.
In addition to appreciating the city's beauty, Paris embraces its culture. "I've decided to make Jackson my home versus anywhere else," she says. "Jackson has diversity, and Jackson has some of the greatest people I've ever known."
Paris, 51, a wife and mother of three, takes great pride in her role as Jacksonian, and even more so in being a woman and a mom.
"(Women) are encouragers and nurturers," she says. "We're the wind beneath the wings of most success. Behind every good man is a great woman."
Courtney Peters
by Brooke Kelly
Only one year after graduating from the University of Mississippi in 2005 with a bachelor's degree in art, Courtney Peters opened her own business, Mosaic Interiors.
Peters, 27, always showed an interest in art. At age 7, the Jackson native took pottery lessons at Pickenpaugh Pottery in Madison. Today, in addition to her interior-design work, Peters has a pottery line, Courtney Rae Designs, sold in stores.
She credits her mother, Cathy Chinn, an interior designer, for inspiring her. Peters often followed her mother to client's homes and construction sites as she was growing up.
Peters says it's impossible to decide what she loves most about her job. "I love every aspect," she says, from going to markets to talking with clients about pieces for their homes.
If asked to choose between pottery and interior design, she says, "I couldn't live without either." Peters' prefers lived-in spaces with depth and character, and believes everything doesn't always have to be new.
Many customers come to Peters for her edgy style. "A lot of people are looking for ... unique statement pieces," she says.
Peters' store continues to expand with a line of upholstered furniture premiering in September. She also wants to take on more residential and business design projects.
Peters serves as secretary of the Fondren Association of Businesses and is a member of the Junior League. She lives with her husband, Sam, and their dog, Lucy.
Carol Burger
by Tom Allin
Throughout her life, Carol Burger has held many impressive titles. But there's one that is a little less obvious: troublemaker.
As a student at Tougaloo College in the 1960s, Burger, a native of Carson, Miss., was involved in the Civil Rights Movement, working primarily on voter registration in Canton.
"It wasn't an easy time in Mississippi," she recalls. "There was so much fear among people of color. We were young students, and a lot of people saw us as radicals"simply because we were from Tougaloo, and we had the audacity to be out there-"so they saw us as troublemakers."
Now as the current president and CEO of the United Way of the Capital Area, Burger's work focuses on keeping people out of trouble by implementing early-education, dropout-prevention and financial-stability programs.
Burger, who declined to give her age, says her involvement in the Movement strengthened her ties to Mississippi. "I knew I had made a commitment to my home state to make it to be the best place to live as it could possibly be," she says.
Prior to working at the United Way, Burger taught elementary school for 15 years in Collins, Hattiesburg, Pass Christian and Picayune. She was the first African American to teach in Pearl River County.
In 1995, Burger took her current job. Under her leadership, the organization was one of 15 national United Way chapters to receive grants from the AT&T foundation to decrease the Jackson area's dropout rate, which Burger aims to cut in half by 2018.
Burger says she enjoys listening to the blues (not singing it, she emphasizes) and taking on just one more title: grandmother.
Betsy Bradley
by Sarah Bush
Betsy Bradley wants to make Jackson an even more beautiful place. A Greenville native, Bradley first moved to Jackson to attend Millsaps College where she received her bachelor's in English in 1984. She then earned her master's degree in English from Vanderbilt University in 1986.
After graduating from Vanderbilt, Bradley returned to Jackson where she taught English literature at Millsaps for two years before becoming the curator of education at the Mississippi Museum of Art. In 1991, Bradley became the community arts director of the Mississippi Arts Commission, and four years later she became MAC's executive director. After 10 years with the arts commission, she became the director of the Mississippi Museum of Art in December 2001.
Bradley, 48, is passionate about bringing an eclectic mix to the museum, from regional and local art, to national and international art that Jacksonians may not otherwise have access to. Her job allows her to enjoy the artistic process.
"I get to work with these brilliant artists, and then I get to watch people stand in front of the work and react to it"sometimes being literally brought to tears," she says.
The renovation of the parking lot between the museum and the Mississippi Arts Center is a project Bradley is particularly excited about. In September, a project will begin to turn the lot into a garden and green space that Bradley hopes people will use as a social meeting place.
Bradley aspires to let art touch other's lives the same way it has touched her own.
"For me, art is a very spiritual experience, and I really love all types of art. ... t takes me out of the vocabulary of day-to-day life and lifts me to another place," she says.
Bradley lives in Fondren with her children, Martha and William, and her husband, Robert Langford, director of Operation Shoestring.
Brandi White Lee
by Kimber Thomas
Brandi White Lee had her share of injuries when she was a high school athlete, but thanks to an encouraging therapist she was able to get back on her feet.
"I had a fantastic therapist while in high school that rehabbed me and got me back to playing soccer, and I said: 'This is what I want to do,'" Lee says. "... My mom is a nurse, and I saw her go through school when I was in school, and it inspired me to help people."
White, 31, grew up in Jackson, graduating from St. Joseph Catholic High School in 1997. After graduating, she attended Mississippi State University on a varsity soccer scholarship where she earned a bachelor's degree in kinesiology and fitness management and her master's in physical therapy from University of Mississippi Medical Center Lee interned at Mississippi Physical Therapy in 2001. She liked watching people take their first steps after an injury, sharing joy and laughter with patients, and seeing them get back on their feet. She currently is the rehab director at Medicomp Physical Therapy in Flowood.
"Seeing people walk again for the first time and being able to do things for themselves, ... whether it's playing golf or being able to dress themselves, ... it gets me every time," Lee says.
When not helping patients or performing community outreach and wellness seminars, Lee spends time volunteering for numerous civic organizations including Stewpot Community Services, Habitat for Humanity and the Leukemia Lymphoma Society. She has also been an active member of the Jackson Arts and Music Foundation board since 2006 and serves as the organization's volunteer coordinator for special events.
Lee is just as enthusiastic about Jackson as she is about her job. Her father, Hal White, co-owns Hal & Mal's with his brother, Malcolm, and Lee's dedication to Jackson stems from watching her dad's enthusiasm for the city.
"Jackson is the place to be. Don't run when things get hard. Stay here because the people of Jackson need us. I love it. Anything Jackson, I'm for it," Lee says.
Lee and her husband, PJ, live in Brandon. The couple is expecting their first child.
Shirley Tucker
by LeeAnna Callon
Shirley Tucker believes Jackson's success depends on strong leadership. As executive director of leadership development for the Greater Jackson Chamber Partnership, Tucker, 44, is doing her part to prepare strong leaders.
"I found my niche here working at the chamber because the chamber is directly involved in improving the community," says Tucker, a Jacksonian for more than 20 years. "That's always been my attitude: Be a part of positive change."
Tucker oversees the Leadership Greater Jackson program, which consists of men and women from the metro Jackson area who display leadership skills and a desire to improve the community. The program helps develop their skills for community engagement. The program also has a youth group, Youth Leadership Jackson, consisting of metro-area high school sophomores and juniors.
Tucker is also a member of the advisory board for Habitat for Humanity and is involved with the Minority Capital Fund of Mississippi, the Junior League, Delta Sigma Theta Sorority Inc. and the National Children's Study at University of Mississippi Medical Center.
Tucker says she tries to limit her activities so she doesn't get overwhelmed. Married for 19 years with three children, she says she makes her family her first priority.
The Greater Jackson Chamber Partnership, she says, encourages its members to get out and be involved. "We are a volunteer organization ourselves, so we also try to give back to the community."
Though she encourages local youth to venture beyond Mississippi, she always encourages them to come back. "I think leaving the state gives them a different perspective and a better appreciation for our city," Tucker says. "I think we take for granted what we have here until we travel other places."
More like this story
Support our reporting -- Become a JFP VIP.
The news business has changed dramatically in the past year, and we need your help more than ever to keep bringing you important stories about Jackson and the Metro. Become a JFP VIP with an annual membership or you can Sign up as a monthly supporter. Thanks for anything you can do to empower our journalism!