The Jackson Free Press created the JFP Chick Ball in 2004 for two reasons: to raise education about and money to fight domestic abuse in Mississippi; and to showcase women musicians and artists to a diverse audience. The JFP Chick Ball is designed to be affordable so that anyone 18 or older can contribute to this very vital fundraiser. The cover charge is only $5, but we offer many fun ways to raise more money once guests are inside the event (from a game alley to a huge silent auction).
Everyone age 18+ welcome. Call event coordinator ShaWanda Jacome at 601.362.6121 ext. 16, or e-mail [e-mail missing], to donate or get involved.
Proceeds of the 2010 JFP Chick Ball will go to the Center for Violence Prevention in Pearl. In the past, the JFP Chick Ball has raised seed money for a batterer's intervention program to help stop domestic abuse and bought the shelter a new minivan. This year, we are raising money for a legal fund to help families get to safety and stay there. Please help us.
Cheers to the JFP Chick Ball sponsors (and remember you can sponsor for as little as $50):
Diva ($2,500 and up)
• CARE Medical Clinics
Goddess ($1,000 and up)
• Professional Staffing Group
Queen ($500 and up)
• Mississippi Breast Center/Phillip B. Ley, MD, FACS
Princess Level ($250 and up)
• Staffers Inc.
• Richard Schwartz and Associates
• Katie McClendon
Chick Level ($50 and up)
• Magnolia Roller Vixen
• Tom Head
• Donna Parks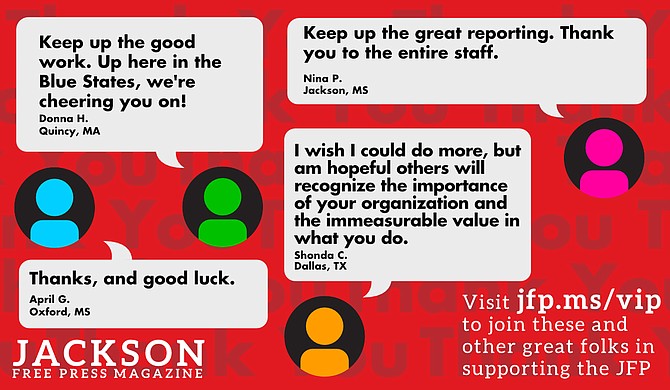 Thanks to all our new JFP VIPs!
COVID-19 has closed down the main sources of the JFP's revenue -- concerts, festivals, fundraisers, restaurants and bars. If everyone reading this article gives $5 or more, we should be able to continue publishing through the crisis. Please pay what you can to keep us reporting and publishing.