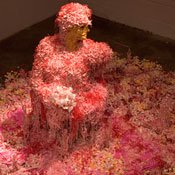 Julia A. Fenton recalls a couple viewing one of her exhibits: They bent their heads together and discussed the image in front of them, she says. The husband said he saw a toothed vagina that wanted to destroy him. The wife looked at the image and disagreed. She saw her girlhood and all her unexplored dreams.
Fenton makes grown men cry. Women often thank her. She examines gender and gender taboos through sculpture. Fenton is a feminist, both as a political activist and as a practicing artist. She's unapologetic about making people squirm, urging them to confront their definitions of what it means to be feminine.
She's also a Mississippi native. Fenton grew up in Jackson, but her family spent time in all corners of the state. Her father, Dr. Al Gray, was an epidemiologist with the state Health Department. One sister was born in Hattiesburg, another in Greenville. Fenton was born in Tupelo. She attended Millsaps College and graduated at the top of her class in 1958.
As a founding editor of the international publication Art Papers, Fenton has played a pivotal role in promoting artists and issues in the southeast. She's been part of the Atlanta, Ga., art scene most of her adult life, and her work has appeared in invitational group exhibitions as well as solo shows. Fenton also a curates art in the lobbies of the Emory University School of Medicine where she chooses art that challenges convention assumptions about the human body.
Fenton will discuss her work and life Feb. 5 at Millsaps College. She spoke to the JFP by phone.
What makes your work feminist?
I'm interested in how we develop meaning and how we know what we know. Our ideas about what is "female" is made on a subconscious level. It's hard to change those perceptions. A whole lot of decisions are not based on reason.
I'm interested in how we can change the situation of women. Domestic violence is on the rise. We need to train policemen. Women get charged a lot of times because they are secondary aggressors. He pulls a gun; she hits him with a frying pan. He has a bump on his head; she ends up in jail.
I'm also interested in women slave traffic in the United States for the sex trade. Some (women) are shipped here from Asia and Mexico. This includes young girls. Atlanta has one of the largest instances of that. It's kept undercover and out of sight.
Tell me about your art.
I do work in such a way that it unsettles people. They need to be unsettled a little bit. I use materials that are considered taboo. I use a lot of toys. I collected a lot of plastic toys handed out at McDonald's and Burger King. Sometimes I've painted them gold and pink. I have used honey and beeswax. I go at it from a lot of different angles. If (viewers) get mad, they have to confront that.
And you also use blood?
Yes. Mary Douglas, an anthropologist, did a lot of work on taboo material. Everything we produce in a female body is taboo. Men sweat, and it is sexy. Men mark territory by peeing on it. Some people still get upset when women breast feed babies in public. Menstrual blood is something we truly don't like to deal with, men or women.
Your work is controversial. Have people ever protested or made a fuss?
On an individual level, yes. Some of my early work affected people. The first installation I had at Emory was complicated. One of my husband's friends—my husband was on the faculty at Emory֖came out, got down on his knees and cried. He said, "I didn't know you hated me." That was when I realized art could be powerful.
It is difficult for me sometimes to find places to exhibit my work. It's difficult to sell it. It's not exactly censorship. There's a lot of antsiness. And at one school, the faculty didn't want me coming because they were afraid the work had menstrual blood.
What school was that?
(Laughing) I'm not saying. It wasn't a school in Mississippi.
What message do you want to get across in your talk?
More and more, the population of young women doesn't understand what happened before to know where they are now. Have you read "Half the Sky" by Nicholas Kristof? One hundred million women are missing in the world. The death rate is pretty high for little girls. Women are not valuable enough to nurture. We don't talk about it.
I try to make my work powerful enough to make them uneasy, change them enough to cause a shift in the world. A lot of men get threatened and think I hate them. I don't hate them. I was married for 30 years and loved my husband. It's that they have the power.
We need a shift.
Julia Fenton will give the Howorth Lecture at 11:30 a.m. Friday, Feb. 5, in the Ford Academic Complex at Millsaps College. For more information call 601-974-1334.
Previous Comments
ID

155751

Comment

I would love to see her work. But where are men marking their territory by peeing on it?? Atlanta?

Author

WMartin

Date

2010-02-04T10:30:20-06:00
More stories by this author
Support our reporting -- Become a JFP VIP.
The news business has changed dramatically in the past year, and we need your help more than ever to keep bringing you important stories about Jackson and the Metro. Become a JFP VIP with an annual membership or you can Sign up as a monthly supporter. Thanks for anything you can do to empower our journalism!