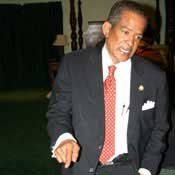 Leave it to Frank Melton to live among strangeness even after his death.
The latest saga began for us the night we saw a tweet about a WJTV report by Ross Adams breaking the news that the new owners of Melton's former northeast home at 2 Carter's Grove were facing a zoning issue for their "activity and conference center."
The city, Adams reported, had said that 2 Carter's Grove is not zoned to be a conference center, and that the new owner had not applied to rezone it.
This is the house, of course, that the late mayor almost lost because he hadn't paid his property taxes; that he had added a huge addition to without reporting it; where he had built a long pool underneath his bedroom that he claimed was the exact same size as the gargantuan room above; where multiple young male adults and adolescents (and a felon or two) lived with him although he wasn't a certified foster parent; where he got drunk and showed off his guns to me as young people walked in and out of the room; where he liked to hang out in what he called the "batcave."
It is also the house where I spent quality time in 2006 getting to know some of the young people, observing a bizarre cast of characters and watching then-JPD Police Chief Shirlene Anderson cleaning up the kitchen after dinner.
Apparently, the new owner, Joyce Properties LLC—or Joyce Caracci to be more exact—had sent out a press release about a grand opening of the newly renovated Melton mini-mansion for Friday, Dec. 10.
In addition, an artist out of New Orleans, Stephan Wanger, had his own press release on PR wires announcing that his mosaic of the St. Louis Cathedral, "Journey of a Reverie," would be unveiled at the re-opening of 2 Carter's Grove.
Wander wrote that his studio is next door to Joyce Caracci's son's Little Vic's Gelateria at 1912 Magazine St. in New Orleans. She and her now-deceased husband, Vic Caracci, had spent their 50th wedding anniversary in his native Sicily, at Parcomuseo Jalari, where mosaics are a big deal. Thus, Wanger wrote, Caracci planned to name the new Jackson community center "Jalari" to honor her memories of Sicily.
Needless to say, I had to return to Melton's home.
As I drove past the wide-open iron gate (the one I had peered through as Melton showed me his JPD ID one day to prove it was OK, really it was, for him to carry a weapon), I noticed that a new gravel parking lot had been added in front of the house next to where the JPD Mobile Command Center used to sit when not in use.
I arrived during the blessing of the home; Caracci had by then revised the "activity center" story, pointing out that the artist had misspoke, and that it is her private residence, or one of them. Looking around I realized that, certainly, a woman's touch had arrived to Jalari, with elaborate window treatments and lots of floral arrangements, not to mention a guest book.
People serving food and helping out were wearing polo shirts with a Sta-Home Health & Hospice logo; it was my first inkling that Caracci and her family had started and own the state's largest home-health agency, which is now run by her children.
Melton's old basement game room is now renamed "The Bottom Line" with a blood-red pool table, a glass-fronted cabinet filled with liquor bottles and a small shrine to Melton sitting amid Christmas lights. To the left of the shrine shelf sits an undated United Minority Media Association Inc. "Development Award" presented to "Frank E. Melton, President, TV-3 Inc., Jackson, Mississippi" for "National Youth Management." To the right is a framed printout of cartoonist Marshall Ramsey's goodbye cartoon to Melton, along with Melton's city business card and that JPD ID signed by then-Chief Shirlene Anderson.
In the game room, Caracci told me that the house is zoned correctly; that she intends to have guests (including employees) stay over as she does in her other home (located a block away; her family has several homes in the Riverwood subdivision).
When reporter Adam Lynch, who was there officially instead of as a ghost-hunter, interviewed Caracci, she said of Melton:
"He was trying to do a good job," Caracci said of the late mayor. "He had a good heart. A lot of people didn't like the way he did things, but he was a good neighbor. The children he had here never bothered the neighborhood. I admired him for taking his time with disenfranchised children. Many people wouldn't have taken that time. I know a lot of people didn't like him, and he thought rules were made for somebody else, but we all have our quirks."
When Adam asked her about her new parking lot—which Chris Mims of the city had said earlier was a clear zoning problem—Caracci said it was all good.
"It's not a public parking lot. It's a parking lot for my friends and guests. ... The public will not use it," she said.
Walking throughout the house—twice—I saw Meltonian ghosts in every direction. There was the spot where I interviewed the scared teenager at the end of the long pool, who told me about how Melton took him in. Up the stairs was Melton's huge bedroom where I spent most of my time in the home looking at pictures of his "kids," arguing with him at a small table, looking at his gun and badge collection that he showed off to me while smelling like booze. The red phone by his bed—the one he called his "murder hotline"—is gone. So is his dog, Abby, who died just before he did in May 2009. So is the king-size bed. Now the room is a large meeting room; on Friday, it was filled with food buffets.
I wandered alone into the video room with its rows of big recliners and large projection screen. It hadn't changed much.
I passed through the "batcave"—Melton's old office overlooking the backyard where I interviewed him with Christopher Walker lying on the sofa in the living room with his girlfriend. Now it's just a sitting room with pretty flowers.
The kitchen made me smile. It's more done up—is that new tile?—but it's not a lot different from when I interviewed the kids as they made dinner, or when I sat at the kitchen table and had dinner next to then-defense attorney Robert Shuler Smith on the event of the Albert "Batman" Donelson murder trial.
The Caraccis are a colorful family in their own right—Vic's brother was the notorious Bourbon Street nightclub owner Frank Caracci—but I'll tell you one thing: They ain't got nothing on Frank Melton.
Reporter Adam Lynch contributed to this story.
Previous Comments
ID

161332

Comment

Great Article, Donna and Adam. I saw the picture spread of the old Melton home in the CL last week. I was fine with the new owner's concept and all of the very tasteful renovations to include a simple fact: the place was clean - even the pool! The very last picture was the basement with a framed picture of melton's famous last words "...the Bottom Line." It is a difficult task trying to figure out why anyone would want to keep the melton spirit alive. Even his "wife" was trying to get rid of certain items that many would hold dear. He all but killed Jackson and many of the young people with whom he claimed fatherhood. The "dead past" should "bury its dead."

Author

justjess

Date

2010-12-21T10:24:14-06:00
Support our reporting -- Follow the MFP.