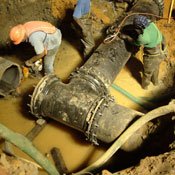 Also see: Jackson Singled Out for Bond 'Lobbying'
UPDATED
Members of Jackson's state legislative delegation today called on Gov. Haley Barbour to authorize a $6 million state bond issue for water infrastructure that has sat in limbo since the Legislature approved it earlier this year, perhaps tying it to support for Barbour's special-session project that goes before the Legislature Friday.
In a press conference at the state capitol this morning, Rep. Earle Banks and Sen. Alice Harden urged Barbour, who sits on the state Bond Commission that oversees municipal bond requests, to use his influence to approve the bond issue.
The Legislature approved Jackson's $6 million request as part of a large bond package, H.B. 1701, earlier this year. In an unusual move, legislators inserted a paragraph into the bill requiring the city to submit an application for the bonds to the Mississippi Development Authority, which is not typical for municipalities in the state. City officials, unaware of the new requirement targeting Jackson, did not submit an application, and on July 12, the three-member Bond Commission, composed of Barbour, Attorney General Jim Hood and State Treasurer Tate Reeves, postponed action on the city's request. City officials have since asked MDA for additional information about the application process. Apparently, no application or application template exists for the purpose, and the city has written a letter asking for what should be included in the application.
Banks and Harden, along with Jackson Reps. Mary Coleman, Credell Calhoun and Alyce Clarke, Rep. Walter Robinson of Bolton, and Jackson Sen. Hillman Frazier, called on the city to send an application to MDA. The legislators, all Democrats, reserved most of their energy for criticizing Barbour and the Bond Commission for not supporting much-needed improvements to the city's water system.
Barbour has called a special legislative session for Friday to pass an incentives package, including $15 million in bonds, for an economic-development project in the state. Harden argued that the project would be a greater drain on state finances than the water improvements, which would focus on the area surrounding the state Capitol.
"Why is he asking us to approve an additional $15 million in bonds when Jackson only (requested) a loan, that the Legislature approved, for $6 million?" Harden said. "I am incensed that the governor would even ask us to do another bond. … I just think that the governor has his priorities all wrong."
Members of the Jackson delegation meet with Barbour tomorrow to discuss their request. Banks said that his support for the special session project may depend in part on Barbour's support for Jackson's bond request.
"Depending on what commitment we can get from the governor, it may (determine) how some of us vote on this legislation," Banks said.
Banks would not say definitively that he would vote against Barbour's requested incentive package, but said he "may not vote for it."
"I'm kind of tired of voting for bonds if I can't get the bond money for Jackson," he said.
At a press conference today, Barbour maintained his position that Jackson should seek alternative forms of funding to repair its water infrastructure. Yesterday, members of Jackson's legislative delegation urged the governor to use his influence to approve $6 million bond issue that lawmakers had promised the city, and criticized the governor for his willingness to provide the out-of-state company with a $45 million bond issue.
"The city of Jackson can borrow $80 million from the Health (Department) revolving fund and $80 million from the DEQ revolving fund, versus $6 million is all they can borrow from the state bond. The $6 million from the state bond costs more per year to pay off than if they borrowed two and a half times as much from the revolving fund," Barbour said.
In an Aug. 16 letter Jackson Mayor Harvey Johnson Jr. wrote to the governor, he said the city has already borrowed $14 million from the state's revolving fund in the past, but would continue to seek alternative funding solutions in addition to the $6 million interest-free loan from the legislature.
More stories by this author
Support our reporting -- Follow the MFP.