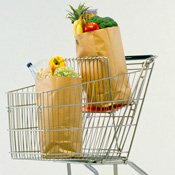 The city of Jackson is set to dedicate $50,000 to transforming a former Kroger on Raymond Road into a Vowell's Marketplace. The new grocery store, a franchise of the Mississippi-based Vowell's chain, will bring 50 jobs and $10 million in sales to the city, said John Michael Holtmann of Duckworth Realty, which brokered the deal.
"Kroger shut doors in 2007, and it's taken some time, due to the investment of getting one of these stores open," Holtmann said. "The Vowell family is taking a substantial investment into that area and into Jackson."
City leaders will celebrate the store's reopening with a press conference tomorrow at 11 a.m. City spokesman Chris Mims said that if approved by the city council, the $50,000 will serve as reimbursement for equipment and facility renovations. The reimbursement comes from the same U.S. Housing and Urban Development grant funds that the city has awarded to smaller businesses for storefront improvement and equipment purchases. Those grants have typically been under $15,000, but City Council recently approved larger grants for companies that employ more than 30 people.
Restaurant Happenings
Burger joint Cool Al's is extending its weekend hours, staying open until midnight Friday and Saturday. The restaurant will also serve bottled beer.
The Food Network television show "The Best Thing I Ever Ate" featured Keifer's Restaurant last night. The show, which features chefs celebrating their favorite dishes, followed Jackson native Cat Cora to Keifer's for a meal that included the restaurant's gyro and cottage fries.
Grand Opening Celebration, With Cigars
Havana Smoke Shoppe, which opened in April, is hosting a grand-opening celebration this weekend. Owners Bill and Sharron Stephens of Brandon will host a free cookout, with music by the Under Discussion Band from 4 p.m. to 8 p.m. on Friday. Saturday, Olga's Restaurant provides appetizers, and Johnny Crocker brings music from 3-8 p.m.
Previous Comments
ID

159497

Comment

I am super duper happy that my folks in south jackson are getting that grocery store! I am happy for Tony Yarber's constituents and happy to see that kind of progress over there. I know Marshand fought to keep that Kroger open, but business is business. Tony I know me and you bumped heads on the pay raise issue, but this is what I like to see! Good job on that fella! As far as Cool Al's staying open until 12am on Friday's and Saturday's? Man, a tear just rolled down my face from shear joy! Do you know how bad I want one of those things and its about 10:30pm on a weekend night? I know it ain't healthy, but I will roll with the turkey burger, with sauteed onion, mushrooms and jalapeno's - yes indeed! Last but not least - Cat Cora, nice lady - glad she put the 'sip on the map, but Keifer's gyro as the best one she has ever ate? C'mon man - that's an insult to a grub connoisseur such as my self! She has traveled world wide and to every major metropolis in this country? Maybe she did it to get more people here? I hope that's what it was? But all of this is truly wonderful and exciting news, glad to hear all of it.

Author

Duan C.

Date

2010-08-25T06:37:42-06:00
ID

159501

Comment

Yea... & thanks to Vowell's. No offense, but I need more options for grocery shopping near my house than the Pig....

Author

lanier77

Date

2010-08-25T08:56:24-06:00
ID

159604

Comment

There's also another choice out there... www.aisleate.com This is an online grocery store that delivers to Jackson and the surrounding area. It's great! I have used them twice now.

Author

ConcerningJackson

Date

2010-08-31T14:58:43-06:00
ID

159608

Comment

I live not even a mile from Cool Al's. I love their veggie burgers.

Author

golden eagle

Date

2010-08-31T20:10:52-06:00
More stories by this author
Support our reporting -- Follow the MFP.