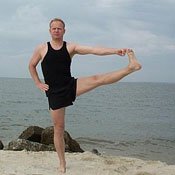 In the early 90s, Magnus Eklund began taking yoga to ease his back pain, but the peace of mind he experienced inspired him to share the practice with others.
"With yoga, it's a combination of strength and balance and flexibility," he says. "But it's also a way to calm a mind into a more of a peaceful state and obtain a mind-and-body connection."
Eklund, a native of Motala, Sweden, is a massage therapist, yoga teacher, massage workshop instructor and owner of a massage studio, Mind & Body Inc., in Jackson. He is also the organizer of "Yoga for Non Violence-108 Sun Salutations," a fundraiser for the Center for Violence Prevention on Saturday. CVP works to end domestic abuse through its women's shelter, by offering legal assistance and other services to victims, and through a batterer's intervention program.
A salutation is a series of 12 yoga postures performed as a set. During the event, participants repeat the series 108 times. Eklund is encouraging anyone who does yoga on a routine basis to attend. Attendees are not required to complete all 108 salutations, but should stay for the entire event, which will run about two hours.
Eklund, who is in his 40s, came to Mississippi in 1994 to attend college at the University of Southern Mississippi. He earned a degree in sports science from the Lillsyed Sports Institute of Higher Learning in Stockholm, Sweden.
After working as a massage therapist in Gulfport for several years, he moved to Jackson earlier this year to be with his wife, Casey Purvis, who is a freelancer for the Jackson Free Press.
"Yoga for Non Violence-108 Sun Salutations," is Saturday at 10 a.m. at the Arts Center of Mississippi. Participants can donate money from pledges or pay the minimum donation of $25. Instructor Chris Timmins will lead the event. Register here.. For more information call 601-932-4198.
More stories by this author
Support our reporting -- Follow the MFP.