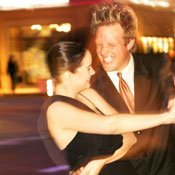 After work today, stop by Joyflow Yoga (7048 Old Canton Rd., Ridgeland) for a free Sun Salutation class at 5:45 p.m. to get ready for the Sun Salutations benefit for the Center for Violence Prevention August 7. Once you're rejuvenated, go flex your mental muscles at the "Dinner and a Quiz Show" at Rainbow Whole Foods (2807 Old Canton Rd.) at 7:30 p.m.; tickets are $13, $11 for members in advance and $16, $14 for members at the door. If you'd rather shake your booty, go to a folk-dance lesson at 7:30 p.m. at the Contra Dance at The Commons (719 N. Congress St.) and then watch Sound Wagon perform at 8:30 p.m.; $5 donations. Or, head to ArtRemix at the Mississippi Museum of Art (380 S. Lamar St.) from 6-11 p.m. with performances by Sherman Lee Dillon, John Paul, Keith & the One Four Fives and Those Darlins; tickets are $20, $15 for members in advance and $25, $20 for members at the door. In the mood for a weekend getaway? Take a trip to the Ground Zero Blues Club in Clarksdale to catch the "The Most Southern Weekend on Earth," a two-day celebration of all things Southern with concerts by Robert Belfour, Jimbo Mathus and Kevin Gordon on Friday; and True Revue and Mose Allison on Saturday. Tickets are $20 tonight, $30 Saturday or $40 for both nights.
Wake up early Saturday to go catch the RCA Black Rodeo at 8 a.m. at the Mississippi Coliseum (1207 Mississippi St.) (also at 2 p.m. for those who like to sleep in), then go stretch your bunions with another free sun salutation training class at noon at Butterfly Yoga (3025 N. State St.). If you'd rather in get some community service, attended the East Village Neighborhood clean-up at Williamson and Prosperity streets at 8 a.m. The clean up is at the site of a new residential development. Lunch will be provided; volunteers are required to register--the first 15 will receive gift certificates.
Spend the rest of your day enjoying music starting with the Grassroots Blues Festival at Elliot Field starting at noon with performances by Louis "Gearshifter" Youngblood, Ben Payton and L.J. Echols. Proceeds benefit Action Communication and Education Reform, Inc. Stop by Hal & Mal's later to see the Natalie Kirk Experience then make your way down to Fire at 9 p.m. to jam to the Glitter Boys. From there, walk over to Martin's to catch the Furrows at 10 p.m.
Sunday, start your day seeing the three ensembles performing as part of the Mississippi Improv Alliance's Summer Sunday at 2 p.m. at The Commons at Eudora Welty's birthplace (719 N. Congress St.); $5 donations. Then, if you're feeling artistic, join or watch open-mic poetry at Afrika Book Cafe. Later, benefit from a summer evening in Jackson at the appropriately named Dog Days of Summer free outdoor concert at F. Jones Corner (303 N. Farish St.) from 6-10 p.m.
Need more options? See the JFP Music Listings. Visit the JFP's Best Bets for more of what's happening this weekend, or go to the JFP's event calendar to see a complete listing of community and JFP sponsored events.
Is something missing? To make sure your event is listed on the JFP calendars, send the information to [e-mail missing] or [e-mail missing], or add your event yourself. It's easy!
More stories by this author