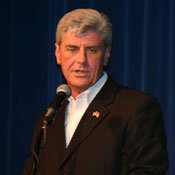 Lt. Gov. Phil Bryant accused immigrants' advocacy agencies of committing felonies at a public forum Monday in Madison.
"It is a felony to encourage or induce an alien to reside in the United States. Well, wait—we have organizations that say, 'We are immigrant allies. We encourage them to immigrate. We encourage them to get signed up for benefits. We want to make sure that they're here, even if they're undocumented,'" Bryant said to an audience of about 250 people, mostly whites aged 40 or older.
"Well, they broke a federal law. Who is going to enforce that? If I am conspiring or encouraging or including counseling illegal aliens to continue working in the U.S. or assisting them in completing their application, I'm committing a federal violation."
Mississippi Immigrants Rights Alliance Executive Director Bill Chandler said the only laws immigrants' advocacy organizations like MIRA are breaking are "in Bryant's head."
"We don't help them sign up for benefits," Chandler said. "Economic benefits are not available to immigrants until they have residency for five years, and they're not available to people without documentation except for emergency services at a hospital, for which there are federal funds," Chandler said.
The federal government allotted the state of Mississippi $190,775 in 2008 to cover uninsured immigrant emergency-room service for the entire state, but historically, the state never uses the entirety of the federal money. Mississippi hospitals only used $208,000 of a total of $334,000 the federal government gave the state from 2005 to 2007.
Chandler accused Bryant of trying to mislead whites into believing that MIRA and other immigrant advocate organizations are helping undocumented residents qualify for taxpayer-financed state and federal benefits for which they do not qualify.
"They legally qualify for whatever benefits we're helping them with—or else we wouldn't be trying to help them. The benefits we're talking about are the benefits provided by (the Department of) Homeland Security and the Department of Justice and other agencies that help people who may or may not have an obstacle-ridden path to citizenship," Chandler said. "Is Bryant calling the process to achieving legal status an illegitimate process? I don't get it."
Monday's forum, hosted by the Mississippi Federation for Immigration Reform and Enforcement and members of a Mississippi Tea Party movement, served as a launch pad for a proposed bill to mimic Arizona's controversial anti-immigration law. Last month, U.S. District Judge Susan Bolton imposed a partial injunction on the Arizona law, restricting Arizona law enforcement from pulling over motorists and questioning their citizenship status. Bolton's decision also strikes down the section of law that requires Arizona immigrants to carry immigration registration papers at all times.
Rep. Becky Currie, R-Brookhaven, announced she would submit a similar law during the next legislative session.
"I'm working on an illegal immigration bill, and I'm working on it because the term 'illegal' does not confuse me at all," Currie told the cheering audience. She said later in her speech that her "job is not to make economic opportunities for illegal immigrants."
"My job is to make economic opportunities for Mississippians. If you are here on a work visa and you are here legally, welcome—and you are going to love it here. But the day your visa runs out is the day you leave the country and come back legally," Currie added.
The speaker line up, which included Lt. Gov. Phil Bryant, radio talk-show host Kim Wade, state Rep. Becky Currie, R-Brookhaven, Second Congressional District candidate Bill Marcy and local Tea Party member Russ Latino, then took swipes at the federal government's perceived unwillingness to discourage illegal immigration.
Wade said he believed the national and state political indifference toward immigration restriction stemmed from the mechanics of the democratic process.
"If it's all about compassion, why don't you step up ... and say, 'We just want to work. We don't want to vote for anybody.' Do it like that. Because if the people who come into this country illegally say that, they'd find that they don't have as many supporters as they thought they had, because the supporters they have only want to get them to vote for them," Wade said.
Wade told the Jackson Free Press Monday that local and national Democrats ignored immigration restriction in an effort to garner votes from the growing Hispanic community. He described political arguments against immigration restriction as "political gamesmanship," wherein immigrant advocates "can get their people in power who will vote for Democrats until perpetuity."
Latino told the crowd that he believed both Republicans and Democrats on the federal level had ignored "their constitutional duty to defend the border."
"This is a deliberate act," said Latino, a self-professed descendent of Italian immigrants. "What they see is a potential voting bloc of 13 million people, and they want that voting bloc, and instead of being driven by principle and the rule of law, they are driven by electoral greed."
Chandler dismissed Wade's statement that newly nationalized Hispanics tended to vote Democrat.
"There's no telling how Latinos vote," Chandler said. "There's a wide variety of personalities in the community. ... What they're using is a scare tactic to frighten white people into believing they're going to lose their country," he said.
FACTCHECK: 'Illegals'
"Under current U.S. immigration law, being an undocumented immigrant is not a crime, it is a civil violation. Furthermore, an estimated 40 percent of all undocumented people living in the U.S. are visa overstayers, meaning they did not illegally cross the U.S. border. ... The National Association of Hispanic Journalists, with the support of the Asian American Journalists Association and the National Association of Black Journalists, has asked responsible journalists to stop using the term 'illegals' as a noun, both because it has the grammatical quality of nails scratching on a chalkboard, and because it 'crosses the line by criminalizing the person, not the action they are purported to have committed.' Furthermore, the term 'illegal immigrant' has the inaccurate connotation the sense of having entering the U.S. illegally, whereas an estimated 40 percent of undocumented immigrants entered legally and overstayed visas."
Source: http://www.nahj.org
More stories by this author
Support our reporting -- Follow the MFP.