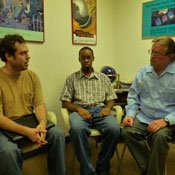 Republicans throughout the country, especially in the South, have raked "ObamaCare" over the coals, swearing that the president is paving the way for free health care to illegal immigrants.
The unsupported rhetoric has accomplished what it set out to do. Sen. Finance Committee Chairman Max Baucus, D-Mont., stabbed at undocumented workers with the Senate version of H.R. 3200.
H.R. 3200 denies undocumented workers access to a public option, but the Baucus bill excludes them from even buying market-based private health insurance. The bill specifically bars workers from seeking private insurance through a federally regulated pool, the same one designed to make insurance cheaper.
Eric Rodriguez, vice president at the National Council of La Raza, called the move an "unfortunate and silly effort of over-reaching."
"Barring people who can afford insurance really forces ... them to rely almost exclusively on emergency room care, which is more expensive for everyone, taxpayers included," Rodriguez said.
American as Debt and Apple Pie
Emergency-room care rarely comes cheap. Jackson resident Osiel Mendez has $6,000 in medical bills from emergency room visits to St. Dominic Hospital and the University of Mississippi Medical Center. He suffers from Type 1 diabetes and can't afford insulin. The consequences ultimately involve an emergency-room visit. Mendez says one insulin shot plus pills after a hospital stay costs $800.
A Guatemalan with refugee status, Mendez' English is limited. Through a translator, he explains that he has no insurance to help with the bills. When he first arrived in the country, he qualified for one month's worth of Medicaid. That month was 19 months ago.
Like Mendez, a large percentage of immigrants' total interaction with a doctor begins and ends in the emergency room, where it is the taxpayers who often foot the bill.
Section 1011 of the Medicare Prescription Drug, Improvement and Modernization Act of 2003 helps hospitals pay for emergency care for undocumented immigrants—who can't be turned away from emergency rooms.
Lt. Gov. Phil Bryant, then state auditor, claimed in a 2006 report that illegal immigrants account for $35 million of the $504 million in hospital costs for the uninsured. But the federal government allocated $334,000 to Mississippi between May 10, 2005, and June 30, 2007 for uninsured immigrant emergency room service, through Section 1011—and Mississippi hospitals only used about $208,000 of that money, putting roughly $126,000 back into the federal pot.
For fiscal years 2005 through 2008, the federal government divided a third of the annual $250 million of section 1011 funds to six states with the largest number of estimated unauthorized immigrants. In 2007, for example, the biggest allocation, $68.5 million, went to California. Texas got $47 million, Arizona $44.5 million, New York $12 million, Illinois $10.3 million, Florida $8.7 million, and New Mexico $6.7 million.
Section 1011 helps, but the funds don't cover the sheer emergency-room demand in Texas, which burned through its 2007 allotment of section 1011 funds within months.
Advocates say immigrants hurt the taxpayer more when they use emergency rooms for their medical care. The more affordable alternative, they say, is a system that immigrants can buy into.
The Rand Institute reports that there are about 9.3 million undocumented persons in the country. Still, only a small fraction of America's health-care spending is actually spent on them. Immigrants, it turns out, are less sickly than natives. Even a place with a relatively high immigrant population spends only a fraction of its health care on immigrants.
The 2000 census estimated 12 percent of Los Angeles County' population to be undocumented visitors. The native-born population, which comprised 55 percent of the populace in 2000, suffered higher rates of arthritis, asthma and hypertension than the undocumented newbies. Twenty percent of native-borns suffered hypertension, compared to just 11 percent of the undocumented workers. Four percent of the natives also suffered some form of heart disease, versus only 2 percent of the visitors. Citizens had particularly high levels of asthma, with 11 percent of the population a victim of the disease, compared to just 1 percent of undocumented workers.
"A growing body of evidence indicates that on average, immigrants are healthier than the native born," the report says, adding that this translates into a comparatively smaller cut in health-care expenditures.
"Although our cost estimates are by no means insignificant in absolute terms, the expense of providing medical care to the foreign-born—especially the public-sector cost—is much less than their population representation," the report states, with the gap being the absolute largest for the undocumented.
Rodriguez said Obama's and House Democrats' original plan of forcing all immigrants, including the undocumented, to buy health insurance either from a private insurer or a public option (along with every other American, according to the outline of H.R. 3200) actually took advantage of immigrants' comparatively healthier status by adding affordability of the insurance pool.
"We're all going to be better off if everybody has to get either private or publicly regulated insurance. With more people included in the system, the cheaper health-care premiums become for everybody. That's the way it is at your job insurance," Rodriguez said. "The younger and healthier your fellow employees, the cheaper your rates, and unauthorized workers, whether or not you like it, happen to be younger and healthier."
Benefit of New Blood
It would not be the first time an American system took advantage of an influx of a largely self-maintained population sector. Mississippi Immigrants Rights Alliance Executive Director Bill Chandler explained in interviews that MIRA commonly refers to "illegal aliens" as "undocumented workers" primarily because they are in the country specifically to work.
"They're here to hold a job and feed their families, and those jobs they hold take out FICA and state taxes," Chandler said. "I think a lot of people are ignoring that fact, especially in Mississippi."
And immigrants still have to pay rent, and buy gas and food. Some even have enough spare cash to buy the occasional MP3 player, adding ad valorem and sales taxes to the state and local government they're living under.
Bryant's own figures—though presented in a report designed to encourage trepidation—actually hinted at the potential benefit an undocumented worker adds to ad valorem taxes alone. His report used multiple estimates for the state's undocumented population, which is between .054 per-cent and 1.11 percent. Both percentages made a significant contribution to the state's $21 billion revenue in ad valorem taxes for 2005: $11 million from .054 percent of the population or a $233 million contribution from 1.11 percent. The cold numbers suggest that immigrant money looks mighty good when the public schools can't afford math books.
But despite all the cash an immigrant carries back to his local government, most immigrants can't partake of the local health system. Even a legal immigrant can't touch social services such as Medicaid for the first five years of their residence thanks to the immigrant provisions of the 1996 Welfare Reform Act. But many don't make it to five years in the country, and undocumented workers eligibility for government services is most often limited to a population ride back to Mexico.
Mississippians are quick to accuse illegal immigrants of gobbling taxpayer money through social-service programs, but between May 2004 and 2008, the Department of Human Services reported only 40 illegal immigrants attempting to apply for food stamps and TANF assistance.
Medicaid spokesman Francis Rullan said his agency didn't keep figures on how many undocumented workers attempted to defraud Medicaid: "When anybody asks me a question like that, I'd have to resort to data in our information system, and I'm positive we don't have any data that states tentative approvals for illegal immigrants."
This is one of the reasons the Latino community feels particularly hurt by the Baucus Bill.
"We understood that undocumented immigrants would get no taxpayer subsidy, and that there would be a verification system," Rep. Luis Gutierrez, D-Ill, told the Washington Independent last week. But then "the White House started saying that illegal immigrants cannot even purchase health care on the free market health-care exchange."
Obama's Sept. 9 speech declared that everyone will require basic health insurance, but Press Secretary Robert Gibbs added later that Obama had not intended to include "illegal immigrants" in the "everyone" category.
Gutierrez said that the Hispanic Congressional Caucus support of Obama's candidacy "galvanized" the Hispanic community behind him: "That's the president I voted for, not the one that said you can't have health care even if you can pay for it."
Obama cared enough about Republican's nativist arguments to exclude uninsured illegal immigrants from the U.S. Census Bureau figures adjusting downward to 30 million. Gibbs told Reuters that the president was making the point that under his plan, illegal immigrants would not get health insurance.
"The proposal that the president outlined covers American citizens," Gibbs said. "His plan would not cover illegal immigrants."
But Chandler warned that the president could not afford to toss such a fast-growing segment of the American population under the bus regarding the health-care reform debate. "His inclusive health-care plan was one of the basic issues that motivated the Latino community to support Obama, and now they're back-pedaling on it," Chandler said.
More stories by this author
Support our reporting -- Follow the MFP.