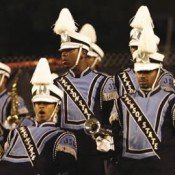 Yesterday, Jackson State University announced that 45 members of the school's Sonic Boom of the South are suspended due to an alleged hazing incident that resulted in a student's fractured collar bone. Without those percussion members, the band may be unable to perform at all.
The alleged incident, reports WAPT, occurred last Thursday night and into Friday morning in a band member's off campus apartment in north Jackson. The mother of one of the injured student reported the hazing to JSU's public safety office; Associate Vice President of Student Life Marcus Chanay said an investigation revealed paddling and beating of underclassmen during the night in question.
JSU has turned over its findings to the Jackson Police Department, which has not filed any charges, yet. According to WAPT, band members are familiar with the alleged location, dubbed "the hole," and told the station that new members are taken there and beaten. Neither the hazing victim nor the band members want to speak to officials, however.
Ronald Mason, JSU president, told WAPT that the band member's suspensions will stand at least until someone starts talking.
"It's a misunderstanding of what it means to be a family, what requirements are necessary to be in a family," Mason told WAPT. "These things have been handed down year after year, and we're trying to break the cycle. Can we guarantee it's not going to happen again? No. But I can guarantee you that people will understand the consequences."
Previous Comments
ID

152286

Comment

Money talks, consequences disappear. Angry fans, 0-3 football team, businessmen losing money, athletic budget in the tank. I don't expect this conversation to last much longer.

Author

lanier77

Date

2009-09-24T14:38:16-06:00
ID

152287

Comment

In other words the Boom might be only thing to put a few butts in the stands this season.

Author

lanier77

Date

2009-09-24T14:39:35-06:00
ID

152291

Comment

That's mighty cynical Lanier. One can hope that justice will prevail in a case where people are getting beaten.

Author

Ronni_Mott

Date

2009-09-24T15:57:39-06:00
ID

152294

Comment

Getting beaten and broken should never be a part of college.

Author

Ironghost

Date

2009-09-24T22:14:19-06:00
ID

152297

Comment

I'm looking at it from the standpoint that the whole band, and the percussion section in particular is suffering from the inexcusable acts of a few. Aggressively go after those who are guilty but don't punish the entire band.

Author

lanier77

Date

2009-09-25T07:34:06-06:00
ID

152301

Comment

I don't think students whose parents are paying for a higher education should tolerate their kids having to get their asses kicked and be hospitalized to be accepted by a "select" group of people, whether it's a marching band, fraternity, or other social club. Prank stunts or exercises are fine, but physical violence or intimidation that leads to serious injury needs to be dealt with in the most severe terms. If I wanted my college age child to be physically harmed by his peers, I may as well not send them to school and instead let them hang out with the local street gang.

Author

Jeff Lucas

Date

2009-09-25T08:27:08-06:00
ID

152302

Comment

Hazing is also illegal in Mississippi, if they'll pursue it.

Author

Ironghost

Date

2009-09-25T08:54:24-06:00
ID

152303

Comment

The idea of trying to psychologically break someone using intimidation, mental & physical threats, anguish & abuse is often done in the name of character building or pride of membership. What some may see as simple school age chiding or club initiation, can very easily bleed into a "Luke Woodham" school shooter. It's quite possible that some people simply can't take whats dished out. Many may put up with it and just spent all their time wishing serious ill will on their imtimidators. That which doesnt kill you, can make you stronger. But the ends sometimes don't justify the means. When I was in Boy Scouts the older boys would absolutely reign psychological terror on a young 13 year old's 1st year at summer camp. They would keep on you just to make you cry. To earn your place in the group. The more pretengious the group thinks they are, the more horrid the rites. Way beyond mere embarrassment & public humiliation.

Author

herman

Date

2009-09-25T09:05:31-06:00
ID

152305

Comment

Put it this way, Jackson is expecting close to 50K fans at the Oct. 3rd JSU-Southern game. And, as is reality with most Black college football games, the bands are a major draw for many of those 50K fans. There are concerts, pep rallies, and nite clubs that are gearing up for those 50K people. Mark my words, by Wednesday or Thursday of next week, we'll get word that 1 or 2 drummers were found to do the most harm, and they will be suspended or expelled, and the rest of the drumline will be in place come Oct. 3. There is no way that the Boom will not perform against Southern. JSU and Jackson in general are in too much of a money pinch to allow that to happen. I wish Pres. Mason could have some bite to go along with that bark, but financial realities will win out with this issue. Maybe if the Ayers Settlement wasn't a joke, he could afford to suspend the band. As far as hazing goes, until we in the black community come to grips with rites of passage programs and allow for such processes to be played out on a community wide scale, we will continue to see these types of injuries. I don't advocate for a second that a college freshman needs to get injured "trying to fit in", but do you think that those band members would practice the long hours they do if they didn't learn to be devoted to the band? And, for some, that devotion is born in the rituals and traditions passed down year after year, part of which do involve rites of passage, but should never involve injury or violence. Injury and violence are prevelent in these instances because the rites of passage and initiation rituals take place "underground" in places like "the hole" as mentioned in the article, rather than in the public for all to see, and for saner heads to monitor. There's nothing wrong with rites of passage and initiation rituals to instill group devotion and pride in performance, and even to learn about yourself. It's when these rituals are left up to irresponsible people that we see terrible tragedies. Bring these things out of "the Hole" and prescribe precisely what activities will teach what life lessons and control the experience. That would provide for a much more enriching experience for the freshmen.

Author

Renaldo Bryant

Date

2009-09-25T09:57:51-06:00
More like this story
More stories by this author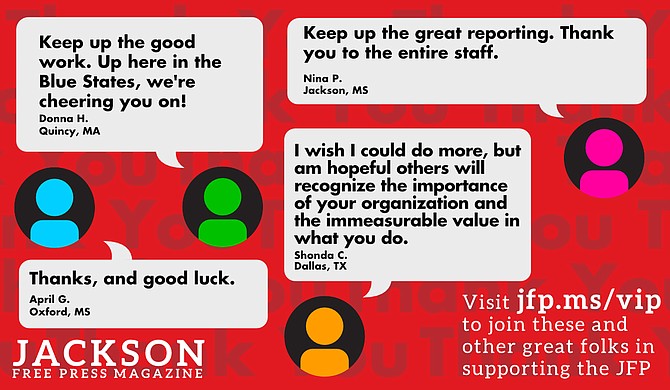 Thanks to all our new JFP VIPs!
COVID-19 has closed down the main sources of the JFP's revenue -- concerts, festivals, fundraisers, restaurants and bars. If everyone reading this article gives $5 or more, we should be able to continue publishing through the crisis. Please pay what you can to keep us reporting and publishing.