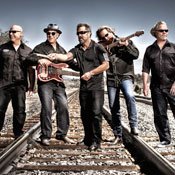 Stu Cook and Doug Clifford were born just hours apart in Oakland, Calif., on April 25, 1945. By 1959, Cook and Clifford, along with brothers John and Tom Fogerty, then known as the "Blue Velvets," were playing sock hops and county fairs. The group changed its name to Creedence Clearwater Revival, and by 1969 was climbing the charts with such hits as "Proud Mary" and "Bad Moon Rising." Creedence officially broke up Oct. 16, 1972, and the childhood friends began pursuing individual careers for the next 22 years.
Cook and Clifford were inducted into the Rock and Roll Hall of Fame for Creedence Clearwater Revival in 1993. In 1994 the duo reunited and set about finding musicians to form a band with the goal of playing some of the Creedence songs that hadn't been heard for more than two decades. On Friday Oct. 16, CCR will come to the Mississippi State Fair to perform some of those chart-topping hits from the past.
Cook spoke with the Jackson Free Press from his home in Texas.
Creedence Clearwater Revisited formed in 1995. Tell me about that process.
A very good friend of mine, a great guitar player in Los Angeles, turned me on to Steve Gunner, who is our multi-instrumentalist, and then the guy that used to work for a company that I'd had a bass string endorsement with turned me on to his buddy John Tristao. I guess we'd auditioned five or six guys by the time we got around to John, and when we got to him, we just knew that he was the guy who we thought we could put the whole thing together with because he could really sing, and he could sing these songs especially well. There was no weakness. He could own them.
The introduction to Hank Bordowitz's "Bad Moon Rising" is titled "The Saddest Story in Rock and Roll," and is attributed to a quote from a band member's wife. Do you feel that yours is truly "the saddest story in rock 'n' roll," and are you re-writing that story?
No and Yes. (laughs). It is sad for sure, but I don't know if it's the saddest. I've still got my health. My car's paid for. A lot of other people came out on the much shorter end of the stick than me. It was a shame that our band broke up. We started out as kids and we had a dream, and we tried to keep it together to reach that dream, and we did, but once we got there, it became all too much for us. We lost sight of our main reason, which is often the case when success comes—big success—and so we let it slip out of our hands. We didn't have a mentor. We didn't have any professional people that we could rely on to counsel us or to hit us in the head when we weren't making any sense. We were on our own and the end result was pretty predictable, I'm afraid. But since Doug and I have been doing the Creedence Clearwater Revisited project for 15 years now, we think it's helped put a smile back on our faces.
CCR originated in California, yet is often categorized as "swamp rock" and frequently referred to as "southern roots music." Why do you think people make that correlation?
The whole 'Swamp Rock" thing was a media hook. I don't know exactly who the first writer was. I guess it was appropriate, and it certainly stuck. There was certainly nobody from Northern California singing the songs of the South. ... The blues and the country stuff were part of our diet because of the radio stations we listened to when we were growing up. ... When we sang about the Bayou and so on, it was because we learned our instruments listening to records from guys that were from Louisiana and the South—Tennessee and Mississippi—of course, that's where all the blues guys came from.
"Fortunate Son" captured many Americans' anger over the Vietnam War and sympathy for the soldiers. What is the musician's role as a voice for the people or catalyst for social change?
Well, artists can operate outside of the system. ... they can and quite often do hold the mirror up for the rest of the population, and "Fortunate Son" was really a song about privilege and how money and privilege can quite often keep you out of the fightin' and the dyin'. ... Creedence, among many other artists, opposed the war, but we always supported the troops because most of them didn't make the choice to be there on their own.
For the past 30 years or so, there has been an ongoing history of discord between John Fogerty and the rest of the band, including his estrangement from his brother Tom and his refusal to play with you and Clifford at the Rock and Roll Hall of Fame induction ceremony. Have you found peace, and if so, how did you go about healing from these wounds?
There's been a lot of bad blood for sure. At a certain point in my life, I just decided that the past is the past, and there's no changing it, and the future is the future, and the only way we can get to the future is one day at a time. It's called the now, the present. It does me absolutely no good to go over and relive anything from the past. I've learned my lessons, and I take from it only what will help me today. Rare is the person who figures it out quick. Maybe the world would be a different place if we all came to this understanding֖this realization sooner. ... [With] a rock-'n'-roll band in our lives, we got lucky. We got real lucky and ... we still have the fortune to be able to work with that, so having what I have, it's all I'm gonna get so I'm content with that.
Describe your relationship with Clifford.
Well, it's like any long-term relationship. You get out of it what you put into it. ... The relationship has grown with us over the years. ... You don't meet many people that have been hanging out with their buddies for as long as Doug and I have. We appreciate that, and when we get on the stage, we look at it like, "Hey, this could be our last night rockin' together," so we never let a moment slip by.
Creedence Clearwater Revisited will perform at 7:30 p.m. in the Coliseum at the Mississippi State Fair on Friday, Oct. 16, 2009.
More like this story
More stories by this author
Support our reporting -- Become a JFP VIP.
The news business has changed dramatically in the past year, and we need your help more than ever to keep bringing you important stories about Jackson and the Metro. Become a JFP VIP with an annual membership or you can Sign up as a monthly supporter. Thanks for anything you can do to empower our journalism!