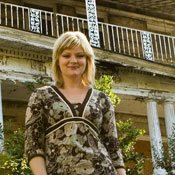 Songs by Athens, Ga.-based band Drive-by Truckers run the gamut from "stories of corruption, crime and killing" (as Mike Cooley's "Cottonseed" puts it) to modern tales of the Iraq War and the struggle to raise a family in tough economic times. Their lyrics touch on grave subjects such as poverty, AIDS and cancer, but also include lighter topics about a reindeer-diddling Santa and a strong-armed Avon Lady.
The Truckers' newest emerging songwriter is bassist Shonna Tucker, who joined the Drive-By Truckers in 2004. The 2008 album "Brighter Than Creation's Dark" features three songs Tucker wrote. During the band's more rocking numbers, Tucker may come across as a Jack Daniels-chugging, badass bass player, but when she eases up to the mic and quietly croons, her voice is at once ethereal and mournful—revealing Tucker's softer side sometimes hidden by her "just one of the boys" reputation.
In addition to Tucker on bass, The Drive-By Truckers' current lineup includes Patterson Hood (singer, guitarist, songwriter), Mike Cooley (singer, guitarist, songwriter), John Neff (pedal steel guitarist), Brad "the EZB" Morgan (drummer) and Jay Gonzalez (keyboards).
Tucker spoke to the Jackson Free Press while on a brief hiatus from touring at her home in Killen, Ala.
The band has taken some time off this summer while Patterson pursued a short solo tour. What have you been doing with yourself during your summer vacation?
Making pickles. I've got so many pickles.
Sweet or Dill?
They're dill pickles, and it's the first time I've ever made pickles, so they're not ready, yet. They've got two more weeks before you know you can eat 'em so I've got plenty of pickles. I'll keep you informed. Seriously, we've been working on the Truckers' next record in between touring … so we're pretty much gonna start wrapping it up soon and start mixing it, so we can't quite call it "done," yet, but it's pretty much done. We've done that in spurts over the year, and other than that, with my time off I have thoroughly enjoyed my time at home. I've got a huge garden this year.
What all are you growing?
I'm about to go pick okra right now. It's an everyday thing. I've got okra, onions, garlic, carrots, tomatoes—they are awesome right now—peas, beans, cucumbers, watermelon, six different lettuces. … I've got 11 chickens, so I kind of work and play in the dirt all day outside with my animals.
Who takes care of your chickens when you're gone?
My awesome parents. They live about three miles from me. My Daddy, he's the one that actually came to me this year, and he's known that I wanted a garden forever—I've just been on the road and it hasn't been an option—and he said, "I know that you're gone all the time, but let's go ahead with that garden you want." I said, "Are you serious?" and he said, "Yeah, I'll take care of it when you're gone." They're great. They feed everybody and pick okra while I'm gone. Right now, I have more okra than I can handle; every day I've gotta pick.
In April, the Drive-By Truckers collaborated with the legendary Booker T. Jones on "Potato Hole," his first solo album in decades. What was that experience like for you?
That was a life-changing experience for me. First of all, I'm completely, utterly obsessed with sweet, soul music. … Just to shake Booker T.'s hand was amazing enough, and to actually make a record with him was kind of overwhelming. We got the call to do it, and of course, we just freaked out and said, "Of course we'll do it." So we scheduled four days in Athens, and Booker came out, and we made the whole record in four days. It was four days that were so beautiful and natural. … I think he's the coolest dude alive. He's just full of wisdom and patience, and he's so easy to work with, and he knew exactly how to tell us what he wanted. Because it was an instrumental record, that was different for us. He made me realize a whole different way of looking at songwriting that way because it's an instrumental song, yet he knew exactly how to tell us what he wanted it to feel like, which is absolutely almost impossible to do.
Did you play a different bass for those gigs, and if so, why?
Yes, I actually did. I got a new bass, and I wanted it to—OK, this is something that I don't know if a lot of people know, but the Truckers tune our instruments down a whole step. It's deeper, it's lower than normal … so that's kind of what gives us that deep, loud, raw sound. When we made the Booker record, that was all in standard tuning, which is how you're supposed to tune, so I wanted a bass that I could play Booker stuff with because of the tuning.
In addition to Booker T., this past year, y'all played with famed Muscle Shoals keyboardist and songwriter Spooner Oldham and Bettye Layette. What was that like?
Both incredible. Of course, Spooner is the salt of the earth, and he's also the coolest dude alive.
Did Spooner get to meet Booker T?
It was a strange coincidence. They never really spent a lot of time together over the years, but they've definitely known who each other (is) and have met here and there.
Is there anyone else you're just dying to collaborate with?
Oh, yeah. Well, there's a couple, and I'll tell you, we actually just met Miss Mavis Staples. She came to our show in Chicago for the Fourth of July. We played with Booker, and we walked off stage, and there she was standing with her arms stretched out. She grabbed each one of us and hugged us and, of course, we all knew exactly who she was immediately. She was the sweetest and most fun and hilarious and beautiful woman I've ever met, and she mentioned wanting to do a little something with us, so I hope that that's possible. That would be amazing. And, also, I would love to make a record with Merle Haggard and Levon Helm. I could go on and on, but hopefully Mavis could actually come true.
"Brighter Than Creation's Dark" came out in January 2008 and featured three songs you wrote. What was it like sharing your songs with the rest of the band?
That was a huge step for me because I happen to play in a band with two of my favorite songwriters, so it's quite intimidating. They've always known that I've written, but nobody had ever heard anything of mine. When I finally had a couple of songs that I felt were worthy of a Trucker album, I mustered up enough courage to give it to them. I took it and played them and did a little demo on my computer on my garage band, and (my bandmates) were very, very awesome and kind to me. They loved it, and I think Huston ("I'm Sorry Huston") was the first thing that I played for them, and that was that. And they've been nothing but encouraging and helpful to me.
Tell me about the first time you sang one of your songs in front of a live audience. Was it scary?
Yeah, you know it was. I don't get nervous on stage playing, but the very first time I had to sing, I didn't know if was going to be able to sing or if I was going to throw up, you know? That may be the first time I've ever been nervous, and it was mostly because I wasn't too worried about what people were thinking; I was just worried about how I was feeling—because, first of all, it's totally different singing in a microphone than it is walking around in your house singing. … That was the most overwhelming part: When I heard myself—whoa!—it kind of scared me. And since then, I hope that I have gotten a lot better. The more you do it, the more natural it becomes.
Purgatory Line is my favorite, so any time you pull that one out, I'm just thrilled.
We need to pull it out more. We haven't been playing it enough lately. We've been doing the Booker stuff mostly this year, but when we did it … we all kind of looked at each other and were like, "Well that went better than we thought it would." So I think we maybe can do it again now.
On July 7, a CD/DVD of the Truckers' Sept. 26, 2008, Austin City Limits performance was released. How was this performance different from other live performances you've done?
Yeah, well it was different because it was being taped. First of all, that is always a very strange thing. We've done Conan (O'Brien) a couple of times (and) Craig Ferguson, and any time we do a TV taping, it's odd because you're not exactly in your element … and because there's the cameras a couple of feet away from your face reminding you that you're on camera. And there's bright lights, and it's in the middle of the day, and you're pretty much sober, you know. (Laughs) So when we walked out there, that's how it was, except for—this is how awesome Austin City Limits is and what a beautiful, classic, TV show it is—we walked out and the crowd went crazy. … So we all kind of looked around at each other and went, "Oh, I see. Let's just play a live show like we always do." The crowd was so awesome, and everybody that worked there was just incredible and incredibly nice to us so that the feeling of being taped kind of went away after the first song or two. It's like, "OK. Let's just play." I think it's great. It's so much better than the "Live at the 40 Watt.ԅ I can't even watch that thing. So we are glad there's a new DVD now.
"The Fine Print (A Collection of Oddities and Rarities 2003-2008)" is scheduled to release Sept. 1. What are your thoughts on this release?
I think that it's a great record. At first when they (New West) came to us and wanted us to do this, they were calling it a "greatest hits," and we were like, "No. What? That's ridiculous. We're not gonna do anything like that." They gave us a list of what they wanted to put out, and we were kind of like, "Ah, you know, this is all great stuff," and we thought it was great the whole time because a lot if it is pretty old recordings. … That's why we called it, "The Fine Printԗto let everybody know it's not a greatest hits. It's stuff that we did, and we think it's great, so we want you to hear it, too.
Do you have a favorite song on this album?
Oh, boy. That is really tough to say. I don't really have a favorite song, but there is a song that I love dearly: (Mike) Cooley's "Great Big Horse and Little Pony." I love that song.
On how many of these songs do you play?
I'm playing on every song.
Was the Drive-By Truckers cover of Bob Dylan's "Like a Rolling Stone" your first vocal performance with the band?
Yes, indeed. (Laughs). … We kind of just did it one day in the studio, rehearsed it real quick, because it was for a tribute album, and we were already in the studio anyway. … It was late at night (and) we had been sipping on brewskis all day. We were feeling good, and I don't remember who it was that even said, "Hey, let's all switch out. Let's everybody take a verse." And, of course, we were feeling good enough to say, "Hey, yeah, OK, that's a great idea." And, it worked out that way because none of us could remember all of the lyrics—that's a lot of verses. People requested us to do it live after that, and we just wanted to, but none of us could remember it. Patterson is always joking about needing a teleprompter anyway. He blows my mind. I do not know how he remembers all those lyrics.
The Truckers have been in the studio this summer laying down tracks for a new album. How many songs have you recorded?
I think it's a grand total so far of 25.
In an interview on the music blog "December's Children," Patterson is asked what he thinks of your new material and he responds: "Wheeeew! You just wait, you just wait. She's got some badass sh*t on this one. Her growth has just been phenomenal to watch, I'm really proud of her."
That's very sweet. I'll have to call him.
If you can, tell me a little about the songs that you are bringing to the new album.
Well, I have one song on there that is two minutes exactly, and it is just fast and rockin' the whole song. I don't really know too much to tell you about it just yet. I have two more songs I'm playing piano on. … I wrote on piano, and I do not play piano. I have one at my house, and I just know enough to mess around. … It's hard to explain songwriting, even to myself—sometimes I don't know where it comes from. I have two new songs that I wrote on piano, so in the studio everyone was like, "Yeah, well, you have to play piano on it, because it's so great that way." I don't play piano. And they're like, "Well, you do now!" … They all agree that I'm going to have to play piano (live), so there might be a whole new aspect coming in this year—switching around instruments and all.
What about the lyrical content? Can you tell us what they're about?
Um, well, I don't really know, yet. I think they're very, very self-explanatory. I'll put it that way. I'm a very mysterious writer, though. I like to leave the mystery there when Patterson will sit down and take an hour to tell you about every one of his songs.
How do you approach songwriting? Do you write lyrics or music first, and with a guitar or piano?
Well, usually it all comes at the same time. I don't really play the piano, but I mess around just here at the house. I'm not one to spend a long time on a song. It just usually happens. I wrote, "I'm Sorry, Huston" in 20 minutes, and "Purgatory Line" was probably 15 minutes. It just all comes to me all at the same time—lyrics and music and everything. I normally write on acoustic guitar, and it just kind of comes out.
What is your first memory of music as a little girl?
My first memory of music was probably (Van Morrison's) "Brown Eyed Girlԗthe song "Brown Eyed Girl" and my daddy. My daddy is not a musician, but he knows a couple of songs on guitar, and he always had a little $10 guitar (that he bought in Mexico when he was in the Navy) leaned up in the corner somewhere in the house all the time. I can remember him just acting silly. He's a funny, hilarious man anyway. He could have been a comedian. I remember him walking around the house with that little old guitar just acting crazy, and he would always sing "Brown Eyed Girl" walking around. So, that's the first song I ever learned on guitar. I was 8 years old when I went to him and said, "Show me Brown-Eyed Girl!"
The Drive-By Truckers are scheduled to play Florence, Ala., for the first time in five years at the end of July. How does that feel?
Yeah, it's great. It's about time. It's about time we play here again, and it's about time for the Shoals Theater to be happening again, ya know? It's a beautiful, beautiful theater, and it's just kind of been put in the background, and nothing's been going on there for ages. Finally people are making headway. … I look forward to just kind of seeing. I don't really have any expectations; I kind of just want to see how it goes.
On July 24 tour stop, the opening act will be David Hood and the Decoys (bassist David Hood is Patterson Hood's father and founding member of the Muscle Shoals Rhythm Section also known as the Swampers—referenced in Lynyrd Skynyrd's "Sweet Home Alabama.") Are you excited about the opportunity to play with David Hood at this show?
Oh, please. I am so excited. I feel like a teenager. … I think I knew David about 10 years before I ever met Patterson. I grew up here, and he's always been just so nice and just a great mentor to me as a bass player. … Still to this day, he's a dear friend of mine, and I still to this day am a bit starstruck—especially when he's playing. Oh my God, he's the best. All the Decoys are that way to me. I love them—each and every one. I can't wait; I feel like a teenager.
Do you think Hood will sit in on some of y'all's songs?
I hope so. We've been talking about that—mixing it up a little bit here and there—with some of the other guys, too.
Is there any chance that Spooner Oldham might sit in for these shows?
We hope so. I have to call him here—probably this evening—and talk to him about it. He just got back from London visiting his daughter. His daughter is Roxanne, my best friend since we were 12. So, I haven't talked to him about it, yet. He just got back.
How would you describe the dynamic between you and the other members of Drive-by Truckers?
Keeping a band together is very difficult because you have these different personalities trying to live together and work together, and that's the hardest part. It's just everybody either agreeing or learning how to disagree. I think that we have found a beautiful balance, and that's what it's all about. … We respect each other, and we're always very brutally honest with each other, and I think that's key, too. And, I think a little bit of female—southern female—attitude in the band has done a lot of good for these boys. (Chuckles)
What made you and the guys gravitate toward the topics you sing about on "BTCD"? Why do you think it's important to be relevant with your music?
I think that all of us write about what we know. We all happen to come from the South. We all come from the same town, practically. And people here … they work hard, they struggle, they have hard times. … (It) makes people feel good sometimes to hear somebody say something that they wanna say and can't. Whatever it is, people today need to relate to it … even if you're singing about stuff in the past.
What do you miss most when you're on tour?
I think I just miss probably my dog, Eddie.
Other than your father, who were your earliest musical influences?
As a young child, I can probably say Creedence (Clearwater Revival)—because that's what my daddy played all the time. I think we had two or three albums in the house. We had Creedence and George Jones and the Beatles and "Brown-Eyed Girl." At a very young age, 8 years old, I knew that I was into music—big time. Luckily, by the time I was 10 years old, my daddy recognized that I was playing bass lines on guitar, and I didn't know what that was. I had no idea. I was just doing what I heard. … Then, by the time I was 12, I met Roxanne Oldham, who is Spooner's daughter, and so Spooner came into my life at a very young age. When I met him, it was all over with. At that time I met David Hood and Donnie Fritts and all the Muscle Shoals guys. I became obsessed with Muscle Shoals music real early, so that's pretty much it. I still, to this day, just am obsessed and fascinated with it all.
What artists are on your iPod?
Everything. OK, wow, everything. Right now, I've got my shuffle on. Wilco is on. There's everything from Merle Haggard to Centro-Matic, lots of Tom Petty, lots of Staples Singers, lots of soul music—a whole lot of soul music: Otis (Redding), Aretha (Franklin), Sam Cooke. The (Rolling) Stones, the Band, Liz PhairדExile in Guyville." I love Liz Phair. You should get (that record); it's a girl album. (Giggles).
It's been said that Mississippians have writing in their blood. Do you think there is something special about the Alabama red clay that spawns such prolific musicians?
This has been the question forever as far as I know, and I think that it has. There are a lot of aspects of why there's so much talent and writers and musicians that come from here, but you know, dadgummit, some if it just can't be explained. I think that there is some sort of energy zone—I don't know what to even call it. Something's going on here that's magic.
Do you read much on the road or at home? What are you reading right now?
Yeah, I read quite a bit. I don't read nearly as much as the other guys do because I like to go walking and look for farmers' markets. I like to go look for food more than I like to read. Let's see, right now I've got a couple of things going. I've been reading—actually, you don't have to say this, but I've been reading the Kama Sutra lately. (Laughs). Just because I never have, and I thought, "Well, you know, I probably should."
So, are you telling me that's off the record?
Well, you can put it, I don't care, it's true. There's one (book) that I'm just starting. I started this book like 100 times, and it never worked out just yet. It's very intense, that's why. It's called "Sweet, Soul Music." It's really good. It's by Peter Guralnick. Patterson gave this to me as a gift a couple of years ago, and when I first got it, I couldn't help myself —I shouldn't have done it, but I kind of was skipping through to the people I wanted to read about. So right now I'm trying to go from start to end.
What's it like being on the road with all the guys?
It's great. You know, I honestly don't think I could do it if it was a bunch of girls. It would be harder for me. But it works out great. We somehow magically learn how to work around, and we've got the flow going on the bus, because it's crowded, but it doesn't feel like it. Everybody's cool, and respect has a lot to do with it. It's great. I have to definitely put up with a lot of smells and vulgar language and all these things, but I like it.
Who is the biggest prankster? Who's messy? Who's clean?
Oh my God, well definitely Mike Cooley. Every single day his mission is to mess with someone, and it seems Patterson is his biggest guinea pig. He just tortures him all day long. He's the best mooner alive, and he has strategies for new ways of mooning people. He's so little, he can hide and get up on the cabinet. He tries to get Brad (Morgan) and me to help him, and tell when somebody is coming and all this stuff. He goes really far with it, and he works really hard at it. He says it's like standing in the tree deer hunting; he has to be patient. But it's always everybody; it really is beautiful every day. I wake up every morning to Cooley and John (Neff)—they have very unique laughs, and I wake up in a good mood every day because they're out there laughing at each other for some reason or another, and everybody wakes up in a good mood, and it's great. I love it. I miss it when I'm off too long. I really miss that.
Speaking of touring, what are some of your favorite cities, venues, countries?
Oh boy, we just went to Australia in April. It was so beautiful. Australia was great. The people were beautiful. The shows were great. The crowds were awesome. Australia is pretty high on my list right now and also Spain. I loved playing Spain. We haven't been in too long. The Spanish people are so passionate. The crowds were just unbelievable. They just love the rock 'n' roll so much, so that always makes for a great show. I like the South. I think the South is a very passionate crowd. There are too many places in the States to mention even that I love to play. I really love the Fillmore in San Francisco. I could go on and on.
The Drive-By Truckers often stick around after shows and give autographs. How would you describe your relationship with your fans?
Well, I hope it's great. I think that just relating to people is very important. You can't get up on stage and think, "I'm gonna put on a great show tonight," and then just walk away from these people who came out here and dropped everything and bought a ticket and drove forever and got a babysitter and whatever to see you play your guitar. You can't forget how lucky you are to be able to play music as your job. It blows my mind, still to this day. It's crazy that I can say that, and it's all because of fans. … I don't think any of us try to do it, or try not to, it's just I like to talk to people and see what's happening with them. I think it's very important.
Although you typically wear jeans when you perform, you've worn dresses in several recent shows. Where are you shopping these days?
That's funny. You know it all started when we started touring with Booker T. A lot of the shows that we booked were festivals where we would play one set of Drive-By Truckers songs and one set with Booker T. and the DBTs. So, it was kind of just a mental thing for me to switch it back and forth. The guys were dressed up and wearing suits, and so I thought, "Well, I think I'll wear a dress." And that was a big step for me because I have been terrified to wear a dress onstage forever. I've never done it until this year, and it basically was Booker so far. For Booker T, I'll wear a dress. But I don't know what's going to happen from here on. It's a whole new thing for me.
I witnessed a fan propose to you one night in Memphis. Does that happen regularly?
(Laughs) Not too much. Actually, every once in a while it does. It may be the same dude, though. Oh boy, that is funny.
Most of the guys in the band have families back home with young children. Do you feel like it would be different for you as a female musician if you decided to start a family?
Absolutely. No doubt about it. It's a big difference to me. I think, first of all, if I were to be pregnant, that would be a whole different deal on the road or (as) a Mom being away all the time. It is different to me. It might not be for some people. To me it would be a lot different. It's something I'd have to think about for my distant future.
The Drive-By Truckers play at Hal & Mal's Saturday, Aug. 8 with The Dexateens. Tickets are $24.10 and available at Be-Bop Record Shop, Coliseum Box Office, www.drivebytruckers.com and www.ticketmaster.com.
Beth Dickson is a freelance writer from Florence, Miss. She enjoys reading about Mississippi politics and traveling cross-country to see her favorite musicians perform. She is in training to complete the Mississippi Blues Marathon in 2010. She gets her energy from Cups iced coffee.
Previous Comments
ID

150605

Comment

Great article! So glad she pulled the curtain back a little about her free time and writing.

Author

FNW

Date

2009-08-05T20:23:26-06:00
More like this story
More stories by this author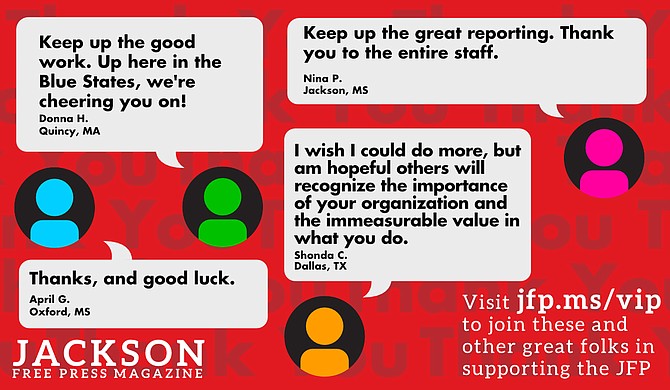 Thanks to all our new JFP VIPs!
COVID-19 has closed down the main sources of the JFP's revenue -- concerts, festivals, fundraisers, restaurants and bars. If everyone reading this article gives $5 or more, we should be able to continue publishing through the crisis. Please pay what you can to keep us reporting and publishing.