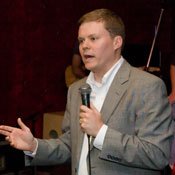 Awareness has a huge role in making Mississippi—and the U.S.—a safer place for women. Created in 2006, the Attorney General's Office Domestic Violence Division, headed by Heather Wagner, works with the entire judicial system, from police to court clerks to judges and lawyers, to raise awareness of the issues surrounding domestic abuse. The division runs training programs and workshops, and assists prosecutors and judges, and is creating a statewide repository of offender data and statistics.
Wagner is optimistic about the future of domestic violence cases in Mississippi. "I think we have some pretty good laws in effect. I look around at the other states, and our laws are really, really similar and up to par," she said.
Of course, there are still laws that Wagner's office and other domestic violence advocates want to see enacted, and other laws that could stand changing. They include:
Mirroring federal laws about domestic violence and firearms. Such a law would prohibit a domestic-violence perpetrator or someone who has been subject to a domestic violence protective order from buying a gun or ammunition.
Creating a separate offense for strangulation, which is seen as one of the red flags of potential lethality in DV cases. "You've got use of weapons, violation of protective orders, stalking behavior and strangulation," Wager said. "It's a very useful behavior for the perpetrator when you think of it, because if you're trying to maintain control over somebody, what better way; it's terrifying for the victim. We feel it's sometimes overlooked in these domestic violence cases."
Enhancing and strengthening stalking laws. "Right now, our stalking law is tied to putting the victim in fear," Wager said. "It goes a little further than that. You have to prove that the person who's doing the stalking is doing it to put the victim in fear of death or serious bodily injury. It's not enough just to terrorize the person so that they're scared to walk out the door, they have to be scared of death. And that makes it a very difficult hurdle to prosecute." Wagner says her office is looking at adding a second, lesser level of stalking that encompasses simply the intent to terrify someone.
Enacting minimum penalties for domestic abuse. Right now, misdemeanor simple assault cases can get a victim up to six months in jail or $500 fine, or they could walk away without any penalties at all. It's up to the discretion of prosecutors and judges.
Making failure to report a crime. "Morally, I would think a person would do that anyway, but obviously in our case it didn't happen," Linda Francomb said. "I think people should do their part, and if they see something that a crime has been committed, they should pick up the phone and call police. It's hard for me to believe that you could see someone being killed, and you don't have to call for help or call the police."
Enacting a Good Samaritan law. Both of these laws have their down sides and need to be written carefully so that innocent people are not caught in the middle. Speaking about the potential consequences of a failure-to-report law, Steffey said it would be easy for police and prosecutors to misuse. "If just being in proximity to a crime was in itself a crime, the people most likely to be caught up in that are the girlfriends and wives of criminal perpetrators. … The unintended consequences in most circumstances will hurt women," Steffey said.
Enacting no-fault divorce laws. "We see it over and over again—the difficulty of getting a divorce in Mississippi," Sandy Middleton said. "These girls that are victims of domestic violence and they don't have any money and they can't afford to hire a lawyer, a lot of times they just have to stay married. They have to stay married to these guys for years because they can't afford to get a divorce. … One of the last things these guys can do to add misery and control over these women, they just don't give them a divorce. They wind up staying married forever. You have to have a video of them beating you to prove domestic violence."
Finally, there is a remote possibility that even with a sentence of life behind bars without parole, George Bell III could one day be released from prison, free as a bird. That possibility became reality for Michael David Graham, Bobby Hays Clark, Paul Joseph Warnock and Clarence Jones during Gov. Haley Barbour's tenure. All four had been convicted of murdering their wives or girlfriends, and all ended up working in the governor's mansion as trustees.
Barbour granted each of them relief from their sentences.
State Rep. Brandon Jones of Pascagoula has taken on the legislative work of attempting to limit the governor's pardoning power, or at least make the process more accountable to the victim's families. During the last legislative session, Jones authored a bill that created a fee funding the Domestic Violence Fund.
"I don't generally think it is a good idea to tinker with the constitutional or statutory authority given to the governor," Jones told the Jackson Free Press in July. "But in wake of the decisions that were made in respect to violent criminals, I thought it was worth revisiting some of these old laws."
More like this story
More stories by this author