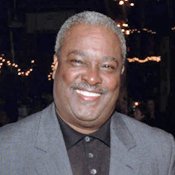 Read About All the Mayoral Candidates on the JFP Politics Blog
Marshand Crisler, City Councilman and former Democratic candidate for Jackson mayor, has formally given his endorsement to rival candidate, former Mayor Harvey Johnson Jr. In the May 19 Democratic runoff, Johnson handily beat Crisler, receiving more than 60 percent of the vote. Johnson will face one Republican and four Independents in the general election next Tuesday, June 2.
In a statement sent to the Jackson Free Press last Friday, Crisler wrote:
"There is a powerful quote from our country's 26th President, Theodore Roosevelt:
"'It is not the critic who counts: not the man who points out how the strong man stumbles or where the doer of deeds could have done better. The credit belongs to the man who is actually in the arena, whose face is marred by dust and sweat and blood, who strives valiantly, who errs and comes up short again and again, because there is no effort without error or shortcoming, but who knows the great enthusiasms, the great devotions, who spends himself for a worthy cause; who, at the best, knows, in the end, the triumph of high achievement, and who, at the worst, if he fails, at least he fails while daring greatly, so that his place shall never be with those cold and timid souls who knew neither victory nor defeat.'
"When you really believe in your message and your ideas, it doesn't change whether you win, or if you come up short. The things we have talked about in this campaign are still priorities for me personally and for this city absolutely.
"Now, Mayor Harvey Johnson has another chance to lead. I pray that he can unite our community and make our city what it ought to be. I have extended my support to him and hope to be able to help him move Jackson forward. I want to thank every Jacksonian for their support, I appreciate every vote I got, and I salute every person who exercised their right to vote. Our vote is our voice and our way to show leaders the direction we want to go.
"I hope one day for the opportunity to serve you again."
In a statement released today, Crisler added: "Mayor Johnson is our last hope for experienced leadership. As a member of the Mississippi Democratic Executive Committee, I encourage voters to have their voice heard and vote in the upcoming June 2nd election. We must get the vote out and elect someone who can move our city forward."
More stories by this author
Support our reporting -- Follow the MFP.