Interpreting the Constitution is a favorite American pastime. Differing opinions on just one sentence fill libraries to overflowing, and land legal cases in appeals courts and supreme courts from coast to coast.
The Ninth and Tenth Amendments in particular are the basis for numerous "soap box" issues, precisely because their language is opaque and widely open to interpretation. Neither grants or denies specific powers; both provide instructions for how to read and interpret the rest of the document.
The Ninth Amendment reads: The enumeration in the Constitution, of certain rights, shall not be construed to deny or disparage others retained by the people.
The Tenth Amendment reads: The powers not delegated to the United States by the Constitution, nor prohibited by it to the States, are reserved to the States respectively, or to the people.
Both amendments have been the subject of differing opinions long before they were ever added to the Bill of Rights, and both have been the subject of enormous controversy ever since.
Alexander Hamilton, for example, asked of the Ninth during the original debate over the Constitution, "Why declare that things shall not be done which there is no power to do?"
And in 1962, former Mississippi Gov. Ross Barnett cited the Tenth to bar James Meredith from enrolling at Old Miss. "[M]y conscience is clear," Barnett said, justifying the state's refusal to integrate schools. "I am abiding by the Constitution of the United States."
Interpretations of the Tenth amendment have come up again the Mississippi legislature recently, and teabaggers have climbed on board for the ride. Although it's not the scope of this column to add an interpretation to either amendment, the Tenth in particular has spent considerable time lately in the national limelight.
Constitutional scholars say that interpretations of the Tenth generally fall into two camps: The first group says that the federal government does not have any powers except those specifically granted by the Constitution (or sometimes, the first eight amendments); the second group holds that the Tenth grants Congress the authority to do pretty much anything that isn't specifically prohibited by the first eight amendments. One sentence, two polar opposite opinions.
It's the first interpretation that conservative "teabaggers"—Libertarians, members of the Constitution Party and some Republicans—have latched on to. Mississippi falls into what the John Birch Society has dubbed the "Tenth Amendment Movement," by agreeing with this limiting interpretation and "reaffirming" it through legislation.
House Concurrent Resolution 69 reinforces "the fundamental principle and authority of State Sovereignty under the Tenth Amendment to the Constitution of the United States over certain powers and discouraging the Federal Government from imposing certain restrictive mandates." The resolution adds the Legislature's interpretation of the amendment saying that it "defines he total scope of federal power as being that specifically granted by the Constitution of the United States and no more," and that "the scope of power defined by the Tenth Amendment means that the federal government was created by the states specifically to be an agent of the states." It goes on to say that "many federal mandates appear to be in violation" of the Tenth without specifying what those are, but says it's up to the Mississippi Legislature to remind the federal government of its responsibility.
Much of the same language is found in Senate Concurrent Resolution 630, but it goes a step or two further in issuing a cease and desist order of "mandates that are beyond the scope of these constitutionally delegated powers," and demands that "compulsory legislation which directs states to comply under threat of civil or criminal penalties or sanctions or requires states to pass legislation or lose federal funding be prohibited or repealed."
The breadth of federal legislation that falls under the scope of SC630 is staggering: federal taxes, public education, food and drug policy, anti-discrimination laws (including those enforcing integration), printing money—essentially any law that is not specifically covered in the first eight amendments is, according to the Mississippi legislature "beyond the scope" of federal congressional power according to the U.S. Constitution.
Would lawmakers have us return to 1776 and slavery? If not, how many of the amendments enacted after the Tenth should be left? Should women and African Americans be disenfranchised? Do we put prohibition back on the books, or does it stay off? Do we immediately stop accepting federal funds that require the state to match all or part, like Medicaid? Or do we accept the funds but "without strings," to spend any way we see fit?
Rep. Steve Holland, D-Plantersville, Jack Gadd, D-Hickory Flat, and Thomas Reynolds, D-Charleston, attempted to show their disdain for HC69 through a pair of amendments ruled "improper." The first, from Holland, states: "Amend on line 82: The U.S. Congress, along with the Mississippi Legislature, supports, loves and respects Brett Favre during his latest vocational tribulation no matter what is decided." The second, from Gadd and Reynolds, reads: "Amend after line 86: This discussion on this resolution shall end and we will fix the car tag issue."
Somehow, both of those make more sense the rolling back the clock 230 years.
Previous Comments
ID

148218

Comment

Some people truly live in the past. Argh. Is there really nothing more original than America electing a black president, and then the South wanted to secede? (Fortunately, they are in the minority this time. Wonder how it feels?) (And, Ronni, Stephen Barnette is really not going to dig your special of Ross BARNETT's last name above!)

Author

DonnaLadd

Date

2009-05-28T08:09:50-06:00
ID

148223

Comment

The Mississippi resolutions stopped short of secession, but the "movement" includes a number of other organizations whose stated purposes include secession, such as the Alaska Independence Party and the Second Vermont Republic. The SVR states on its Web site that it "is a nonviolent citizens' network and think tank opposed to the tyranny of Corporate America and the U.S. government, and committed to the peaceful return of Vermont to its status as an independent republic and more broadly the dissolution of the Union." The spelling of Barnett is corrected, with all due apologies.

Author

Ronni_Mott

Date

2009-05-28T08:59:41-06:00
ID

148224

Comment

There's actually a movement afoot to do this in South Carolina by encouraging right-wing secessionists to move there and increase the numbers for secession, but that's a waste of time in a state that's 30% black and becoming more racially diverse by the day. If they want their Tenth Amendment paradise, a more sensible place to find it would be in Alaska--which has a low population, most of it lily-white, is on the other side of Canada and therefore will not be smack dab up against loyalist states, and is already conservative enough that electing Sarah Palin as governor looked like a good idea. But they'll never go for that because Alaska is (a) cold and (b) far enough from the United States that they won't be able to take advantage of U.S. resources. See, that's the thing--they don't really want to secede in the sense of actually becoming independent and having to create an independent culture, they want to secede in the sense of becoming, in effect, a white flight suburb of the United States. They want to take cultural advantage of our national municipality, as it were, without having to pay the national equivalent to city taxes. They want Madison writ large.

Author

Tom Head

Date

2009-05-28T09:00:28-06:00
ID

148225

Comment

I'm always glad to see the word "nonviolent" in right-wing groups' mission statements, btw, considering what happened in the 1990s. I would like to think that 9/11 made violent domestic terrorism less marketable, as things got pretty rough during the Clinton years. Some people really, really don't like being in the ideological minority. But most of these folks are probably harmless, many of them not even fully aware of the historical significance of what they're doing.

Author

Tom Head

Date

2009-05-28T09:02:17-06:00
ID

148242

Comment

Tom, the "not fully aware" part is what makes the teabaggers dangerous, IMHO. On the surface, they rally lots of people behind them talking about lower taxes and keeping the government out of people's hair. That's all well and good, but scratch the surface a little and you get into radical right-wing conservative groups and even hate groups like neo-nazis and the like. Too many Americans are far too quick to jump on board without asking any questions; to wit, the Mississippi Legislature. It's absurd that they willingly take federal stimulus funds with one hand, then put their names to legislation like SC630 with the other.

Author

Ronni_Mott

Date

2009-05-28T13:32:30-06:00
ID

148243

Comment

I'm always glad to see the word "nonviolent" in right-wing groups' mission statements, I'm cynical about this based on history. If you recall, both the Citizens Council (which turned into Council for Conservative Citizens) and Americans for the Preservation of the White Race in the 1960s made a huge deal out of being anti-violence. Meantime, both helped inspired the distrust and hatred that led to violence. Not to mention, the Citizens Council helped "spy" on the "traitors" that the Klan targeted (the actual terrorist arm), and APWR was basically the legal defense fund for Klansmen when they got caught. And having covered the militia movement after Oklahoma City bombing, I learned how easy it was for the so-called non-violent rhetoric to incite violence among a few. That's the real danger of any fringe group. That, and making people live in fear of each other and their government.

Author

DonnaLadd

Date

2009-05-28T14:14:36-06:00
ID

148252

Comment

Ronni, Trey from SkyTel here. Been a while hasn't it? The article is interesting reading and so are the comments, which begs the question, do either you or Donna read David Niewert's Orcinus blog?

Author

Pilgrim

Date

2009-05-28T15:50:02-06:00
ID

148253

Comment

Hey Pilgrim... include a link and we'll check it out.

Author

Ronni_Mott

Date

2009-05-28T15:52:50-06:00
ID

148255

Comment

Right-o. http://dneiwert.blogspot.com/

Author

Pilgrim

Date

2009-05-28T15:55:58-06:00
ID

148256

Comment

Donna, Directly to your point about violence, The Washington Post published a story about increased threats to judges and prosectors (emphasis mine): The threats and other harassing communications against federal court personnel have more than doubled in the past six years, from 592 to 1,278, according to the U.S. Marshals Service. Worried federal officials blame disgruntled defendants whose anger is fueled by the Internet; terrorism and gang cases that bring more violent offenders into federal court; frustration at the economic crisis; and the rise of the "sovereign citizen" movement -- a loose collection of tax protesters, white supremacists and others who don't respect federal authority. ... The stress nearly overcame Michael Cicconetti, a municipal court judge in Painesville, Ohio, after police played a tape for him of a defendant in a minor tax case plotting to blow up the judge's house. "I hear a man's voice talk about putting a bomb in the house, and another voice says, 'What if there are kids involved?' and the first man says, 'They're just collateral damage,' " the father of five recalled. Cicconetti evacuated his family for a terrifying week in which they were under guard and stayed at friends' houses. "I couldn't go to work for two weeks. I was too shaken up. I couldn't think," he said. For months, the judge was nervous every time a car drove by his home. His children were afraid to go to bed; their grades dropped. The judge now has a security system in his home -- and a stun gun within reach in court.

Author

Ronni_Mott

Date

2009-05-28T16:28:35-06:00
ID

148257

Comment

Interesting reading, Pilgrim. Here's a quote from a recent post about Prop 8 in California: But it is not fearmongering to say that there are known patterns to things (including right-wing behavior), and to point out that elements of the current situation are objectively, factually, demonstrably conforming to at least some of those patterns. It's not fearmongering to challenge people's fondest assumptions about how things are working out, and to point out very plausible ways they could take a turn for the worse. It's not fearmongering to consider just how far south that turn might go before it bottoms out. And it's not fearmongering to suggest that prudent preparations, just in case, are probably in order. Leaders of any movement [who] refuse to allow their assumptions to be questioned, or make a habit of ridiculing those who offer serious alternatives that challenge their happy talk, reveal a blindness that should worry us all. There is always a worst case (even if it's not the most likely case); and movements that endure are the ones who are always mindful of just how close or far away they are from ending up there.

Author

Ronni_Mott

Date

2009-05-28T17:02:13-06:00
ID

148261

Comment

Ya'll crack me up!

Author

LawClerk

Date

2009-05-28T21:03:59-06:00
ID

148283

Comment

Who's laughing now, LawClerk? Suspect in Tiller murder identified: Roeder has a history with Kansas law enforcement and with potentially violent political extremism. In 1996, he was stopped and arrested for driving a car without a valid license plate, apparently an act of protest. According to the Kansas City Star, the FBI believed that Roeder was a member of the Montana Freemen, a militia group that engaged in a standoff with authorities. His license plate read: Sovereign Private Property Immunity Declared at Law Non-Commercial American Upon searching Roeder's car, police discovered bombmaking material including gunpowder and two six-volt lantern batteries. In his home, they found a two-page instruction manual, "Underground Cookbook: Clothes Pin Time-Delayed Switch" that reportedly gave directions for how to assemble a bomb with the items in his car. After later violating his parole for convictions stemming from that incident, Roeder was sentenced to 16 months in prison. This is exactly what I was talking about above, tragically. Every one of these spread-hate movements, while claiming to be non-violent, attract violent nutcases who carry out the dirty work.

Author

DonnaLadd

Date

2009-05-31T19:57:55-06:00
ID

148284

Comment

We have no better sign than this murder today that all Republicans and conservatives who do not believe in violence and hate have got to join the rest of us in speaking out against it. Looks like some Republican senators are getting the memo on the radical right's treatment of the new Supreme Court nominee. All the race-baiting is going to embolden nutcases to do something like this against Latinos. It always does, and if we don't know that in the state, nobody does.

Author

DonnaLadd

Date

2009-05-31T20:02:23-06:00
ID

148286

Comment

I don't even know how to respond to the first paragraph. I'll relay that sentiment to tomorrow's breakfast meeting. Of course they join with you.

Author

MAllen

Date

2009-05-31T20:47:07-06:00
ID

148291

Comment

Good. I hope we hear from them all loud and clear in their protestations locally and beyond. Meantime, I'm already moderating out comments from local conservatives justifying the killing. Y'all need to step up and be loud, MAllen. Truly. Have the Hinds County Republicans issued a statement lambasting the murder, yet? When can we expect it, if not?

Author

DonnaLadd

Date

2009-06-01T07:27:55-06:00
ID

148292

Comment

Do Democrats feel compelled to issue an official statement everytime some psycho from the left does something disgusting in some other area of the country? Don't you think people kind of assume they think it disgusting because they are, after all, rational human beings? I sure do. I don't think Democracts in a similar situation have to "prove" themselves by issuing out some fax that says it's disgusting. I have no idea if the Hinds County Republicans will issue a statement about what some nut in Kansas did. No idea.

Author

MAllen

Date

2009-06-01T08:18:09-06:00
ID

148297

Comment

You're spinning, MAllen. Yes, I do believe that the Democratic Party would issue a hardcore statement against an act of terrorism committed on behalf of one of their key poitical wedge issues. If they didn't, I would be as disgusted with them as I will be if every Republican I know doesn't skip the spinning and speak out against this. It is a really good moment to start saving your party, and taking it back from the devil. Whining about Democrats is not going to do that for y'all in this case. I suspect the Hinds County Republicans will not issue a statement -- probably afraid of losing the wingnut vote. And that's very sad. What's remarkable is how easy it would be for non-violent conservatives to take the high ground and issue a statement -- see Obama's -- and many still won't. It rather reminds me of all the Republicans in our state (as in: all of them) who refused to sign on to a non-binding resolution apologizing for lynching. And such a statement is really important: Our leaders must not give off the impression that this kind of behavior is in any way justified; unanswered hate rhetoric is what leads to violence and terrorism, whether in the rest of the world or right here in the U.S. It's exactly how the worst things in our state's history happened. And it's exactly the way it happened in the Oklahoma City bombing, down to a guy who hated the government so much that he wouldn't put a license plate on his car. All good people need to get in front of this train, and put politics aside. Ironically, that will likely to prove the smart political thing to do as well. But don't do it for that reason.

Author

DonnaLadd

Date

2009-06-01T08:59:34-06:00
ID

148298

Comment

I also wonder if we'll hear from the "sovereign" teabaggers in the state, being that the suspect sounds like one of their own.

Author

DonnaLadd

Date

2009-06-01T09:00:42-06:00
ID

148306

Comment

While tragic, the murder in Kansas does not warrant "statements" from local Mississippi political parties. First, not all Republicans and conservatives are pro-life. Second, it is unknown as to whether the lunatic who committed the murder is a registered Republican, but party affiliation alone does not warrant a statement. Would you expect the local Wichita paper to issue a statement everytime a Democrat-registered voter murders someone? Sometimes you see a conspiracy where there is nothing...like your Better Jackson PAC coverage.

Author

QB

Date

2009-06-01T10:00:52-06:00
ID

148307

Comment

While tragic, the murder in Kansas does not warrant "statements" from local Mississippi political parties. Of course it does. This is a national act of terrorism, and we all know it. Local Mississippi politicians speak out on all sorts of things that happen in other states in order to get votes. The big question is: Why WOULDN'T they speak out about such a heinous act? That's the question we should all be asking. First, not all Republicans and conservatives are pro-life. What does being "pro-life" have to do with speaking out against terrorism? The point is that it shouldn't keep you from speaking out against it! This is not about being Republican, Harry. It's about being the party that uses abortion as your top wedge issue and invites in extremists on the issue. The point here to is to kick them out publicly and make sure that confused, impressionable minds hear you doing it, so they don't feel as justified in taking matters into their own hands. After all, we have a clinic here. Obviously, this is a issue that matters in Mississippi, and our leaders need to act like it, regardless of their party affiliation. Sometimes you see a conspiracy where there is nothing...like your Better Jackson PAC coverage. Huh? You just changed the subject. Sorry to tell you, but any PAC is a "conspiracy" by definition, regardless of party it is supporting. People are getting together to "conspire," to their agenda. The problem with this PAC is that it used one clearly raised to support a big development problem to push "baseless" (to use the FBI's word) crime rankings. And they seemed to have violated state law by not filing any reports before Election Day. They're the ones who made it secretive and weird, not us. We just exposed it. Harry, bringing that idiocy up is clearly not going to help your argument on this topic any! Back on topic, the bottom line is that everyone needs to speak out against acts of domestic terrorism. The Republican Party, nationally and in the state, has closely aligned itself with the anti-abortion movement. You can't blame the messenger on that; I didn't tell them to do it. All I'm saying now is that they should speak up when times get rough, too, and not just show up to get votes from pro-lifers. Certainly, we've heard plenty of Mississippi Republicans speak out against international terrorism; where are they when it hits closer to home? For the record, the state Democratic Party should do the same thing. They haven't used abortion as a wedge issue int he same way, but many state Democratics are anti-abortion as well and run on that platform. We're listening ...

Author

DonnaLadd

Date

2009-06-01T10:10:17-06:00
ID

148313

Comment

First, the PAC struck me as unorganized, and that is the reason they were late with the required filings. But my unorganized is your conspiracy. :) Second, did the abortion issue even come up in the last national election? I don't recall McCain using that as a 'wedge issue.' But regardless, this murder was not a terrorist act. He did not attack the government or its agents. He was not involved in a criminal conspiracy that we know of. Murdering someone else because of your flawed idealogy does not make you a terrorist. Obviously, the lack of "statements" being issued from either side of the aisle confirms this. There are plenty of other things wrong with this situation than to cast blame on the Republican Party because it refuses to condemn murderers. As Matt said above, it's obvious and there is no need.

Author

QB

Date

2009-06-01T11:03:10-06:00
ID

148315

Comment

First, the PAC struck me as unorganized, and that is the reason they were late with the required filings I don't remember seeing "unless you're disorganized" after the filing requirements in state law. They were organized enough to raise in the neighborhood of $10,000 from Two Lakes supporters -- all before the primary in April, I believe. But they weren't organized enough to file the report until days after we called them out on it -- four hours before the polls closed? We're talking *weeks* late. Really, Harry? You're excusing this? As for motive, we'll have to agree to disagree. It smells to me like the PAC would rather the public not know that all that Two Lakes money was paying for those "baseless" Morgan Quitno scare-mailers. But that part is only my impression. I can't know for sure because the group behind it was too freaked out to do anything but get defensive about it. And, if you recall, even McGowan said it was a big mistake on his part. Back on topic, you're right: McCain did not use abortion as much as most Republicans. However, Palin brought it front and center, and she is a sweetheart of many very extreme groups. And here in the state, abortion is used as a wedge issue all. the. time. Look at the state Legislature games alone by both Republicans and Democrats. It's not just about Republicans; I haven't seem a statement by Dems, yet, and that party tends to be scared of its damn shadow in this state, so we'll see if it doe the right thing either. So under your definition of terrorism, I guess a lone suicide bomber in Iraq who didn't get explicit instructions from bin Laden, et al, is not a terrorist? That's good to know. To me, he or she is still a terrorist -- precisely because they are using violence to terrorize people into supporting their ideology. That is exactly what this was. As Matt said above, it's obvious and there is no need. With due respect, that's B.S., and everyone of us knows it. You wouldn't be here spinning so frantically if you thought it was so obvious. All it takes is a sentence or two in a press release. I get those all the time from Mississippi Republicans, and for issues less pressing than this one. There is very strong need, and it will interesting to see who has the courage to simply do the right thing.

Author

DonnaLadd

Date

2009-06-01T11:21:37-06:00
More like this story
More stories by this author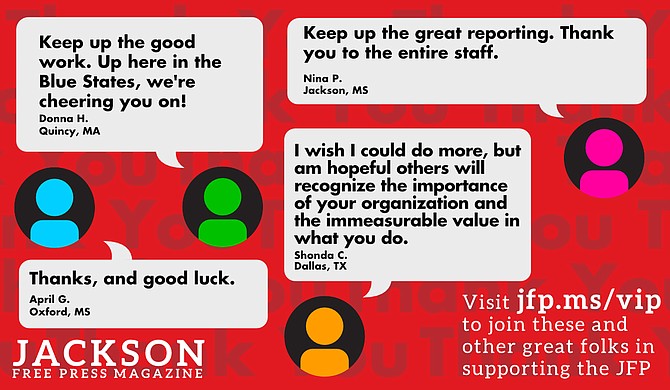 Thanks to all our new JFP VIPs!
COVID-19 has closed down the main sources of the JFP's revenue -- concerts, festivals, fundraisers, restaurants and bars. If everyone reading this article gives $5 or more, we should be able to continue publishing through the crisis. Please pay what you can to keep us reporting and publishing.