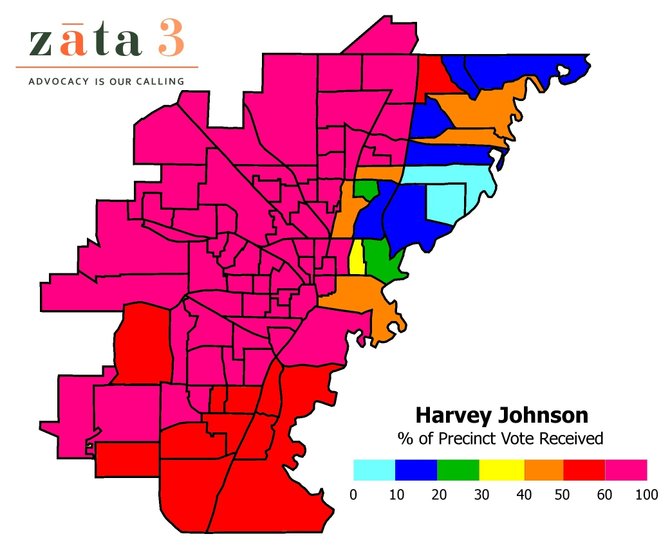 Here's our Monday-morning quarterback analysis about the margin of victory. And yes, here too is my admission that I had no clue that the margin of victory would be so large.
* We started with two credible candidates in the runoff-Black AND White voters would agree that both were capable of running the city (as contrasted with several other candidates on the ballot on May 2nd) No matter who won, we would be better off.
* Frank Melton had been vanquished in the Primary. One cynic observed to me that NE Jackson "had won" already. The anti-Melton angst was satiated. White voter turnout lagged in the runoff.
* Harvey Johnson had been Jackson's first Black Mayor. He wasn't beaten four years ago because he was too close to White business leaders or had embarrassed the city. Johnson lost to a rock star financed with a wad of cash from NE Jackson. Johnson was, and continues to be, a likable fellow. Black voters didn't despise Johnson in 2005. They just thought they had traded up.
* Harvey Johnson had a very compelling stump speech and a theme that resonated. "I believe in second chances. I believe in a second-chance God..." How does one counter that without coming off as cold and unforgiving?
* Johnson could point to several tangible projects that began under his watch that had come to fruition, mitigating the criticism that he had been ineffective.
* There wasn't enough of a visual contrast between the "Old vs. New" between Johnson and Crisler. The former mayor was 62 years old, not 82. He had a great line to deflect the criticism. "I know I am sixty two because I do 62 push ups every morning..."
In the end, the vote was more racially polarized than any of us would have hoped. But I suspect that over the past four years Mr. Johnson has thought a lot about the necessity of an inclusive approach to governing.
All the best
Brad
Previous Comments
ID

148031

Comment

I had expected Mr. Johnson to win. I was surprised by the total numbers. I live in ward 1 and I voted for Mr. Johnson. I was disappointed in his previous tenure and his lack of new ideas.I hope his and the city council's policies will not chase me out of Jackson. I think all the character inflation of Mr. Melton since his death helped his cronies win in their wards. Bluntson and Tillman's victories have me somewhat skeptical that any meaningful progress can be accomplished. Time will tell.

Author

Slider

Date

2009-05-21T18:18:17-06:00
ID

148034

Comment

Well said.

Author

Powerman

Date

2009-05-21T20:29:41-06:00
ID

148064

Comment

Their victories leave me skeptical also. But let me pose this question: "Why is it always us against them, us against NE Jackson?" We will reach that day of a progressive Jackson that looks at everybody, and stops measuring you up by where you live? Just wondering. Great anaylsis BTW..

Author

lanier77

Date

2009-05-22T11:05:08-06:00
ID

148065

Comment

No one wants to admit that Frank Melton would have beaten both of these guys if he had endured. Crisler is not liked at all in the black community. His ward despises him. Johnson isnt liked in the white community(look at the numbers). The north jackson black (ward 2) voting bloc always hated Frank. Frank received more black votes than Crisler. He would have received most of the white votes against Harvey. They divided and conquered Melton. RIP FRANK. We will always love ya.

Author

Principalman

Date

2009-05-22T11:09:57-06:00
ID

148071

Comment

Principal, with due respect to you and Mr. Melton, if he couldn't enough votes to get into the runoff, it is really specious to say he could have beaten either Johnson or Crisler. That was clearly not true this time around. His political capital was shot throughout the city.

Author

DonnaLadd

Date

2009-05-22T12:30:33-06:00
ID

148074

Comment

Alright people it's time now to quit fighting and pointing fingers at each other. We need to finally come together and try to work out our problems. Especially the issues of race and gender. Just think if we could devote as much time working together to improve the City of Jackson as we have in arguing and fighting each other on every little issue that comes up we would have had Jackson as one of the best Cities for family and business. I know that I have also thrown the rocks as much as any one else but the difference was that I told the people up front and I attacked with the truth. I wish sometimes that we could go back and change all the mistakes over the years but this can't be done nor should we do it in the first place. While we keep going back, progress is moving on without us. I supported and still support Harvey Johnson for Mayor of the City of Jackson because I believe that he really wants a second chance to help the City of Jackson. We should at least give him the opportunity to show us that he is real. There has been to many lies, too much stealing and illegal acts committed in the past, now we need professionalism and our business leaders to work with everyone to improve the lives of the citizens of Jackson

Author

Tony Davis

Date

2009-05-22T12:52:54-06:00
ID

148079

Comment

I agree with Ms. Ladd, in as much as Frank came in third behind Crisler and Johnson. However, if the Democratic primary was truly "democratic" absent Republican participation; Melton would have likely edged out Crisler. There is no way to determine how many persons who voted in the primary were Republican; but, I think it is fair to say that a good percentage of Ward 1 voters and a few from Ward 6 and Ward 7 were "Crisler" Republicans or Republicans for Crisler who participated in the Democratic primary.

Author

Powerman

Date

2009-05-22T14:51:49-06:00
ID

148089

Comment

"Coulda Woulda Shoulda bees never made honey!" In point of fact Frank came in 3rd in the primary. Northeast Jackson was done with Frank, and had signed on for Crisler. Jeff Weill was unopposed so those voters did what they had a right to do, and they voted in the Democratic primary. So long as there are open primaries, that just is what it is. In the runoff, Northwest Jackson voted early and often for Johnson. Since they had a contested Council runoff of their own, Harvey had a solid Base of support with extra incentive to go to the polls to pick a councilman. Further, northwest Jackson tends to historically vote in heavier numbers than south Jackson and west Jackson. So Harvey Johnson, an able, if over-deliberative administrator returns. The City is undoubtedly better off than in the past 4 years. Good Luck and Godspeed, Mr. Johnson.

Author

Angry Democrat

Date

2009-05-22T17:03:09-06:00
ID

148195

Comment

From the CL: Some of Johnson's large contributors include Chicago lawyer Richard Boykin ($5,000); Baton Rouge lawyer Bernard Charbonnet Jr. ($4,000); Andrew Jenkins of the Flora engineering firm AJA Management ($5,000); and Jackson residential developer Michael Johnson ($5,000). Where is all the commotion about 3 out of 4 of Harvey's top contributors being from outside Jackson (and two from outside the state)? Oh wait, Harvey's your man so no questions asked.

Author

QB

Date

2009-05-27T08:40:38-06:00
ID

148196

Comment

I'm not sure why they call AJA there as being from Flora when the only AJA Management I can find isn't in Flora, but NW Street in Jackson. They've won one contract to do some work with the Engineers over in Vicksburg, Gov't contract.

Author

Ironghost

Date

2009-05-27T09:09:55-06:00
ID

148198

Comment

Try again, Harry. We haven't made a huge deal out of anyone's contributors being from outside Jackson. That seems to be extremely common; I remember Melton had huge money from other places. I do think it's interesting to go through and figure who each one is, and we didn't have time to do that for either candidate on their regular report. I think it's great that the Ledger is doing it ... albeit a bit late. Although, it is always good to know what special interests gave to the campaign, so that we can keep an eye on him once he's in there to see what favors he does. A lot of times the money from other states is political party money that gets spread around to various Democratic or Republican mayoral candidates, for instance. Melton had money from a group of Republicans who give to black Democrats-that-Republicans-like, for instance. I really hope that we have planted some seeds with our campaign finance work of late to get all the media outlets to scrutinize this stuff closer. Personally, I'm going to put all report filing deadlines in my tickler so I know when new reports are due, so we can watchdog it. But having other media helping out would be nice, considering we have a grand total of two reporters here, plus help from us editors as needed.

Author

DonnaLadd

Date

2009-05-27T09:46:11-06:00
ID

148200

Comment

Just read the CL story. I get what's it about now when read in contextt: People started donating (sucking up) to Johnson when they realized he would likely be the next mayor. That's kind of funny.

Author

DonnaLadd

Date

2009-05-27T09:51:18-06:00
More stories by this author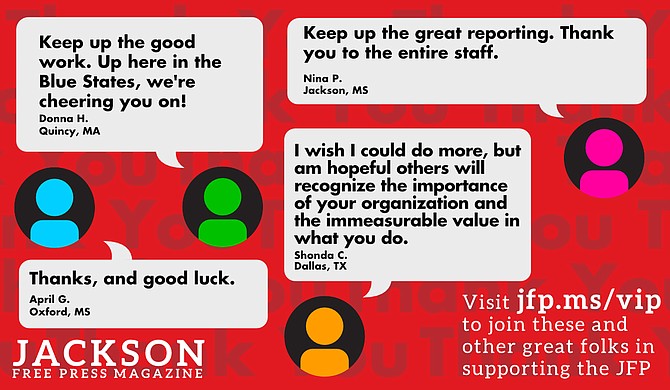 Thanks to all our new JFP VIPs!
COVID-19 has closed down the main sources of the JFP's revenue -- concerts, festivals, fundraisers, restaurants and bars. If everyone reading this article gives $5 or more, we should be able to continue publishing through the crisis. Please pay what you can to keep us reporting and publishing.