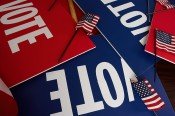 Send your questions now for the May 14 mayoral debate between Democratic nominees Councilman Marshand Crisler and former Mayor Harvey Johnson Jr. at the Rose McCoy Auditorium on the Jackson State University campus. The one-hour debate starts at 7 p.m. and lasts one hour, followed by a 30-minute debate analysis moderated by Bishop Ronnie Crudup. Scott Simmons of 16 WAPT News, Eric Stringfellow of Tougaloo College and Donna Ladd of the Jackson Free Press will moderate the debate and ask questions of the candidates, who will be allowed to rebut. The debate will be simulcast on TV 23 (which reaches the local area without cable on Channel 23) and Comcast Channel 14; WAPT's digital channel 16-2, WJSU 88.5 FM, and on three Web sites: wapt.com, jacksonfreepress.com and jsums.edu.
Seating at the event is first come, first served. Doors will open at 6 p.m.; everyone must be seated by 6:45 p.m. No campaign materials, including signs, buttons or t-shirts, will be permitted. Neither will applause or cheering be allowed for either candidate. The Jackson Free Press is distributing a limited number of reserved tickets to the public on a first come, first serve basis. Please contact Jackson Breland at 601.362.6121 ext. 2 or e-mail [e-mail missing] to get on the waiting list to pick up those tickets, or with questions. Candidates can only get two reserved tickets for guests.
Also send questions for candidates to: [e-mail missing]. Candidates will not be provided questions in advance. Only the moderators will know the questions going into the debate.
Sponsors of the debate are: 100 Black Men, 16 WAPT News, Delta Sigma Theta Jackson Alumni, Jackson Free Press, Jackson Progressives, Jackson State University, Leadership Jackson Alumni Association, TV 23 and WJSU 88.5 FM.
Previous Comments
ID

147153

Comment

"Candidates will be be provided questions in advance. Only the moderators will know the questions going into the debate." That must be a typo.

Author

News Junkie

Date

2009-05-08T16:09:59-06:00
ID

147163

Comment

I am ready to come out and help Harvey get re-elected. In my opinion he is the only person between the two that is man enough to stand up against the North East Jackson attempt to elect their Great Brown Hope in order for them to get back in control of the City of Jackson. I think Harvey has had time to understand his mistakes and has learn the value of placing people around him that will be truthful and support his vision. that's good enough for me!!!

Author

Tony Davis

Date

2009-05-09T09:19:41-06:00
ID

147199

Comment

i don't understand how donna ladd can be allowed to be one of the moderators given her staunch support of HJ on this website. That is an inherent conflict of interest. She should disqualify herself. Otherwise, it taints that process. I don't know about Scott Simmons and Eric Stringfellow, but if they have publicly endorsed a candidate they should likewise take a hike on this one. There are plenty of bright, capable, non-partisan people out there that are not identified with a campaign/candidate that could be called upon to serve without tainting the process.

Author

FriendsofJackson

Date

2009-05-11T05:37:19-06:00
ID

147202

Comment

FOJ, I think your concerns are unwarranted. There are journalists are fully capable of having a specific political position but can handle themselves professionally and in an unbiased manner as the moderator of a debate. From past debates, I trust ladd to be one of those types.

Author

Jeff Lucas

Date

2009-05-11T07:21:12-06:00
ID

147204

Comment

Friends, that kind of dust-kicking reminds me what the Melton campaign tried to do four years ago in limiting their candidate to people who dared to be critical or ask real questions (and what that portended for four years). The new mayor is going to have to be accountable to media and the public including media and citizens who are critical of them. Good candidates welcome that. And Crisler himself told me about three weeks ago that regardless of whether we endorse him or not, he will always welcome questions from me and the JFP because we have proved through our work that we are credible and fair. The truth is that Eric Stringfellow has written many critical columns about Johnson over the years—I'm guessing much more than he did Criser—and that should not limit his access. I can't imagine that either of these candidates would shy away from answering questions from critical journalists, either now or if/when elected. That wouldn't send a very good message. The questions in this debate, as the last one and our editorial interviews of candidates, will not be "gotcha" or personal questions, and we even avoid yes or no questions. They will all be open-ended substantive issue questions that the media panel selects. Then different ones of us will read them to the candidates. It's not like we will then have a debate with them! I'd just as soon ask Harvey Johnson substantive issue questions as I would Crisler. And if anyone out there thinks that the JFP endorsing a candidate means that the tough questions end, then they are really naive. So please don't try to cause a controversy here that distracts from a real discussion of issues. That makes no sense at this point in Jackson's history. We simply don't need a replay of the drama of four years ago, and I doubt either campaign wants that, either. This is a week when Jackson should engage, really engage, in issues facing our city and looking for solutions, not again fall prey to petty, distracting drama.

Author

DonnaLadd

Date

2009-05-11T07:26:04-06:00
ID

147205

Comment

Oh, and thanks, Jeff. I do think our track record on asking fair, substantive questions should speak for us. I mean, look at the Melton interviews, for goodness sake! ;-)

Author

DonnaLadd

Date

2009-05-11T07:27:16-06:00
ID

147209

Comment

Papers usually endorse candidates! What's the problem? I mean, Gwen Ifill had a blooming book coming up re: Obama and still did a fine job moderating. The only way to guarantee no conflict of interest by journalists is to insist that journalists be the most spectacularly unengaged people in the community... Which (guess what?) can create a bias towards non-engagement. So it seems to me that it makes a lot more sense to promote a journalistic ethic of covering things fairly despite personal opinions than it does to go around trying to find journalists who don't have personal opinions. I respect the old Jim Lehrer ethic, where he didn't even vote because he wanted to remain impartial. I really do respect that. But I don't think anybody is obligated to do that, and I'm not sure it would be wise if most journalists did. As the old Rush song goes: If you choose not to choose, you still have made a choice.

Author

Tom Head

Date

2009-05-11T08:06:14-06:00
ID

147210

Comment

I agree 100% Tom, I always advise candidates to remember they, and no one else, are and should be the focus of the debates...not who's asking questions. If it occurs during the debate, the candidate should have the moxey and wherewithall to call the person out. It's simply part of the process. As a CSPAN junkie, I've watched 100's of debates over the years and it's my conclusion that if a candidate is "applying" to be a leader of a city, state, or nation and can't handle tough questions from someone who may even be biased, how can they handle the job once elected. As to this particular case and the players involved, I have no doubt Crisler will do great.

Author

Hayes

Date

2009-05-11T08:17:18-06:00
ID

147213

Comment

[quote]Gwen Ifill had a blooming book coming up re: Obama and still did a fine job moderating. [/quote] Says you. I could have made a long list things I didn't like reading about that "Debate".

Author

Ironghost

Date

2009-05-11T08:36:49-06:00
ID

147219

Comment

The problem with Ifill wasn't bias. It was asking long, rambling, multi-part questions that tend to draw simplistic answers. Tom Brokaw did the same thing. It's remarkable to me how many big-time journalists don't know interviewing basics: ask open-ended questions; avoid yes or no questions; ask one question at a time and shut up.

Author

DonnaLadd

Date

2009-05-11T10:18:11-06:00
ID

147220

Comment

And Hayes, right on with your post. A candidate should keep the focus on themselves. No doubt. Allowing distraction about the debate never works.

Author

DonnaLadd

Date

2009-05-11T10:42:58-06:00
ID

147224

Comment

Back to the substance of the debate: All, remember that you do NOT have to have a ticket to get into this debate. The JFP and WAPT are, though, giving away a limited number of "special" tickets to get you up close. We're assembling a wait list for those here; call 601.362.6121 ext. 2 or e-mail [email protected] to get on the list. Jackson will let you know Tuesday if you made it and can pick up a ticket. (You can't request more than two, and two each of those are reserved for campaigns.) Otherwise, doors open at 6 p.m., and it's general admission (unless the whole thing fills up, but it's a big venue!). Oh, and remember to submit questions for the candidates: Open-ended, substantive, issue-based. Send to [email protected] by Wednesday. Thanks, all! Let's have a great debate!

Author

DonnaLadd

Date

2009-05-11T11:14:20-06:00
ID

147248

Comment

Harvey Johnson talks city finances http://gannett.a.mms.mavenapps.net/mms/rt/1/site/gannett-jacksonms-098-pub01-live/current/launch.html?maven_playerId=sect_news&maven_referralObject=1120345117

Author

NewJackson

Date

2009-05-11T23:00:15-06:00
ID

147255

Comment

Gwen Ifill did not openly endorse a candidate before she moderated the vice-presidential candidate debate. Nor did she blog repeatedly about her opinions of a candidate's perceived deficiencies. Nor did she blog repeatedly about her criticisms of a candidate's support from a particular group of people. Unfortunately, Ms. Ladd's actions reveal her bias against one of the candidates. And it goes well beyond any particular criticism a journalist like Mr. Stringfellow may have had against either candidate. Mr. Stringfellow has been pretty balanced in his criticism of all candidates. And he HAS NOT ENDORSED any candidate. The same cannot be said for Ms. Ladd unfortunately. At this stage, there is no way for her to avoid the appearance of bias while moderating this debate.

Author

Here to Stay

Date

2009-05-12T08:39:48-06:00
ID

147256

Comment

You're entitled to your opinion, of course, Stay, but you and others can judge from how it goes Thursday night. I spoke to the Crisler campaign yesterday, and they are fine with the way things are set up—very much in line with what the candidate himself told me several weeks ago. As Hayes advises above, I'm sure he's got bigger fish to fry than who reads the questions to him Thursday night. Just for the record, the JFP endorsement did not come from me, nor did I write it. ;-) I had one vote, which changed during the course of the conversation. The board did reach consensus, and I believe strongly that we did the right thing based on what we had seen and heard. I'm not the kind of journalist who pretends not to be biased, and never have been. All journalists are "biased"; the best we can hope for is that we cast a wide enough net to gather the information we need before taking a stand on something, and then be honest about our positions so everything is on the table. The JFP has always lived by that creed, and it has served us, and I believe the community, well. Also -- Who are you, Here to Stay, btw? You don't have to tell us, of course, but should you be a Crisler supporter, should that be a "bias" you reveal when posting? Wouldn't it lend you more credibility if you and your position were more transparent? Just food for thought as we consider the complicated question of bias.

Author

DonnaLadd

Date

2009-05-12T08:54:28-06:00
ID

147257

Comment

HtS, "the appearance of bias" is an interesting, passive-voice concept. Who, other than anonymous pro-Crisler bloggers, alleges bias on the part of Donna Ladd? Does Crisler? I haven't heard him say a word about it, and I would think it's his campaign that would be responsible for making accusations of this nature. I don't mean to harp on the anonymity thing so much, but I find it damn precious when an anonymous person alleges that someone is biased, unqualified, or otherwise possesses attributes that the person could not be accused of possessing if s/he, too, were anonymous. It's sort of like watching somebody throw a snowball and then hide behind a car. If you're going to attack somebody for being less anonymous than you, at least have the decency to acknowledge that this is what you're doing. You know, I'm really getting sick of all the turdblossoms in both campaigns. If I didn't care so much about actual city policy and administration, I'd just stay home on the 19th, as I'm sure a lot of people (who have been burned out by this sort of foolishness over a period of decades) will.

Author

Tom Head

Date

2009-05-12T08:56:01-06:00
ID

147262

Comment

Being a JFP reader, I agree with Stay that Ladd and JFP are biased on behalf of Harvey Johnson. Heck, no suprise there he received their endorsement. However, to be fair, we must also agree that the Clarion Ledger is biased on behalf of Chisler. Donna, I feel that you will be as fair as possible during the debate. These are standards that your readers expect from you and you have never let us down before. That being said, I am a Cristler supporter but I feel that whomever will be elected will do a wonderful job. Jackson is on the move and we have to keep it crackin! No time for nonsense.......

Author

Tell it!

Date

2009-05-12T09:18:28-06:00
ID

147265

Comment

Thanks, Tell it. I won't let you down. ;-) As for anonymity, we allow it because we know that some people simply could not post without it (due to jobs, etc.) And, frankly, I know who most of our anonymous posters are. However, I do think it is absolutely fair game to point out when people go on the attack of other people, posting rumors and getting personal or alleging bias, when they are posting anonymously and hiding their own biases. That is, we're not saying they can't be anonymous, but there is nothing wrong with pointing out that they are only so credible if they are not willing to attach their names, like the rest of us who only post on the Web with our real names attached.

Author

DonnaLadd

Date

2009-05-12T10:00:17-06:00
ID

147269

Comment

Anyone involved in the media who gets to know the candidates, and even to a lesser degree just us regular people who are watching this election closely, are going to come to some opinion about those candidates. It's kind of the point of watching and learning about them. Are we supposed to move the debate to some neutral location as we would a trial that has had too much pre-trial publicity? That would be as ridiculous as asking Donna Ladd to recuse herself as one of the moderators of this debate because she has formed some opinions by actually interviewing the candidates. I think Ms. Ladd and the JFP have been more than adequately transparent in their discussing how and why the Editorial Board came to the decisions that they did. Some will agree and some won't. Well, ain't living in a free country great? I don't know Ms. Ladd personally but in my experience reading her commentary here and debating with her on these pages. I believe she will continue to show the same integrity and thoughtfulness as Moderator/ Question Reader of the debate that she does here. Now, if she starts calling Mr. Crisler crybaby or fiddy cent. I will be shocked. Highly amused but shocked nonetheless.

Author

WMartin

Date

2009-05-12T10:45:28-06:00
ID

147270

Comment

LOL. Of course, I won't do that, WMartin. ;-) I appreciate your posts, though, but you are certainly someone who does not always agree with me. I really wish that everyone who posts here in support of a candidate would focus on real issues and positions, strengths and weaknesses (other than rumors and personal attacks). It really seems that would help their candidate more than pettiness. Also, I'm hearing rumbles that our debate ad (see front page of site) is a conspiracy against Crisler because it's an "old, old photo," as one close supporter wrote us in e-mail, and Johnson's is recent. Actually, my staff says that the Crisler photo was taken last year at a public event and Johnson's was shot when he was mayor several years ago. So much for that one. But it does remind me of a really hilarious conspiracy-theory thread from four years ago. And the debate moderation complaints rather remind me of this: Houston, We Have a Problem. So, is there a conspiracy-theory template campaign supporters pull out at times like these???

Author

DonnaLadd

Date

2009-05-12T11:01:00-06:00
ID

147272

Comment

I don't have to agree with you to respect you. I find the well thought out opinions that disagree with mine far more interesting because I already know why I believe the things that I believe. It's the ideas and the opinions that I haven't thought of that interest me. Speaking of which, where is Whitley? I miss her and Walt. ;-P The whole debate moderation complaint, in my opinion, is probably a way to control damage if the debate is lost. i.e. -"The debate was rigged with opponents as moderators."

Author

WMartin

Date

2009-05-12T11:50:39-06:00
ID

147273

Comment

[quote]So, is there a conspiracy-theory template campaign supporters pull out at times like these??? [/quote] Oh yes. It makes debunking them so much easier. :)

Author

Ironghost

Date

2009-05-12T13:05:46-06:00
ID

147286

Comment

I'm looking forward to thid debate. Hopefully both candidates will get beyond talking points and give some real information about their plans to lead the city.

Author

News Junkie

Date

2009-05-13T08:44:06-06:00
Support our reporting -- Become a JFP VIP.
The news business has changed dramatically in the past two years, and we need your help more than ever to keep bringing you important stories about Jackson and the Metro. Become a JFP VIP with an annual membership or you can Sign up as a monthly supporter. Thanks for anything you can do to empower our journalism!