A Hinds County Grand Jury reportedly returned three indictments for Karen Irby today in a case stemming from a Feb. 11 crash on Old Canton Road. The indictments include two counts of depraved heart murder and one count of aggravated assault, according to unidentified "court officials" in a Clarion-Ledger story.
Irby was allegedly driving her Mercedes at speeds over 100 mph when she crossed into oncoming lanes and crashed head-on into a pickup truck carrying two young doctors, Dr. Mark Pogue and his fiancee, Dr. Lisa Dedousis. The doctors died at the scene, their truck bursting into flames.
WAPT reported last week that results from Irby's blood tests taken hours after the crash allegedly show that her blood-alcohol level was still over the legal limit, indicating that she was drunk at the time of the crash.
Irby and her husband, Stuart Irby, a passenger in the Mercedes, survived the crash with severe injuries. Her husband's injuries are reportedly the basis of the aggravated assault charge.
The Hinds County Circuit Clerk's office would not confirm or deny the indictments.
Previous Comments
ID

147145

Comment

What exactly is "depraved heart murder"? (Quick: Which attorney will tell us first!?!)

Author

DonnaLadd

Date

2009-05-08T14:39:42-06:00
ID

147146

Comment

Not a lawyer but it was easily looked up. :) Depraved-heart murder is an American legal term for an action that demonstrates a "callous disregard for human life" and results in death. In most states, depraved heart killings constitute either second-degree murder or first-degree manslaughter.

Author

BubbaT

Date

2009-05-08T14:57:20-06:00
ID

147150

Comment

Wait, wait, how do we know her blood alcohol level was over the legal limit?

Author

ahayron

Date

2009-05-08T15:28:43-06:00
ID

147157

Comment

We're relying on the reporting of our good friends at 16 WAPT News, ahayron.

Author

DonnaLadd

Date

2009-05-08T17:42:34-06:00
ID

147160

Comment

The Hinds County Circuit Clerk's office would not confirm or deny the indictments. I heard a reporter say on WJTV that they cannot confirm the indictment until the defendant is officially notified.

Author

LatashaWillis

Date

2009-05-08T21:59:16-06:00
ID

147161

Comment

One of the local channels reported her blood alcohol was .09 tonight (don't remember which one) and if I remember correctly they all did last week, but C-L article today says " There's been no official confirmation Karen Irby had alcohol in her system the night of the accident." So who's right?

Author

BubbaT

Date

2009-05-08T22:10:25-06:00
ID

147162

Comment

I would guess that the optimum word is "official." The Ledger is probably saying that no one has told them for attribution under their name.

Author

DonnaLadd

Date

2009-05-08T22:18:37-06:00
ID

147166

Comment

OK legal beagles.... I'm one to always think that there is a conspiracy afoot... why "depraved heart murder" instead of simple "manslaughter"... Assuming she is found guilty, does this charge of depraved heart murder give her a better chance of a light sentence or even a suspended sentence.... just wondering?

Author

lanier77

Date

2009-05-09T16:37:30-06:00
ID

147173

Comment

Depraved heart murder (MCA 97-1-19(1)(b)) carries a sentence of life (MCA 97-3-21). Vehicular homicide carries a sentence of 5-25 years. MCA 63-11-30(5). I would think that the speed of the vehicle had a lot to do with the DA's pursuing the charge with the greater punishment. It's one thing to drive drunk and another thing altogether to drive drunk at such a speed that if you hit someone, you are pretty much guaranteed to kill them.

Author

Jennifer2

Date

2009-05-09T17:43:00-06:00
ID

147179

Comment

I am completely disgusted with the Ledge on their reporting of this crime. My beef? The fact that they are using a picture of the whole family on their website. Those two children are totally innocent, and don't deserve to be in the middle of this. They need to focus on her and her wrongdoings. There are enough innocent victims in this case: the Ledge doesn't need to help publicize two more.

Author

Lady Havoc

Date

2009-05-09T18:15:58-06:00
ID

147243

Comment

WAPT is reporting that Karen Irby turned herself in today and is out on a pre-arranged $250,000 bond. Arriving at the Hinds County Detention Center about 3:30 this afternoon, she pleaded not-guilty to all charges, and waived her arraignment. The entire process took about 30 minutes. Irby was in a wheelchair, according to the report.

Author

Ronni_Mott

Date

2009-05-11T16:38:31-06:00
ID

147244

Comment

Lanier, you are way off base. They threw the book at Karen Irby. And even worse, she drew Judge Green, who will have a field day with this.

Author

QB

Date

2009-05-11T16:50:45-06:00
ID

147246

Comment

It doesn't sound like they're going too easy on her. And I agree: they don't need to publish pictures of the family. That's very Ledger, though.

Author

DonnaLadd

Date

2009-05-11T19:41:39-06:00
ID

147247

Comment

This is a another sad day in this saga. What do we take from this. 1. Pray for the ones involved and their families, 2. Do not drink and drive. 3. Do not forget 1 or 2.

Author

search4truth

Date

2009-05-11T20:37:59-06:00
ID

147252

Comment

If she's stuck in the wheelchair, sentencing could be problematical unless Parchman can handle wheelchairs.

Author

Ironghost

Date

2009-05-12T07:52:34-06:00
ID

147253

Comment

There are no women in Parchman. They are housed in the Rankin County facility. And there are plenty of handicapped prisoners.

Author

Jennifer2

Date

2009-05-12T08:15:50-06:00
More stories by this author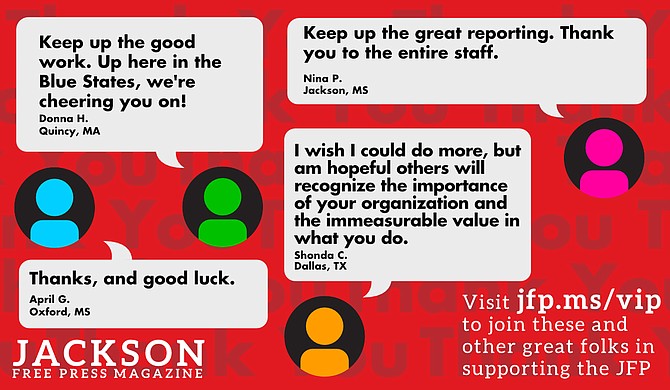 Thanks to all our new JFP VIPs!
COVID-19 has closed down the main sources of the JFP's revenue -- concerts, festivals, fundraisers, restaurants and bars. If everyone reading this article gives $5 or more, we should be able to continue publishing through the crisis. Please pay what you can to keep us reporting and publishing.