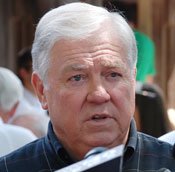 Gov. Haley Barbour said yesterday that he will sign the 50-cent cigarette tax increase approved by the Mississippi Legislature, reports the Associated Press on Forbes.com. The legislation passed by a vote of 40-4 in the state Senate, and 102-18 in the House. Barbour did not say when he would sign the bill.
The tax increase has had a long, rocky road. Barbour, a former tobacco lobbyist, repeatedly vetoed legislature to raise the tax during is tenure. Last year, however, he appointed a special commission to study taxes in the state, and that commission recommended raising the cigarette tax. At 18 cents, Mississippi has the third lowest such tax in the country. Even at 68 cents, the tax is about half the national average of $1.23 per pack.
Lawmakers expect nearly $113 million in first-year revenue from the tax, and have already earmarked some of that money to replenish a fund that reimburses counties for discounts on car tag fees. That fund, normally filled by taxes on new cars, is bankrupt due to the economic recession and slumping auto sales.
"The economic downfall indirectly contributed to the passage of the (cigarette tax) bill by creating a need for additional revenue to address the car tag crisis," House Ways and Means Committee Chairman Percy Watson, D-Hattiesburg, told the AP.
More like this story
More stories by this author