In an emergency meeting held at 4 p.m. today, the Jackson City Council voted 5-to-1 to appoint Ward 2 Councilman Leslie McLemore as interim mayor after Mayor Frank Melton succumbed to cardiac arrest just as the primary polls closed Tuesday night. Ward 3 Councilman Kenneth Stokes dissented, and Councilman Marshand Crisler was absent due to a campaign advertisement video shoot.
Councilman Jeff Weill opened the meeting with a prayer, both for Mayor Frank Melton and for the strength for the city to come toward and do the right thing. City spokeswoman Goldia Revies then gave an update on Melton she said came from a family member close to his wife, Dr. Ellen Redd Melton, who came in from her home in Texas overnight. Revies said Melton is in "guarded but critical condition."
The city's chief administrative officer, Robert Walker, then yielded to City Attorney Sarah O'Reilly Evans, who said that the mayor has the authority to appoint an acting mayor in his stead, but if he is incapacitated, the city council has the authority to elect one of its own to fill the position. The acting mayor has all the powers of the office.
Councilwoman Margaret Barrett-Simon quickly moved to nominate Council President McLemore to the position, with Councilman Frank Bluntson seconded. Bluntson is normally part of a Melton triumvirate on Council—along with Stokes and Charles Tillman— who seldom vote with McLemore and other members. McLemore yielded the gavel to Vice President Barrett-Simon for discussion.
Stokes quickly spoke up, first asking Walker and Revies "pointblank," as he put it, "if Melton is dead." Revies said no. "He is not dead," Walker answered.
A visibly disgruntled Stokes then asked O'Reilly-Evans if the acting mayor had all powers, and she responded that he would. Stokes said he wanted a "commitment" from McLemore that he would not fire any department heads or other city employees.
Barrett-Simon answered Stokes by saying that "we are here to appoint an acting mayor," and added that she believed that McLemore "'will do the right thing." Bluntson then spoke up, saying that he normally votes with Melton against McLemore but seconded the motion because he wants to see the city heal from the current upheaval. Council should "do the right thing for this city and move on, and that's the bottom line," using a line that Melton is famous for. Bluntson will face former Councilman Bo Brown in a runoff in his ward on May 19.
Charles Tillman, who also faces a runoff with Bettye Dagner-Cook, could barely talk but reiterated Bluntson's remarks.
When he got his turn, McLemore said that he is not running not anything, but in fact "running from something" (meaning politics); thus, he is a probably a safe bet for the position. He plans no major changes and wants to keep the city stable, he says. McLemore did not run for re-election for his council seat. The acting mayor will serve either until a new mayor takes office, or until Melton gets well enough to appoint his own acting mayor, O'Reilly-Evans said.
After the vote, Stokes spoke up again, saying, "Walker needs to keep running the city. He's doing a good job." The meeting quickly adjourned, and Stokes left through a side door, slamming it. Stokes won re-election handily last night in Ward 3.
The media gathered around Revies after adjournment, quizzing her on why the city has not released more information about Melton's health, especially for many hours overnight and this morning, when she would not even confirm if he was dead or alive. She denied that the city's silence fed the rumor mill, instead blaming rumors on the media, which have refrained from reporting incessant alerts that Melton might have been dead.
"The rumor mill feeds itself. There's nothing I can do about it," Revies said.
Revies said she does not know more than the family is telling her and is sharing everything she knows, implying that she did not know until mid-day together whether Melton was dead or alive. "I'm given the information that can be released ... I share what I get," she said. In answer to a question from the Jackson Free Press, Revies said she does not know if Melton is conscious. Revies previously worked with Ellen Melton's sister, Carolyn Redd, when she was city spokeswoman. Redd now works for 16 WAPT.
CAO Walker told the JFP after the meeting that he and McLemore are old friends and served in the Civil Rights Movement together in the 1960s and have nicknames for each other, which he would not give permission to disclose. In fact, they were both on the campus of Jackson State University on May 15, 1970, the night state and Jackson police officers killed Phillip Lafayette Gibbs and James Earl Green when they opened fire on student protesters gathered in front of JSU's Alexander Center.
Previous Comments
ID

146917

Comment

I saw on Twitter that Stokes slammed the door as he left the meeting. Sigh.

Author

LatashaWillis

Date

2009-05-06T17:10:11-06:00
ID

146918

Comment

Jackson gets a present... perhaps the most capable leader to take the helm and begin the reform before the new mayor takes over in June. If there was a stock market ticker for Jackson, we would have seen a selloff this morning, and a bull's market rally from 4 p.m. forward. BE BULLISH FOR JACKSON... Honesty and integrity has returned!!!

Author

Jeff Good

Date

2009-05-06T17:11:51-06:00
ID

146919

Comment

Was Crisler really at a video shoot? Today?

Author

James Hester

Date

2009-05-06T17:21:20-06:00
ID

146920

Comment

Yes, that's what Mayor McLemore told me today, James. And, yes, Stokes acted bratty. I rather look forward to Chokwe Lumumba sharing that stage, should he win. Might be just what Stokes needs.

Author

DonnaLadd

Date

2009-05-06T17:25:17-06:00
ID

146922

Comment

Given that McLemore was the only one not running for re-election or higher office, I think it was only proper for him to be the acting mayor. I don't why Stokes would ask McLemore about not firing city employees. He is interim mayor and has the same powers that a regularly-elected mayor would have, including firing employees. Maybe Stokes gave some sweetheart deals to his friends?

Author

golden eagle

Date

2009-05-06T18:46:14-06:00
ID

146923

Comment

I'd be scared if Lumumba wins. I don't think he's stable. McLemore is a great choice: he has to answer to no one, and can undo any of Melton's screwy policies without worry.

Author

Ironghost

Date

2009-05-06T18:48:01-06:00
ID

146926

Comment

Well, I do worry when politicians feel like they don't have to answer to no one, I mean that is what happened with the last mayor. (tongue in cheek) Yes, Mclemore seems to be above many of the special interest groups in this town. I agree that Mclemore is a good stable person at the helm.

Author

GLewis

Date

2009-05-06T19:04:21-06:00
ID

146927

Comment

Iron, I'm not particularly close to Chokwe but we went to church together for years. In his community he's known as a devoted father, a man that still misses his late wife and champion for the under dog. If you were in trouble you, could always call Chokwe and Nubia. They didn't suffer fools lightly and if you were wrong they'd help but not coddle. If he wins, he'll probably say some things that will piss folks off but I think he can be trusted to do what's right for his ward. He's fiery and tough and blustery. He comes from a time when we needed that. He's in a time when often we still do. He's also a very smart man who'll actually read what he votes on, which is a lot more than I can say for many of the folks who hold the seat now. I said all that to say, that Chokwe is "stable". I can't put my finger on why I found your comment so offensive but it feels like your next words were going to be "uppity" or "beyond his station".

Author

msgrits

Date

2009-05-06T19:32:11-06:00
ID

146928

Comment

I agree with msgrits' post. I feel good about Chokwe, especially the one with a few years behind him. I don't think there is anything unstable about him. I can understand if you think he might not be *moderate* enough, but unstable is pretty insulting to a very accomplished, intelligent and caring man. I truly think he will add a dimension that Stokes used to fill now and then back before he was Melton's lapdog. And I think he will do it much better. I don't dislike the idea at all that he would be on Council–and I've had my disagreement with Chokwe. But I've found him fair, and willing to go back and admit and apologize for mistakes. Hell, you could call him the Jeff Good of his ward. ;-) (Ducks.)

Author

DonnaLadd

Date

2009-05-06T19:58:35-06:00
ID

146929

Comment

Golden, there was no way anyone other than McLemore would be selected. Anyone who understands the politics and allegiances of the Council members would know that (which clearly includes you!). The numbers would work no other way.

Author

DonnaLadd

Date

2009-05-06T20:00:03-06:00
ID

146930

Comment

msgrits: yeah, I get comments like that when I question the Status Quo. I'm used to people calling me that here by now. Reading through his biography seems to say to me he's more interested in seperatism rather than civil rights for all. Now, if you can soothe my fears in that regard...

Author

Ironghost

Date

2009-05-06T20:00:05-06:00
ID

146931

Comment

Again Iron calling someone you don't know well unstable is a huge leap. It's also not my job to soothe your "fears". I'm sure you're speaking about the New Afrika Party(I think I got that right) and I honestly don't know enough about it to argue one way another about it. The word "unstable" is loaded and should be used with care. Reading someone's biography isn't enough to characterize them in such extreme language. If you want know more about Chokwe (and you should because odds are he'll make the council) call him up and talk to him yourself or attend one of the meetings he's bound to have over the next week or so.

Author

msgrits

Date

2009-05-06T20:50:03-06:00
ID

146932

Comment

I am gonna have to agree with Iron on this one, but I don't if he's unstable, I just think Lumumba's a plain old nutcase.

Author

BubbaT

Date

2009-05-06T20:56:10-06:00
ID

146935

Comment

I use "Unstable" to characterize anyone who believes in secessionism. It got shot down once, so everyone gets to live in the same country now.

Author

Ironghost

Date

2009-05-06T21:28:57-06:00
ID

146936

Comment

Kenneth Stokes is a troublemaker in waiting for the new administration. He do not care for the people and the neighborhoods that make up Ward 3. Many will point at the things he do young people and the senior citizen. He supported Frank Melton violating the civil rights of the young people (bagging pants ordiance). He said Frank Melton was right to violate the rights of Evan Welch and landlord. He would not have jump on the bandwagon if Frank Melton was white and commiting these same things. Matter facts he would have led the march to oust the mayor. So believe me he will cause or try to cause problems for new administration.

Author

daw

Date

2009-05-06T21:38:15-06:00
ID

146938

Comment

It's a fair question, Iron, about Chokwe's "secession" arguments. You can ask it without calling him unstable, though. ;-) I have some thoughts on it from my dealings with him, but frankly I'm too tired to be coherent, so I'll get back to you on it after sleep. Remind me if I don't.

Author

DonnaLadd

Date

2009-05-06T22:18:06-06:00
ID

146940

Comment

I'm pretty sure Chokwe Lumumba would happily describe himself as radical, which conservatives and some liberals are going to interpret as a sign of instability even though radicalism is much more consistent, and therefore much less unstable, than conservatism and mainstream liberalism. Personally, I consider him a hero and I'd love to see a true radical on the City Council, so I'm kind of giddy he's going to be there. And yes, he's going to make some noise, and yes, he's going to say some outrageous things from time to time, but that's the proper response to an excessively quiet world in which moral outrages don't always provoke as much of a response as they should. He wouldn't be my first pick for mayor, because my feeling is that we need someone in that role who can be a moderating influence and, at times, a game show host. But for the City Council? I'll be very happy to see Chokwe Lumumba there holding the city accountable. (I'd also like to see him on the Mississippi Supreme Court, just between you, me, and the fencepost.) I'm glad we live in a city where somebody like Chokwe Lumumba can serve on the City Council without having to pretend that he spends his free time sipping chamomile in his smoking jacket while watching Lawrence Welk and wondering why we don't all get along better. A certain amount of radical intensity is warranted. Props also to Wydett Hawkins, an old family friend who I'm both very surprised and very happy to see in the runoff. I haven't seen him in years and know nothing about his politics, but I know he's a good guy. No matter how the runoff goes (though I think with 43% Chokwe is well positioned to carry it), Ward 2 will be in good hands. Which is good, since Leslie McLemore is going to be a tough act to follow.

Author

Tom Head

Date

2009-05-07T02:01:51-06:00
ID

146964

Comment

As someone who grew up in Ward 3, and a current critic of Stokes, the one thing that I can say is that he sincerely cares about his Ward and the people that live there. Now, does that sincerity carry over into positive action, effort and hard work, the answer most times is no. We really have not seen the change and progress in that Ward that we need. Does he reach out to work and cooperate with other council members with a refreshing attitude of teamwork? Well, if he does, we don't see it. But at the end of the day, Stokes does care about people and he's passionate about Ward 3.

Author

lanier77

Date

2009-05-07T07:56:04-06:00
ID

147050

Comment

am i the only one who found it a bit troubling that councilman crisler wouldn't show up for the emergency council meeting because of a video shoot? i mean, the man is still a councilman, and even if he didn't feel it appropriate or even necessary to vote, he could've at least shown up and abstained from voting. that would've shown respect for the magnitude and importance of the event. He could've even left early, but at least show up.

Author

eyerah

Date

2009-05-07T13:55:07-06:00
More like this story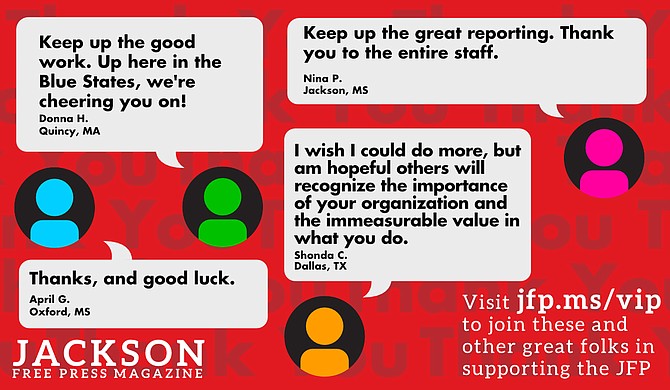 Thanks to all our new JFP VIPs!
COVID-19 has closed down the main sources of the JFP's revenue -- concerts, festivals, fundraisers, restaurants and bars. If everyone reading this article gives $5 or more, we should be able to continue publishing through the crisis. Please pay what you can to keep us reporting and publishing.