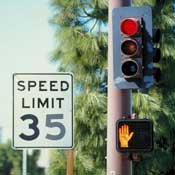 Among the bills signed into law by Mississippi Gov. Haley Barbour on Friday is House Bill 1568, which bans the use of cameras to catch motorists running red lights.
Jackson is among several cities in Mississippi that uses or was considering using cameras as ways to reduce accidents and raise revenues through automated ticketing. Columbus has already resolved to remove its cameras in anticipation of Barbour's signing the bill. Other cities that were reportedly considering installation of the cameras include McComb, Natchez, Southaven and Tupelo.
The Capitol City has cameras at eight intersections around the city and a three-year contract with the company that manufacturers them, reported WAPT last week. City officials have until Oct. 1 to take down the cameras.
Mississippi joins at least eight other states in banning the automated technology, including neighboring Arkansas. Six other states are debating using cameras, which studies suggest work well to reduce the numbers of drivers who run red lights.
A story published in USA Today in 2007 cited two such studies: one in Philadelphia, Penn., and the other in Virginia Beach:
The Philadelphia study, conducted by the Insurance Institute for Highway Safety (IIHS), an industry group, examined red light violations using a two-step approach. First, researchers found that violations dropped by 36% after yellow lights were extended to give drivers more warning that the light was about to turn red. After red light cameras were added, remaining violations dropped by 96%.
"There's a dramatic change in driver behavior when red light cameras are used," says Richard Retting, senior transportation safety engineer for IIHS. "The jury is in on that question."
The Virginia Beach study, conducted by Old Dominion University, examined signal violations at four intersections before red light cameras were installed, while they were operating and after they were removed in 2005. Violations more than tripled by August 2006.
"That's a huge jump," says lead researcher Bryan Porter, an associate professor of psychology at Old Dominion. "The rate of red light running was actually higher" than before the cameras were installed.
Previous Comments
ID

145002

Comment

If Jackson has a three year contract with this company, what's it going to cost the city to get out of this contract?

Author

Lady Havoc

Date

2009-03-23T12:52:08-06:00
ID

145006

Comment

Unless there is some kind of clause that specifically addresses this situation, I can Jackson paying out a lot in damages to this company.

Author

Jeff Lucas

Date

2009-03-23T14:28:33-06:00
ID

145008

Comment

Jeff, that's exactly what I'm worried about. Jackson will waste a lot of money because of this.

Author

Lady Havoc

Date

2009-03-23T15:23:45-06:00
ID

145011

Comment

The Govenor and the elected members of the House and Senate know the city of Jackson can not walk away from a signed contract without paying a huge amount money to the company. Yet neither of them have a offer a solution that will help the city and not hurt the city. If the state was receiving a portion of the money,House Bill 1568 would not have come up.

Author

daw

Date

2009-03-23T21:37:26-06:00
ID

145015

Comment

And I think that JPD used federal grant money to purchase these cameras...so without a person to manage grants who has a clue at JPD....what will happen to those funds?

Author

mom42

Date

2009-03-24T08:04:10-06:00
ID

145019

Comment

This all sounds butt backwards to me. If the Governor can sign the bill to ban the use of the cameras, why wasn't there a bill to set them up in the beginning. I don't like the idea of citizens being given tickets that they don't deserve; however, if grant money was used and a three year contract was signed, perhaps they should stay post contract. mom42 raises as interesting point: "...what will happen to those funds?" This is a case that will certainly be CHEAPER TO KEEP HER.

Author

justjess

Date

2009-03-24T09:26:38-06:00
ID

145035

Comment

In this case there's now a state law that precedes local wishes. State says no, Jackson's out of luck. Besides, how long till Melton would have fiddled with the timing of lights? It happens elsewhere..

Author

Ironghost

Date

2009-03-24T11:31:46-06:00
ID

145053

Comment

Well, I think the "Ban the Red Light Ticket" law is the result of a great big "Red Neck Tantrum".

Author

Razor

Date

2009-03-24T13:55:18-06:00
ID

145061

Comment

A reader sent an e-mail taking me to task for not providing research information on the other side of the issue, namely, studies that show red-light cameras are not effective at reducing crashes. For your reading pleasure, The National Motorists Association has compiled a number of studies on the linked page. The NewsPaper has also posted a compilation of studies.

Author

Ronni_Mott

Date

2009-03-24T17:53:31-06:00
ID

145064

Comment

"I feel like JACKson Mississippi" --Kid Rock

Author

unklbrad

Date

2009-03-24T18:25:45-06:00
More stories by this author
Support our reporting -- Follow the MFP.