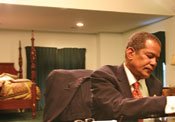 See the JFP's Melton Archive/Blog Here
Jackson Free Press editor Donna Ladd conducted a long interview with Mayor Frank Melton in his City Hall office on Feb. 26, just after his first federal trial ended in a mistrial. In Part III, Melton talks about his finances, as well as his property-tax troubles. The following version is verbatim and unedited, except for parts Melton placed off the record:
Ladd: To go back to the big picture, it sounds to me like you're saying the system doesn't work, that perhaps you have tried to go around the system in the past that hasn't worked ... and now you want to try and change the system.
Melton: Well, there are two things I have to do: I have to settle down, and I have to implement some things that get things done faster. And Donna, the house I'm talking to you (about) next to Barr (Elementary; see Part II), I consider that to be an emergency situation. I couldn't afford for the kids to see that house and the open refrigerator one more day, one more hour, one more week. And you know what an open refrigerator means to a kid if they get in it. It's a disaster. It's not around the corner: the playground is here, and the house is right here.
Now tell me where that was again.
Barr Elementary; It's gone now. (Code Enforcement head) Joe (Lewis) himself went over there.
In that case, what you did was you told Joe.
Yes, ma'am. This house was a burnt-out structure that could not be repaired. They were just smoking dope in it. But it was burnt out completely.
So it was relatively easy.
You couldn't do anything with it. It wasn't salvageable.
In that case, you were able to go through the system.
Yes, and very quickly. It became a one-issue item for me for three days, and I didn't concentrate on anything else other than getting that house away from ...
When did that happen?
Two or three months ago. It was during this school year. And the house was up there for the last two or three school years. And I just can't ... what bothers me, it's a neighborhood. People are driving through there every day. You got teachers, you got students and, you know, the principal is the one who brought it to my attention.
You were saying that you have lived and learned, and perhaps learned what you might not have done right. It strikes me that perhaps you brought some of the drama on yourself?
This is the weirdest thing. Coming from the media, you could think I would know all of the ins and outs. But it's a different media now than when I worked in the media. I have struggled very hard to try to be open and honest with the media. I know you and I have had our hiccups, but you have a job to do, I have a job to do, and I've tried so hard. People tell me I tell you all too much sometimes. And I understand that, but I just don't want to feel like anything is being hidden, anything like that. ...
My personal business is always out in the public. I'm dealing with a situation right now that is so untrue, but I bring more attention to it by talking about it than just ignoring it and letting it go. This tax stuff is absolutely not true.
For years, I've paid $5,000 or $6,000 in (property) taxes (on 2 Carter's Grove). Last year, they sent me a bill for $10,000. I challenged it; I said, 'This is not right.' And they cleaned it up, and I paid over $6,000 in taxes last year. This year, they sent me a bill for $12,000. The explanation we're getting from them is, 'He's a year behind on his taxes.' You all remember very clearly when you reported it. I went across the street and paid the taxes. I paid them directly to the tax assessor, collector, who is running for mayor. I got this bill for $12,000 this year, which doubles my taxes for the same property. ... Donna, it was paid in cash ...
You got a receipt, didn't you?
Oh, yeah. But it was paid in cash. But then I get this bill for $12,000, and I know that isn't right. But they're looking at that and adjusting that.
But what about that addition to the house? Wasn't there controversy about that? The part with the pool?
Yeah, they taxed on that.
And they've been taxing on it?
Well, yeah. But the problem, Donna: Appraisal is different from a taxing. And here's where the problem comes in. When you go from my conference room of the office there, to my bedroom where the theater and the swimming pool are, there is no air conditioning and heating in that walkway. For the appraisal, everything has to have air and heat. That's the only part that's not heated or air conditioned.
You mean that part that's in between?
Yeah, where you just walk through. You know it has the wooden steps going to the back yard.
Yeah, yeah.
But it's not heated, it's not air conditioned. It divides the house up. But it is what is is, so I've thought about covering that up for the appraisal value. Because when I borrowed some money to pay my lawyers, they could only use the house. But when you step across, and you go across that pathway there, they don't appraise that, because there's no air conditioning and heating. But I paid over half a million dollars for the swimming pool, the theater and that bedroom. So that's a half million dollars in value that I don't have because it's not enclosed.
So you're trying to get all that stuff sorted out now?
Yeah, my concentration has been on my health and the legal stuff. The money part of it I'm not overly concerned about. I'll take care of it, but I don't want to be mistreated. ...
By...?
[Melton goes off the record.]
Are you having financial problems now?
No. ... I'm just like any other American. I'm going through the same kinds of pressures as any other American. I take home $3,100 every two weeks, which is $6,200 a month. My house note over here is $2,100; my house note in Tyler is $3,400 a month. Once a quarter I have a note of $3,700. Just the house notes with no food, utility or anything like that is more than I make here. And people have talked to me about downsizing since the kids are gone ...
It's a big house.
Yes, and it has all those steps. But it has too much history, and I have some plans for that house to donate it at the end of the day for me.
Do you have a will?
Yes.
Is that in your will?
Yes.
Can you tell me who you plan to donate it to?
I'm going to split a portion between the kids who have lived there. (Wife) Ellen will be the executor, and it'll probably be the YMCA. Specifically, the Farish Street YMCA.
[Melton goes off the record about finances, then continues about his finances.]
Well, I can tell you this much for the record, I've got about $5 million in investments out there ... . I'll specifically tell you where they are. One is in the ownership of 23 newspapers in Los Angeles, and it's called Wave Communication, is the company. The parent company is (Houston, Texas-based) Equal Access Media.
What kind of newspapers are these?
Just kind of ... like yours. But they're done in English, and they're done in Spanish; they're up and down the Coast in Los Angeles.
Alright, you don't surprise me all the time, but that surprises me.
The CEO is Pluria Marshall Jr., and it's located in Los Angeles, Calif.
I'll be damned.
[Note: According to news reports, Marshall, a veteran of the black press, bought Wave Community Newspapers in 2000. In December 2004, he filed bankruptcy with $5 million owed to creditors.]
[Melton continues:] The other one is a number of radio stations in Arkansas, Mississippi and Texas, and it is called MR Ventures, there's one more letter. What's that guy's name?
Is it MRS? I may have known something about that.
Yes, it's MRS Ventures. The subsidiary company of that is Community Broadcast Group out of Tyler, Texas.
This kind of grew out of your old holdings, right?
That is correct.
Part IV of the 2009 JFP Interviews with Frank Melton will be posted Tuesday, March 24, 2009. In that section, Melton talks about the young people in his life and the kids he's buried. And he answers the question about who has mistreated him, at least partially. Follow the full interview series on the JFP's Melton Blog. Click here to read Part I and Part II
Previous Comments
ID

144839

Comment

Also see this story that Adam broke last June about the addition to Melton's house (the bedroom/pool/theater) that he talks about in the interview.

Author

DonnaLadd

Date

2009-03-17T19:13:54-06:00
ID

144841

Comment

[quote]Is it MRS? I may have known something about that[/quote] You wrote the article on it three years ago when he sued Russell, his former partner in MRS ventures (Melton-Russell S* Ventures). :)

Author

Ironghost

Date

2009-03-17T21:29:49-06:00
ID

144842

Comment

now hes blaming bennie thompson for his legal problems

Author

NewJackson

Date

2009-03-17T21:37:17-06:00
ID

144851

Comment

Why not tell the people suing you where to find all your money. Thats really smart.

Author

classy

Date

2009-03-18T08:22:05-06:00
ID

144876

Comment

Well Frank now you are reaping what you sowed. Your back is against the wall, your so call associates that you listen to above the people who tried to tell you the truth selling you down the road. These people are really greasing you butt for your down fall. How does it feel? kinda lost and nowhere to turn? Your ego was your down fall and your mouth was your own destruction to bad so sad but what goes around comes around. Money can't buy you respect!!!

Author

Tony Davis

Date

2009-03-18T12:06:32-06:00
Like independent media outlets around the world, the Jackson Free Press works hard to produce important content on a limited budget. We'd love your help! Become a JFP VIP member today and/or donate to our journalism fund. Thanks for considering a JFP VIP membership or one-time support.