Mississippi Rep. Tommy Reynolds, D-Charleston, spoke for the University of Mississippi Medical Center yesterday, saying the teaching hospital has never and never plans to do stem cell research, according to WAPT.
In opposition to President Barack Obama's March 9 executive order 13505, "Removing Barriers to Responsible Research Involving Human Stem Cells," the Mississippi House approved a budget bill that explicitly says no state money can be used "for research that kills or destroys an existing human embryo."
The full state legislature will negotiate the final state budget this month.
UMMC is Mississippi's only teaching hospital.
Scientists at the National Institutes of Health have been long-time advocates of stem cell research, which "have the remarkable potential to develop into many different cell types in the body," according to the NIH Stem Cell Web site.
"Research on stem cells is advancing knowledge about how an organism develops from a single cell and how healthy cells replace damaged cells in adult organisms. This promising area of science is also leading scientists to investigate the possibility of cell-based therapies to treat disease, which is often referred to as regenerative or reparative medicine"
The organization acknowledges that research "on one kind of stem cell—human embryonic stem cells—has generated much interest and public debate."
Some people in the pro-life movement, believe that human life begins at the moment of fertilization, and that using embryonic stem cells in research—which destroys them—is the same as murdering any other human being.
On the other side of the issue, researchers believe that stem cells can potentially save countless lives, promising treatment and cures for a myriad of medical conditions from reducing transplant risks to healing spinal cord injuries and birth defects.
Researchers typically use cells extracted from surplus frozen embryos left over from in vitro fertilization procedures performed at fertility clinics, according to the NIH and other Web sites debating the ethical issues, including the Religious Tolerance site. Those cells are frequently discarded.
Previous Comments
ID

144692

Comment

Isn't this the same kind of foolishness we heard years ago when the first heart transplant was performed at UMC???? There are a lot of people from all over the country who use our hospital because of its cutting edge position on so many medical areas. Former First Lady, Mrs. Bush just had a turkey part placed in her chest for one of her heart valves. Maybe we can give the turkeys a break once we can use human cells. LOL !!! Yet serious.

Author

justjess

Date

2009-03-13T14:29:26-06:00
ID

144695

Comment

Why do our lawmakers continue to keep us in the Dark Ages? We could end up being the very last state to do stem cell research at our public universities.

Author

golden eagle

Date

2009-03-13T15:09:52-06:00
ID

144697

Comment

When then candidate Barack Obama answered the question about when life begins at the Saddleback debate a lot of people said that he hedged. But I thought he gave the best, most honest answer when he said that he couldn't know, it was "above his paygrade." I don't think we can know with the technology we have available today. It's the single most troubling part of the whole abortion question to me. I can, however, draw distinctions between a frozen embryo and a baby. Especially if these embryos are about to be discarded. Why shouldn't they be used in research that could possibly save lives instead of being tossed in the waste basket? Maybe scientists, through further research with those cells and embryos, will finally be able to answer the question of when life does begin. Good question Golden Eagle, it's hard to lead in any field when our thinking is still in the middle of the last century.

Author

WMartin

Date

2009-03-13T15:36:12-06:00
ID

144708

Comment

Why didn't this article mention adult stem cell research? Since the ban was put in place by our former President, huge steps have been taken in adult stem cell research. It could be better than using embryonic stem cells. The person with the illness could use their own cells to help create thier treatment. This could be the answer. Why isn't anyone at least talking about it?

Author

Hevans

Date

2009-03-14T17:53:10-06:00
ID

144726

Comment

So ridiculous. I have a personal stake in this, as stem cell research could lead to a cure for our daughter's type 1 diabetes. I would love to see a cure in my lifetime, but definitely in her lifetime. Sadly, golden eagle, I can see us as being the very last state to do stem cell research. Maybe would be a close tie with Georgia and Alabama. Mississippi needs to step up and be one of the first, not the last.

Author

Lady Havoc

Date

2009-03-16T07:23:12-06:00
ID

144735

Comment

Hevans, there is plenty of information about adult stem cells on the sites linked in the story. One of the advantages of using embryonic stem cells instead of adult cells is that embryonic cells are pluripotent; i.e., they are not limited to the types of cells they can become. Generally, adult cells can only turn into the orginial cells type, i.e., a heart cell can only produce other heart cells. Some new research is showing that some adult cells can generate other cells types, but that research is far behind research on embryonic cells. Whether adult cells could be "better" than embryonic cells is highly debatable at this point.

Author

Ronni_Mott

Date

2009-03-16T09:26:40-06:00
ID

144736

Comment

I saw Ronald Reagan on D.L. Hughley Show last night. He gave some interesting information re stem cell research. If people with little information would only be willing to listen, I think that the resistance would decrease. Also, Nancy Reagan pushed very hard and continues to speak out for this research. Her great hope was for stem cells as an intervention for alzheimers.

Author

justjess

Date

2009-03-16T09:45:25-06:00
ID

144737

Comment

The University of Ark's Mutiple Myeloma Institute for Research and Therapy does research on adult stems cells. I have had a stem cell transplant for the treatment of my mutiple myeloma using my own stem cells. There's a couple of million of my stem cells frozen there if I ever have another transplant, that will be used for research after 10 years.

Author

BubbaT

Date

2009-03-16T10:11:47-06:00
More like this story
More stories by this author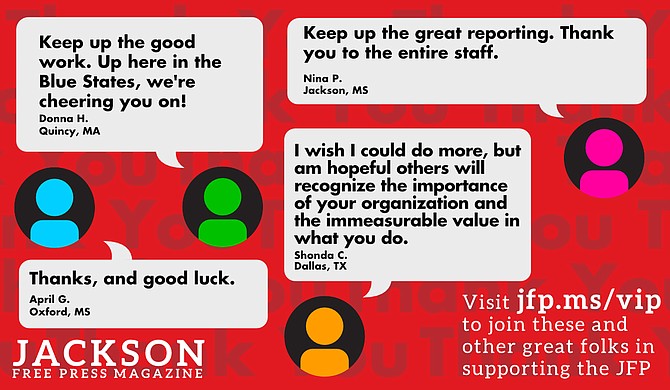 Thanks to all our new JFP VIPs!
COVID-19 has closed down the main sources of the JFP's revenue -- concerts, festivals, fundraisers, restaurants and bars. If everyone reading this article gives $5 or more, we should be able to continue publishing through the crisis. Please pay what you can to keep us reporting and publishing.