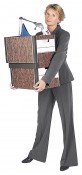 The unemployment rate in Mississippi increased a full percentage point from April to May, inching toward 10 percent once again, according to the Mississippi Department of Employment Security. That one point, from 8.6 percent to 9.6 percent, represents an additional 14,300 Mississippians potentially collecting unemployment from the state.
April's rate of 8.6 percent was just a bit lower than the national rate of 8.9 percent for the same month. However, Mississippi exceeded the national rate of 9.4 percent unemployment last month. Nearly 36,000 more state residents were jobless than a year ago, an increase from just under 90,600 in May 2008, to 126,400 last month.
Fifty-four of Mississippi's 82 counties, 66 percent, saw double-digit unemployment in May. Holmes County experienced the highest rate at 18.3 percent, followed by Jefferson, Noxubee, Winston and Claiborne counties rounding out the five counties with highest unemployment, all with 17 percent or higher rates.
Nationally, 13 states reported unemployment rates of 10 percent or higher in May, according the U.S. Department of Labor. Michigan tops the national rates at 14.1 percent. Across the U.S. 312,880 people got pink slips last month in "mass" layoffs, bringing the total unemployed in America to 14.5 million. The country hasn't seen unemployment rates higher than this since the winter of 1982-83.
The Jackson area continues to see relatively low rates of unemployment, with Rankin County at 6 percent—the lowest in the state—Madison at 7.3 percent (No. 4) and Hinds at 8.4 percent (No. 14). Across the state, Lamar, Scott, and Covington counties joined Rankin and Madison as the five counties with the least number of unemployed. Still, 19,440 people in the Jackson metropolitan statistical area (Copiah, Hinds, Madison, Rankin and Simpson Counties) were looking for work in May.
Not surprisingly, the Mississippi Delta area has the highest unemployment in the state, with the rate at 12.8 percent for May 2009.
MDES defines the unemployed as "those who do not have a job, have actively looked for work during the past four weeks and are currently available for work." Not counted are individuals who have surpassed the maximum number of benefit weeks (26) and "discouraged" workers who have stopped looking for work.
Previous Comments
ID

149001

Comment

Bill Minor, writing in the Desoto Times Tribune notes that the jobless rate for blacks in Mississippi is at 17.4 percent, and brings Gov. Barbour's refusal to accept $56.1 million in stimulus funds back into the picture (bold emphasis mine): [O]ur own state leadership is balking at accepting federal stimulus money that would lessen the hardship of Mississippians out-of-work or having severe cutbacks in their work weeks. These latter ones will suffer the brunt of Gov. Haley Barbour's refusal to let lawmakers make slight reforms in state unemployment insurance laws. ... As a result, two employment study groups say, hard-hit communities in Mississippi will be denied $120.6 million in economic activity and 39,600 workers who could be eligible for unemployment insurance benefits will be adversely affected. Since more Mississippi blacks than whites stand to be either unemployed or underemployed before expected economic recovery reaches the state in 2014, the case could be made that Barbour's rejection of funds from the federal stimulus package for workforce relief has an undertone of racial discrimination. ... Barbour has complained about possible "strings" that the federal government may attach if he complies with ARRA's stipulations. But his primary hang-up is that extending jobless benefits to part-time employees (many states, including neighboring Louisiana, already do it) could cause the state to raise payroll taxes on businesses to bolster the state's unemployment trust fund. Actually, according to the non-profit National Employment Law Project in Washington and the Mississippi Economic Policy Center, Barbour's objections are off-base. They say ARRA's provisions are very clear cut, with no "strings," and that Mississippi is one of a few states which would get extra federal funding for four years to offset any additional cost to the state if part-time workers are covered. By then, Barbour would be out of office, and the jobless emergency would in all likelihood be over.

Author

Ronni_Mott

Date

2009-06-25T15:12:50-06:00
More like this story
More stories by this author