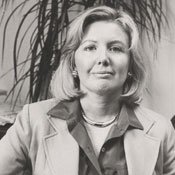 With her Nikon FE camera in tow, Mississippi native and noted author Gloria Norris drove down Highway 51 through Mississippi capturing the fleeting images of the state that characterized her childhood. The result is her newest book, "Highway 51: Mississippi Hill Country," which she will sign at Lemuria June 20.
• How did you get started in photography?
In 2001, I took a class at the Institute for Photography (in New York). For my big project, I went home to Mississippi and took pictures for three months, and that really started me on—I don't know if it's a quest for the past, or a quest to preserve the past. I was disturbed to see so much of that world that I knew as a child changing into Wal-Mart parking lots with no trees. So that's when I started to record the beautiful Mississippi light, its gradations—we can tell what time of day it is by looking out the window, because we're so attune to that—and its fierce climates, the institutions of music-making and churches, places like Graceland and the Lorraine motel.
• How did you find these images?
Just driving down Highway 51, meeting people along the way. Kind of like how Alan Lomax collected music.
• What is your point of departure?
Realistic but with great respect for the richness and variety of color and the light. … (The book) has an editorial viewpoint, but I try to let the people show themselves for who they are.
• In the introduction, you write that in the seven years since you've begun this project, much of this landscape has already changed: Can you recall specifics?
The first picture, "Winter Hill Rising." It's no longer pristine because there was a disastrous attempt to build a meatpacking factory there. It collapsed, and the man who started it fled to another country. So now this bucolic scene is marred by this factory—I think they make Mexican frozen dinners there.
• How did you decide what to include in the book?
Painfully (she laughs). Eventually you see a shape of a book, not just a lot of pictures. I had more religious signs that I would have liked to include, but they didn't fit in the flow of the story, talking about the whole of a society. It's like any work, like writing a novel—how does that hold together? You can't explain it; your unconscious makes those decisions. My editors helped with the visual coherence. Like the picture of the driveway where Medgar Evans was killed: right across from the civil-rights worker, the man's skin and the driveway are the same shade of brown. There's both good subject and visual correspondence.
• Do you have favorites?
My absolute favorite is "First Dark." If you've ever spent time driving in the South, the twilight lasts so long, it's like it's never going to become dark. And you're really calm and thinking of things and then, just in an eye-blink, it becomes dark. It's like, you weren't a mother and suddenly you are, or once you had a mother and now you don't. And "First Dark" is a familiar Mississippi phrase. It's when the farmers bring in their cattle. It's also a metaphor for transitions in our lives.
• The monk at Graceland is pretty serendipitous. You just happened upon him?
That was such a happy thing. We rode the bus over together, and I was sort of following (the monks) around. What struck me is their reverence for Elvis and their curiosity, standing at the grave with the headphones on. They were such gentle people. They didn't speak English. I could never get it straight, where they were from. But I think they were visiting from a San Francisco monastery.
• What's behind "Girl in the Blue Sprigged Dress"?
She, her grandmother and her sister were at a local laundromat where I was doing my clothes. She and her sister were having a good time, chasing each other around. She picked that box herself. She said, "I'll sit here." She's not shy, if you can't tell. That was a spontaneous moment, which of course, as a photographer, you look for all the time.
• How have Hill Country people received the book?
Everybody seems to recognize people they know. If they don't know the actual subjects, people recognize the story I'm telling. I feel embraced by this common identity that I'd hoped to capture. (The subjects) are proud to be in the book. But it took so long to get everything together—the little girl with puppies, that image was taken five years ago. I saw her at the book party, and now she's this beauty queen.
Like the Back of My Hand
In "Highway 51: Mississippi Hill Country" (University of Mississippi Press, 2009, $40) Gloria Norris set out to capture what she terms "the spirit of kinship" and shared culture among north Mississippi's hill folk—a people she calls resilient, creative, deeply religious and governed by the whims of boiling summers and tempestuous springs. To that end, her first photography book is peppered with moody reflections in gas-station puddles, portraits of hearty cattlemen and dour-faced ministers, kitchens and coat-racks of musicians and writers, and peaceful pastoral scenes.
Norris approaches her subjects in a straightforward manner, marked by a high depth-of-field and center-weighted framing. Her point-and-shoot style works best when directed at the region's plethora of one-story candy-colored buildings. It's less effective in portrait and nature shots, which are over-represented in the book. Many of these photos are successful ("View of the Delta from Teoc Ridge" and "Winter Light"), but they are absorbed into the excess—an issue intensified by the overly predictable angle of every shot.
Some of Norris' most interesting images depart from her signature style, including a low-aimed, watery-tinged twilight shot of the driveway where Medgar Evers died. Near the top of the frame, the cavern of garage dissolves into shadow and a square of backyard shines through a small window. The result is a complex blend of somberness, beauty and hope.
"Highway 51" has several gems, such as the interior of Sue's Catfish House on the Fourth of July, decked out like an explosion in a flag factory, with Sue in the middle of it all, hip cocked, one hand on a pitcher of iced tea. You can just taste the syrupy consistency. Other standouts include the "highway scenery" shots—particularly the Heartcraft warehouse with its huge flag and sign ("Would you buy what you made today?") and the "Milk Bottle" factory—captured in warm, pale light, and standing as delightful works of art and historical records.
More stories by this author
Support our reporting -- Become a JFP VIP.
The news business has changed dramatically in the past two years, and we need your help more than ever to keep bringing you important stories about Jackson and the Metro. Become a JFP VIP with an annual membership or you can Sign up as a monthly supporter. Thanks for anything you can do to empower our journalism!