Speaking to reporters last Friday after his keynote speech at the memorial for slain civil rights leader Medgar Evers in Jackson, Robert Kennedy Jr. said some right-wing broadcast hosts feed the kind of hatred behind the assassination of abortion provider Dr. George Tiller and the killing of a security guard at the U.S. Holocaust Museum last week.
In an Associated Press story that appeared in the Boston Herald, Kennedy specifically mentioned Rush Limbaugh, Bill O'Reilly and Glenn Beck.
"They're driving this kind of hatred," Kennedy said. … "If you listen to right-wing radio, including so-called Christian channels, there is little to do with Jesus Christ's values."
Ku Klux Klansman Byron De La Beckwith gunned down Evers, then leader of the Mississippi NAACP, in Ever's Jackson driveway on June 12, 1963. Kennedy said that his father, then-Attorney General Robert F. Kennedy, wrote letters to each of his nine children the night of the murder, telling them Evers had died fighting for his country.
"That crystallized the importance of what Medgar Evers had done," Kennedy said Friday. "The battles he and others fought helped to make this nation a true constitutional democracy."
Evers brother, Charles, who organized last Friday's tribute, campaigned for the senior Kennedy's U.S. Senate race in 1964, and in his 1968 presidential campaign.
"He was there when my father was killed," Kennedy told the AP.
It took prosecutors 31 years and three trials to put Beckwith behind bars for Evers' murder, where he died seven years later.
Previous Comments
ID

148757

Comment

I agree. The vitriol coming out from the right is stunning but probably not surprising. What do you expect when Rush Limbaugh says that Obama is more dangerous than Al Qaeda? He has the right to say it, but that;s about as un-American as anything I've ever heard. Or what about when Bill O'Reilly referred to Dr. Tiller as Tiller the Baby Killer over and over again? But when the kooks like Dr. Tiller's murderer strike, those same right-wing hosts want to absolve themselves from those action and in the case of Limbaugh, paint the Holocaust museum shooter as a leftist. What white supremacist is a leftist? The bad thing about it is that sensible-minded Republicans (or at least enough of them) are not standing up to them to tell them that they're wrong or that they need to ratchet down their rhetoric. RNC chairman Michael Steele ended up apologizing to Limbaugh for comments he made about the talk show host. Before Ironghost and Fat Harry jump on me, there are people on the left who can and have said some pretty vicious things, but even the garbage they put out isn't as stinky as what I hear from the right.

Author

golden eagle

Date

2009-06-16T22:38:11-06:00
ID

148758

Comment

In the United States, the right is basically a masculine movement while the left is basically a feminine movement, and violence and masculine ideals tend to be closely linked. This doesn't mean that leftists can't be violent (see also: Mao Tse-tung, Joseph Stalin, Kim Jong Il, et. al.), but it's harder for leftists to be violent in this particular cultural context. It happens, but it's harder. That's why you don't see very many left-wing paramilitary survivalist movements here, even though they're not at all uncommon in Central America and southeast Asia.

Author

Tom Head

Date

2009-06-17T03:40:08-06:00
ID

148838

Comment

Holy Hogwash mott, Do the math. Limbaugh, O'Reilly and the like have huge audiences who are not killing anyone. The people who killed Tiller and the guard at the Holocaust Museum are deranged. Period. Let's see... suppose Limbaugh has 1,000,000 listeners... 1/1,000,000 = 0.000001 not a significant statistic to be blaming Limbaugh, O'Reilly or anyone else for inciting deranged violent behavior. Get off your high horse and get a clue. And by the way, was Tiller not a baby killer? Was he killing animals, were they plants or were they human babies?

Author

liberalconservative

Date

2009-06-19T14:23:33-06:00
ID

148843

Comment

liberalconservative, first of all, don't kill the messenger. I reported what Kennedy said. If you have an issue with his point of view, that's fine, but keep your "holy hogwash"es and personal attacks to yourself. Edmund Burke said: "The only thing necessary for the triumph of evil is for good men to do nothing." From the little I can stomach of Limbaugh and his ilk, they will do pretty much anything to whip their audiences into a frenzy of "us versus them." Far from doing nothing, they polarize and radicalize people, instilling fear and hatred into their minds. Nothing works better to get people going than to target an individual or group—any group—for the ills of the world. It's called hate rhetoric, and it has worked for eons to control people's thinking and opinion. Here are just a few examples from the history books in case you missed them: the church targeting "witches," and infidels during the inquisition and crusades; Hitler and his minions targeting Jews, gypsies and homosexuals; the KKK targeting blacks; Al Qaeda targeting "the west" (and those pesky infidels once again). Your pushing statistics as proof that these yahoos don't incite hate is meaningless. They do, and it doesn't take much to hear it. Thankfully, the number of people willing to actually pick up a gun and shoot someone (or beat someone to death and lynch them for that matter) is always small. But how many nut jobs with guns do you think are out there thinking Limbaugh's hate speech will justify their actions? The truth is that most people WANT to find someone to blame and are pretty happy to have "entertainers" like Limbaugh point fingers they can follow so they don't have to take responsibility for their own lives. Hate crimes, that is, crimes against individuals for the perceived ills of a group they belong to and motivated by hatred of the group (whether that's race, gender, sexual orientation, nationality, etc.), are on the rise, and if Limbaugh and his cronies aren't to blame, they sure as hell don't do anything to stem the tide. And then there are the extreme wing-nuts with guns who think they can just kill the ones they see as the cause of their problems. Thank God they're a small minority. I'm not going to debate Tiller with you one way or the other. Dr. George Tiller saved women's lives, physically and emotionally. He "treated patients who discovered late in pregnancy that their fetuses had severe or fatal birth defects. He also aborted healthy late-term fetuses, in cases where two doctors certified that carrying the fetus to term would cause the woman 'substantial and irreversible impairment of a major bodily function,'" according to the Wall Street Journal. And regardless of what Tiller did, is that supposed to justify gunning him down? In his church, no less? Hardly.

Author

Ronni_Mott

Date

2009-06-19T18:09:45-06:00
ID

148957

Comment

Without question, Limbaugh and those that pattern themselves after him fan the flames of hate. One would have to ignore decades of racially inflammatory and otherwise inflammatory statements and actions from Limbaugh to make excuses for him. It is not an issue of "freedom of speech", it ia an issue of taste and what people find acceptable. Of the top of my head, I can make a list of things Rush has said or done that should be completely unacceptable and that should make him an undesirable product. I liken his appeal to people that think those stereotypical figurines of black kids eating watermelon or the black guy holding a lantern are cute. As with Limbaugh, those things are offensive, but seem to be desired items for a noticeable percentage of the population.

Author

Goldenae

Date

2009-06-24T17:06:40-06:00
ID

149067

Comment

Why is it that topics like this that can be researched and which there is a record to debate always get little or no comment? The reaction that stories like this get support my belief that a lot of people actually like Limbaugh and others spewing their hatred and saying things that they would actually like to say. The very people making the "freedom of speech" argument would never make a similar post for Reverend Wright or Al Sharpton. "Freedom of Speech" has nothing to do with the acceptance of what is spoken. It is quite obvious that a lot of people accept what Rush Limbaugh and others are saying.

Author

Goldenae

Date

2009-06-26T13:41:34-06:00
ID

149074

Comment

What gets me about the post from liberalconservative above is that it really kind of proves Ronni's point, because it makes an argument to the effect of "No, of course the stuff I listen to doesn't promote violence...and by the way, that guy who got murdered at his church had it coming." Here's a hint: If you can't talk about how your entertainment choices glamorize domestic terrorism without glamorizing domestic terrorism yourself, you should probably spend more time listening to soft jazz.

Author

Tom Head

Date

2009-06-26T15:28:10-06:00
ID

149076

Comment

Kennedy is right and all republicans know it. We have seen the devil and it ain't the Kennedys. May Rusk and Çompany lead the republicans straight to hell where they belong.

Author

Walt

Date

2009-06-26T16:39:34-06:00
More like this story
More stories by this author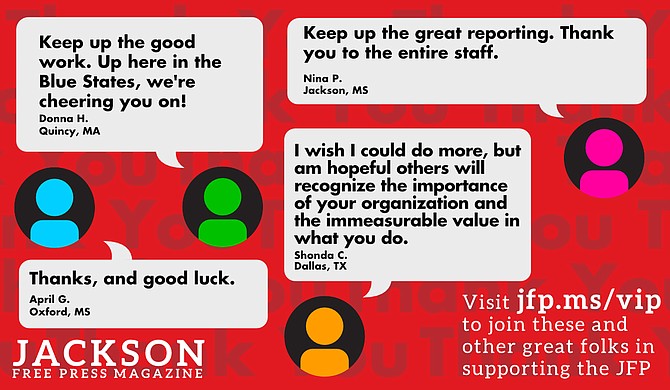 Thanks to all our new JFP VIPs!
COVID-19 has closed down the main sources of the JFP's revenue -- concerts, festivals, fundraisers, restaurants and bars. If everyone reading this article gives $5 or more, we should be able to continue publishing through the crisis. Please pay what you can to keep us reporting and publishing.