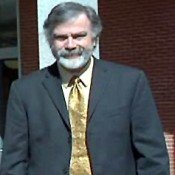 Former Hinds County Circuit Court Judge Bobby DeLaughter, 55, resigned his job and pled guilty to misleading authorities yesterday. The former judge had five counts against him, all representing various forms of corruption, but he pled guilty to the one count arguably carrying the lightest sentence, that of obstruction of justice. His plea means he'll be spending a little over a year--18 months--in a federal prison, and he will lose his law license.
Also, as part of his deal, he does not have to help the feds indict other people who may have participated in some form for of judicial corruption. The U.S. District Judge reviewing DeLaughter's plea could still toss it, setting DeLaughter up for an August trial, but the feds likely had their reasons for not pushing any harder for DeLaughter's cooperation.
It could be that DeLaughter is actually a small player who knows nothing of the corruption around him. Or it could be that the former judge had a compelling argument against the words of his former boss, long-time Hinds County District Attorney Ed Peters, who is working with authorities. Right now, the feds have the words of two convicted attorneys who want to reduce their sentence and one old ex-district attorney who is fighting to retain his immunity from prosecution. DeLaughter has his own opinion, and according to his attorneys, a lie detector test saying he wasn't influenced by Peters in deciding an attorney's fee dispute with convicted attorney Dickie Scruggs.
The feds have Peters' and two attorneys' claim that Peters got $1 million to try to influence DeLaughter, but nobody's talking about the money DeLaughter got from Peters. They do have an argument that, after Peters came onboard with Scruggs, DeLaughter's opinion differed from that of a Hinds County Court special master who recommended Scruggs owed his former partners about $15 million in extra cash. (DeLaughter disagreed, saying Scruggs actually owed no more than $1.5 million). The feds also have the assurance from a convicted felon that DeLaughter showed Scruggs' people one of his judicial orders related to the Wilson case before filing it.
And the feds also have the testimony of the convicted lawyers that Scruggs promised DeLaughter that he would have a word with his brother-in-law, former Republican U.S. Sen. Trent Lott, to drop his name for a federal judicial appointment. (An allegation Lott, who immediately retired after feds raided Scruggs' office in 2007, vehemently denies.)
DeLaughter's lawyer, Chicago resident Thomas Durkin, says the judge can disprove all of the corruption charges as a battle of opinion, though they can't argue that DeLaughter misled authorities about his communication with Peters on the Wilson case, which DeLaughter at one point denied.
The fed case isn't exactly as steely strong as many prosecutors would like, and some attorneys argue that the biggest pimple on the face of local justice is actually Peters.
Still, DeLaughter, is no victim. He may be remembered as the prosecutor who sent former Ku Klux Klan member Byron De La Beckwith to prison for his role in the assassination of civil rights figure Medgar Evers, but he is also the former Hinds County prosecutor who excluded evidence that led to the wrongful conviction of Jackson resident Cedric Willis.
Willis stewed in prison for 12 years after DeLaughter convinced Hinds County Circuit Court Judge Breland Hilburn to toss DNA evidence and witness testimony that would have exonerated him. New Orleans-based Innocence Project attorneys later got Willis' conviction overturned with that same DNA evidence, meaning DeLaughter sent an innocent man to prison for the rest of his natural life, even though evidence was available to the contrary. (To say nothing of the fact that the conviction helped the trail grow cold on the real murderer.)
Previous Comments
ID

150366

Comment

Reading this article was painful. Mr. DeLaughter was a Boy Scout leader and Sunday school teacher of mine when I was in grade school. I find his guilt difficult to believe.

Author

petefox

Date

2009-07-31T18:56:39-06:00
ID

150414

Comment

any word on whether or not DeLaughter has to pay back the money he was making as a suspended judge over the past year or so while he was being investigated? he made over a years worth of that $100,000+ salary, didnt he?

Author

JFP-reader

Date

2009-08-03T14:11:18-06:00
ID

150704

Comment

Great article, Adam Lynch. It is painful seeing Delaughter fall from grace; however, he is one of the many pimples on the face of gross injustice. I agree that the big, fat, profusing pimple is Ed Peters. He has wiggled his way out of the mix and it is a shame that so far his only penalties are: surrendered his law license and paid $4000,000+ back to the system. Some jail time for DeLaughter would seem appropriate for his criminal activity in these matters. Just saying.

Author

justjess

Date

2009-08-10T10:00:48-06:00
ID

150711

Comment

Please accept my correction: Some jail time for Ed Peters would seem appropriate for his criminal activity in these matters - Not just turning State's evidence and throwing red meat to the wolves. My bad Mr. DeLaughter.

Author

justjess

Date

2009-08-10T14:28:59-06:00
More stories by this author
Support our reporting -- Follow the MFP.