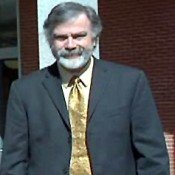 Suspended Hinds County Circuit Court Judge Bobby DeLaughter is expected to plead guilty tomorrow in U.S. District Court in Aberdeen. The plea will likely spell an end to a five-count indictment against the judge, as DeLaughter accepts a guilty plea to lying to federal authorities over corruption charges.
DeLaughter, recognized as the judge who presided over the trial of former Ku Klux Klan member Byron De La Beckwith for his role in the assassination of Civil Rights figure Medgar Evers, is also known more locally as a former Hinds County prosecutor who excluded evidence that led to the wrongful conviction of Jackson resident Cedric Willis, who sat in prison for 12 years. Then-Assistant District Attorney DeLaughter convinced Hinds County Circuit Court Judge Breland Hilburn to throw out DNA evidence and witness testimony that Willis claimed would have exonerated him during his trial.
New Orleans-based Innocence Project attorneys later overturned Willis' conviction with that DNA evidence. Innocence Project Director Emily Maw said what DeLaughter did was atrocious.
"(DeLaughter and Ed Peters) knowingly sent an innocent man to the penitentiary for the rest of his life … and there is no way of knowing if Cedric was the only one, though I doubt it," Maw said.
DeLaughter's own trial came as a result of two former law partners of prominent Mississippi Attorney Dickie Scruggs, Alwyn Luckey and Roberts Wilson, suing Scruggs in 1994 for allegedly cheating them of the rightful portion of their legal fees.
U.S. Magistrate Judge Jerry Davis ordered Scruggs to pay Luckey more than $14 million in 2005, but DeLaughter disagreed with Davis' decision after Scruggs' legal team brought on former Hinds County DA Ed Peters—DeLaughters former boss—who prosecutors say corruptly influenced DeLaughter.
Scruggs hired former Booneville attorney Joey Langston and Timothy Balducci to assist in retaining Peters. Langston and Balducci later pled guilty to paying Peters $1 million to influence DeLaughter, and to dangling the possibility of a federal court appointment before DeLaughter, with the help of Scruggs' brother-in-law, Sen. Trent Lott.
Lott resigned from public office the day before Scruggs was indicted in late 2007, though he has denied any wrongful participation in the scheme.
Balducci testified that Peters was speaking with DeLaughter and that the two shared a close enough relationship on the case for Peters to show Scruggs one of DeLaughter's judicial orders before the judge had even filed it.
DeLaughter is pleading to a lesser charge, however, pleading guilty to knowingly misleading FBI investigators by claiming he "never spoke to Ed Peters" on issues relating to the Wilson case. Peters, who has been offered immunity for his help in assisting prosecutors, contested DeLaughter's claim.
DeLaughter could get up to two decades in prison for the charge.
Missisisppi College School of Law Professor Matt Steffey said the real prize in the whole debacle should be the guy who willingly coerced others into corruption.
"The U.S. attorney may prize catching a judge, but there is little doubt that Peters' culpability was vastly greater," Steffey said. "He's a gun for hire. He is literally an illegal influence for hire. It's nothing but avarice and trading on his former role as a district attorney and trusted former confidant. Its one thing to plead to a reduced charge, but in my judgment, complete immunity was too high a price to pay. Nobody else escaped scott-free like Peters, who merely disgorged the net proceeds of his ill-gotten gains to federal authorities."
Peters lost his law license, but Steffey pointed out that Peters would have lost his law license regardless, and that its loss "certainly isn't going to make Peters unemployable.
More stories by this author
Support our reporting -- Follow the MFP.