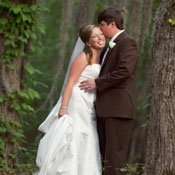 In January 2005, when Bethany Boteler was 17 and a senior in high school, she went with a friend to meet a boy at McAlister's Deli in Richland.
"She wanted to go meet him and didn't want to get in trouble by herself, so she dragged me along," Bethany, now 22, says. The guy planned to bring one of his friends along to entertain Bethany.
At the time, Josh Sabins was 19 and a nursing student at Hinds Community College. He was waiting with his friend at the deli when he saw Bethany get out of the car, and he thought right away that she was way too good looking for him.
"I let my guard down," Josh likes to tell Bethany about the night they met. "There was no use in me trying to date you because I didn't think I had a chance." Josh had a red Camaro and took Bethany for a drive, and the two of them hit it off right away.
"I called a friend of mine, like, two days after I met (Josh) and said, 'OK, so I think I've found the guy I'm going to marry,'" Bethany says. "But obviously, I did not tell him that."
Bethany says that Josh, now 24, later admitted that he was feeling the same way, but he was too scared to say anything. While the girl and guy who introduced them didn't wind up together, Bethany and Josh did.
'No Time Like the Present'
Last summer, four-and-a-half years after Josh met Bethany, he crafted an elaborate plan to propose to her on a trip to Dauphin Island with friends. However, due to a family emergency of one of the friends, they cancelled the trip.
Josh had to think on his feet. He wanted to propose to Bethany before she started her second year of nursing school, because she soon would be too busy for a weekend getaway. He decided to take Bethany tandem skydiving, which was something that they had both always wanted to do.
On Sunday, July 20, 2008, Bethany and Josh got up early to go skydiving in Lumberton, Miss., outside Hattiesburg. Josh jumped first, and he had arranged for one of the women on staff to bring him Bethany's engagement ring once he landed. He planned to propose as soon as Bethany joined him.
Because it was so hot, Bethany felt extremely nauseated with motion sickness while skydiving. Once she landed, she sat in the open field, head down and breathing deeply.
Josh didn't know what to do. He asked his skydiving partner, a staffer, for advice. His answer: "No time like the present!"
Bethany was still on the ground, not even looking at Josh because she felt so ill. She heard him approaching and told him how awful she felt. He replied, "I think this might make you feel better." Bethany lifted her head to see Josh down on one knee and holding up a diamond ring.
"I'm not a big crier, but I always thought I would cry when I got proposed to," Bethany says. "Well, I was dehydrated and couldn't cry. I had nothing left to cry."
She says that Josh's proposal did distract her from the nausea, but she still wasn't able to stand.
"I wanted to get up and jump and hug him, but I didn't have the energy," she says. "I ended up pulling him down on the ground with me." And, of course, she said yes.
The Ceremony
Since she was a little girl, Bethany had dreamed of having her wedding in the meadow behind her parents' 100-plus acre property in Florence. Her dad, Sidney Paul, tried to dissuade her from an outdoor wedding because of the many uncontrollable factors, but he indulged her. .
A half hour before the 7:30 p.m. wedding on Friday, June 12, guests began to arrive at the Boteler family home. They could see a beautiful pond and thick woods as they made their way to the wedding area, stepping carefully through the grass in their dress shoes.
Guests took their seats in the white folding chairs arranged in the wide grassy area between two tree lines. Bethany's cousin, a graphic designer, had cleverly designed her wedding program into a fan made of glossy cardstock. The guests used the fans to cool down in the humid weather.
Under a simple metal structure decorated with orange flowers, Josh and his best man—his father—took their places alongside a small altar as the ceremony began.
Because Bethany considers herself a non-traditional person, she used contemporary Christian music throughout the ceremony. The wedding party, dressed in blue and brown, processed in to the song "He Gave Me You."
"Unfailing Love" by Jimmy Needham began, and Bethany walked slowly down the aisle in a white strapless A-line dress, her shiny train floating behind her. She held her dad's arm as she walked toward Josh, beaming the whole way.
With cicadas whirring in the trees around them, Bethany and Josh then took their vows. Afterward, they took part in a unity ceremony, in which they poured blue and brown sand together into a glass vase to symbolize their individual lives merging inseparably. Layers of neutral sand represented their supportive relationship with God.
Once Bethany and Josh had symbolically blended their lives together, Dr. Chuck Herring pronounced them husband and wife, and the crowd clapped.
The Reception
Linen-covered tables for food and guests had been set up under the evergreen trees behind the Boteler home. The sun began to set as guests piled plates with seafood, pasta and Mexican food from the buffet tables. Several plates of appetizers also hung from cross-sections of a tree, which florist and caterer Wendy Putt had rescued after it fell in Jackson during Hurricane Katrina.
Illuminated by torches and strands of white lights, Bethany and Josh stood under a wooden gazebo to cut their cakes, both by The Cake Diva. The bride's three-layer cake looked like an inverted pyramid covered with colorful fondant circles and topped with angular shapes.
To represent his outdoor hobbies, Josh had three single-layer cakes shaped like targets, and one that looked like a pistol in an open carrying case. The groom's cake table was decorated with scattered shotgun shells and photos of the couple hunting and fishing.
Guests sipped ice tea, took snapshots in a photo booth and enjoyed the jazzy background music of The Pates.
The new Mr. and Mrs. Sabins, who will both work as nurses at Mississippi Baptist Medical Center, spent the evening greeting their guests. The very next day, they left for their week long honeymoon on the sandy beaches of Saint Lucia.
Vendors
• Dress: Center Stage Formal (102 W. Leake St., Clinton, 601-924-5989)
• Flowers, catering and decorations: Fresh Cut Catering & Floral (601-939-4518, http://www.wendyputt.com)
• Photography: Followell Fotography (601-488-4423, http://www.followellfotography.com)
• Cakes: The Cake Diva (601-513-4304, http://www.thecakediva.net)
• Videography: Video Images (601-825-0524)
• Music, reception: The Pates (http://www.myspace.com/thepatesrevolution)
Accents
Bethany and Josh's wedding program and favors were useful items that followed the theme of their outdoor wedding.
• Bethany's cousin designed a fan-shaped program that guests could use to cool off.
• Because many of their guests play golf, the couple had golf tees printed with their names and wedding date.
• Meyer Spruce tree seedlings came in a small pouch of soil, with instructions for planting and care.
• Bottles of spring water were printed with the couple's names and wedding date by Mississippi Wedding Water (1-800-841-1668).
More like this story
More stories by this author
Support our reporting -- Become a JFP VIP.
The news business has changed dramatically in the past year, and we need your help more than ever to keep bringing you important stories about Jackson and the Metro. Become a JFP VIP with an annual membership or you can Sign up as a monthly supporter. Thanks for anything you can do to empower our journalism!