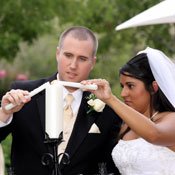 Over several years, international borders and different cultures, Angelia Budhraja and Rickey McAlister found each other.
Angelia grew up in south Jackson, part of an Indian family. Her father, originally from New Delhi, and her mother, from Punjab, moved to the United States in 1978. Although her family was Hindu, Angelia converted to Christianity her freshman year of college, after graduating from the Christian high school, Copiah Academy.
"It was an adjustment," says Angelia of her family's reaction to her religious conversion, "but they were very supportive."
Rickey grew up in a Christian family in Vicksburg. He became a police officer in his hometown, then joined the Air National Guard and did a tour in Iraq. In 2005, he was stationed in Germany. When he saw a picture of Angelia on a mutual friend's MySpace page, he recognized her from a cookout in Mississippi months before. Rickey sent her a message introducing himself, which started a regular correspondence.
After a phone call or two from abroad, Rickey, then 24, and Angelia, then 20, met when Rickey returned from Germany in fall 2005. Over lunch, they discovered that they were as compatible in person as they were across an ocean.
"She had a great head on her shoulders," Rickey says. "She loved to laugh and joke around, and I'm like that, too."
"We clicked," Angelia says. "It was just natural, like I'd known him forever."
Bridging the Gap
Rickey and Angelia didn't find the interracial relationship challenging, but they did make sure their families connected despite different backgrounds and beliefs.
Even though Rickey was enrolled at Mississippi College and Angelia at the University of Southern Mississippi nearly three hours away, they made their long-distance relationship work. Finally, Angelia moved back to Jackson in 2008.
One December evening last year, Rickey gave Angelia a little box with an ornament inside. On the ornament were two snowmen and the words "Rickey and Angelia 2008. Will you marry me?"
'Love conquers all'
The couple wanted a traditional Christian wedding ceremony, followed by a full Indian reception so they could honor both cultures and introduce their friends to Indian traditions.
On the Thursday night before the wedding, the women close to Angelia gathered for a ladies' sangeet.
"It's a traditional get-together when women sing funny songs about their husbands and wish the bride a prosperous marriage," Angelia says. They also apply henna, a brown dye, in intricate patterns to the bride's hands and feet.
The sun broke through the rainy weather Saturday, Sept. 19, as 200 guests gathered for the wedding outside the Mississippi Museum of Art. Dr. Ivan Parke, a Baptist preacher who knows the couple personally, officiated the ceremony. Dr. Parke is of Indian descent and is married to a white woman, and Angelia felt she could relate to his personal background.
"I felt like he was the biggest testimony, because I wasn't standing alone as an Indian Christian," she says.
Angelia wore a white, beaded strapless dress for "something new," her deceased grandmother's ring on a pearl bracelet for "something old" and bright blue stiletto heels as "something blue."
Rickey's ring is engraved with "amor vincit omnia"—"love conquers all"—representing the challenges of distance and cultural differences that he and Angelia had overcome to be married.
Symbols of Unity
Angelia had spent a week in New Delhi, India, and bought all the outfits that she, her bridesmaids, flower girl, her mother and even Rickey's mother wore at the reception. During the hour-and-half break between the wedding and reception, the women changed into their traditional Indian garments. They all wore lenghas (flowing skirts with a matching blouse), Indian pantsuits and saris, or wraps of different colors.
Angelia wore a strapless lengha, bright red with sparkling accents. She accessorized it with wide Indian bracelets, called chuda, thick gold jewelry with precious stones and a tika jewel draped over her hair. On their foreheads, Angelia and the women in the wedding party wore bindis (decorative jewels).
The reception filled the ballroom at the downtown Jackson Marriott. DJ Balvinder Bhandari played a mix of Indian and American music.
The wedding cake was decorated in a henna pattern but topped with a silver M for "McAlister." There were two buffets, one with American fare such as grilled chicken and pot roast, and another with Indian foods including samosas and curries.
After the wedding, Angelia joined Rickey in Biloxi, where he works for the Mississippi Tax Commission. She works in customer support for the Stuart Irby Co., an electrical distribution company, and transferred to the Biloxi branch.
Rickey and Angelia plan to have children in a few years and want to raise them bi-culturally.
"I want them to know a little bit of Hindi," Angelia says. "I want them to eat Indian food, and when we go to get-togethers, I want them to wear the Indian clothes."
Vendors
Photography: Photography by Krishna (601-720-3686, http://www.photographybykrishna.com)
Indian Buffet: Ruchi India (601-366-9680, 5101 Interstate N. 55)
American Buffet: Jackson Marriott (800-256-9194, 200 E. Amite St.; Catering Director: Margot Kudo)
Cakes: Dream Cakes (601-992-2708, 5651 Highway 25 #C, Flowood)
Flowers: Greenbrook Flowers (601-352-5743, 705 N. State St.)
Wedding Music: Jackson String Quartet (601-201-8558, http://www.jacksonweddingmusic.com)
Reception Music: DJ Bally International (770-803-9661, http://www.djbally.com)
Accents
DIY Wedding Planning: Angelia did it all: She booked the venues and vendors for the wedding and reception and planned the honeymoon.
Favors: Angelia bought dark pink, hand-beaded trinket boxes in India, which she filled with assorted nuts and raisins and gave away as favors. Sweets at a wedding are an Indian tradition.
More stories by this author
Support our reporting -- Follow the MFP.