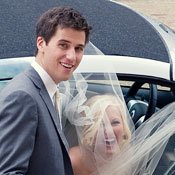 Cori Anderson, then 16, was at a friend's house back in summer 2002 when she overheard Mark Sullivan, 18, telling someone he wanted to get rid of his car in order to minimize his carbon footprint.
"When I heard that, even though I had a broken foot at time, I ran full-speed across the room and sat down beside him to talk about air pollution," Cori recalls. "We talked the rest of the night. The next day I informed Mark that we were obligated to be friends."
Both had attended Madison Central High School, but hadn't known each other. But even with Mark leaving for college at the California Institute of Technology at the end of the summer, the two spent time together and made an effort to stay in touch when he left.
When he returned the next spring to visit, they found their friendship had grown into love.
"He was perfect for me. We were well matched in ethical and political views, music taste and sense of humor," Cori says.
For the next three years, they wrote letters and bought costly cross-country plane tickets while Cori attended Birmingham Southern College.
In fall 2006, Cori and Mark both moved to Seattle to attend graduate school at the University of Washington. Cori is pursuing degrees in environmental policy and management, while Mark is working on his doctorate in algebraic topology.
In Seattle, they settled into an apartment, adopted a dog named Abbey and began planning their future.
Conscious Decisions
In April 2008, Cori and Mark went ring shopping at Alana, a Seattle shop that carries antique and estate jewelry. Striving to be socially conscious, they decided that purchasing a used diamond would decrease the demand for a market fueled by the practice of conflict diamond mining.
Profits from conflict diamonds, better known as "blood diamonds," are known to have funded civil wars by warlords and rebels and arms in Africa.
"The way I rationalized it is that this diamond was mined years ago, not for me," Cori says. "By buying it used, I am not increasing the demand for new jewelry."
On a Saturday morning, a week later, Cori woke up to discover a three-course breakfast waiting for her.
After the lavish meal, Mark got down on one knee and presented Cori with her chosen ring. Without hesitation, she said yes.
The couple decided to get married in Jackson, where their families still live and where a wedding would be more affordable.
From the beginning, Cori and Mark wanted their wedding to reflect their passion for conserving the environment.
"Obviously, environmental policy is my interest, and it's close to both our hearts," Cori says. "I knew when we got married that we'd have to do this as responsible as possible."
On Sept. 12, Cori walked down the aisle of Galloway Memorial United Methodist Church wearing her mother's wedding gown. The dress, altered to fit by Sandra Ashford, owner of The Ashford Collection in Ridgeland, was a vintage floor-length gown made from organza fabric and embroidered with white petals.
"Even if my mom's dress had not been an option, I would not have bought a dress," Cori says. "This was the theme for the decisions we made. From the most minor decision to the most major decision, the first thing we asked was 'what's the most socially responsible thing?'"
To support the local economy, the couple decorated the church with 200 stems of zinnias and celosias bought from Belhaven Market florist Ric Shafer.
Labors of Love
After the ceremony, the couple drove a rented Smart Car, chosen for its fuel efficiency, to the reception in the Westbrook House at Mynelle Gardens. Located in West Jackson, the gardens encompass seven acres of lush gardens, winding paths and flowing streams. Maintained by the city and community volunteers, the arboretum is an example of the creation of green spaces in urban neighborhoods—a concept the couple wanted to support.
"Public gardens are a public good, and people want green spaces where they can go and see beauty in a part of town that has lower incomes," Cori says. "Studies about green space have determined that it improves the quality of life."
As a labor of love, Cori's father, Willie Anderson, catered a buffet dinner with her godfather, Charles Brister. The meal included pulled pork, jambalaya and Asian cole slaw. The plates and utensils were all biodegradable and taken to a nearby compost facility afterward.
The couple opted to use an iPod and a borrowed sound system for their music to save money and conserve energy. "If you have a five-to-10 person band with stage lights and sound equipment, that is going to zap a lot more electricity than an iPod," Cori says. The guests spent the evening dancing to everything from Frank Sinatra to Beyonce.
The following day the couple left for a 10-day adventure honeymoon to Costa Rica, a country rich in natural beauty and ecotourism.
"The government and people of Costa Rica are making a discernible effort to cater to tourists in ways that are eco-friendly," Cori says." We were able to go on naturalist guided tours and stayed in hotels noted for their high sustainability ranking."
Assistant editor Lacey McLaughlin contributed to this article.
Know of an interesting couple planning a cool wedding? Do you offer creative wedding services? E-mail [e-mail missing].
Accents
Sharing the Green: Follow Cori's blog about planning an eco-wedding on a budget at http://www.andsomethinggreen.blogspot.com
Cakes for a Cause: The two cakes were from Village Confections, an entrepreneurship program of The Christmas Village in Canton that helps struggling pregnant women and teaches them life skills.
Previous Comments
ID

152803

Comment

Thanks for the story, y'all! Just one quick correction- the groom's cake was from For Heaven's Cakes, who I highly recommend. Her contact info will be posted on my blog.

Author

casullivan

Date

2009-10-21T23:28:55-06:00
Support our reporting -- Follow the MFP.