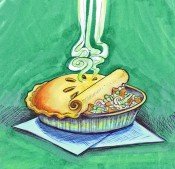 I have had this idea for a while about opening a pie shop in town similar to one I visited once upon a time in Seattle. This shop would serve various types of pies, but not the ones you think. Sure, pecans and cherries and strawberries make fine fillings, but what about all those other items you pass in the produce and sections on grocery trips? It's time to think about how they would make your mouth and stomach very, very happy.
I used to shudder at the term "meat pie." I envisioned some awful mingling of ground beef and strawberries and garlic and who knows what else. My brain went to odd places until I took it to the kitchen. Now I like to experiment with mixtures that could be potentially disturbing to one's taste buds, but why not have an adventure? We know chicken goes well with carrots, beans and corn to make chicken pot pie. Natchitoches, La., has even made meat pies an official state food of Louisiana with its signature small fried pies filled with beef, pork, onions, peppers and garlic.
I have thought a lot about what I cook well, and meat pie isn't one of those. Well, it isn't, yet. Thankfully, my good friend Russel had already done the hard part for me.
My friends and I used to have a monthly supper club that carried a different theme every time. The month we tried to make good Indian food, we insisted that someone either purchase or make samosas. The problem here is that samosas are best when fresh and crunchy and fried (much like the Natchitoches meat pies), but no one had a kitchen equipped to make the real thing. So Russel did the next best thing: Instead of making individual samosas, he turned the whole dish into a pot pie. To this day, his samosa pot pie is the reason I adore him. (Don't tell him that it beats out his charming wit and curious intellect).
The pie contains the same ingredients as a samosa: potatoes, peas, onions and the delicious tingle of garam masala. It becomes slightly healthier by skipping the deep-frying, instead baking it in two pie shells. The pie is a meal in itself, although I will often try to add something green like salad to the plate.
I made this pie often for my housemates in Portland. One day, my great pal Colette came to dinner with homemade coconut ice cream in hand. We added the ice cream to the pie plate with just a drizzle of key lime chutney, and holy moly. It's definitely a decadent meal, but reader: Worth. Every. Bite.
This is the first in a line of accidental successes in the kitchen, but it has made me think long and hard about the ways we serve food, and how meals happen. Why can't we have a savory pie along with a sweet ice cream? Must we always default to strawberry pies with plain old vanilla ice cream? Not at all.
Add some rhubarb to your pie next time, and make your ice cream at home with some black pepper thrown in for a palate tease. Perhaps a curried chicken and vegetable pie with lime sorbet? I could go on, but maybe I'll save my ideas for some future menu.
Get creative with your pies. Make a few at a time, invite your friends over and serve with something light and refreshing to drink (pomegranate lemonade comes to mind) for a summertime delight.
Samosa Pot Pie
Two frozen pie shells
1 cup diced sweet onion
1 hearty tablespoon minced garlic
8 ounce bag of frozen peas
1 pound of potatoes (golden or russet)
4 cups water
2 tablespoons sesame oil
1 tablespoon Garam Masala
Salt to taste
Chili pepper to taste (for more desired heat)
Black pepper
Begin by putting pie shells out to thaw and heat oven to 350 degrees. Chop potatoes into small pieces and boil for 5 to 6 minutes. Drain well. While potatoes are boiling, heat 1 tablespoon of oil in a skillet on medium heat; add garlic and onions. Sauté until they begin to turn clear. Add second tablespoon of oil, drained potato pieces and frozen peas. Stir all together and sprinkle garam masala, salt and pepper while continuing to stir. Once mixture is thoroughly coated, pour into bottom pie shell. Add pie shell to top and vent middle by cutting two slices. Bake for 35-40 minutes or until golden.
Coconut Ice Cream
3 cups unsweetened coconut milk
5 to 6 tablespoons Agave (or 1 cup sugar)
1 teaspoon Mexican vanilla powder or 1 vanilla bean
Whisk all ingredients together and make according to your machine's settings. This is similar to the Coconut Bliss brand of ice cream and will be close to soft serve in texture. Add a scoop to your samosa pot pie for explosive results.
More like this story
More stories by this author
Support our reporting -- Become a JFP VIP.
The news business has changed dramatically in the past year, and we need your help more than ever to keep bringing you important stories about Jackson and the Metro. Become a JFP VIP with an annual membership or you can Sign up as a monthly supporter. Thanks for anything you can do to empower our journalism!