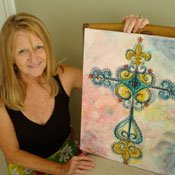 On a Tuesday night, I picked up a bottle of malbec at Kats Wine Cellar and drove to the clubhouse on the reservoir where artist Karen Blake teaches art classes to people of varying age and skill. Dressed in a flowered wrap skirt and big earrings, she welcomed me with a smile. Colorful canvases were on display around the clubhouse, and Blake had set up painting stations, three per table, with 16-inch-by-20-inch blank canvases set on easels.
"I'm trying to create art here that different people might enjoy," she said, showing me a variety of scenes: the streets of New Orleans, for example, and natural subjects like flowers.
A Jackson native, Blake has painted since she took an art class at Jim Hill High School. She moved to the New Orleans area in the 1970s, where she learned from the renowned painter John Akers, her friend and mentor, and held art shows to sell her work. On the eve of Hurricane Katrina, she returned to Jackson and made her home here once again. She opened Vino Van Gogh in May, inspired by visits to similar venues in Alabama and Louisiana.
Students sign up for a class on the Web site (http://www.vinovangogh.com) based on the painting they want to recreate. They bring their favorite beverages (vino is optional), and Blake provides the materials and instruction. The idea is to have fun, learn a bit of artistic technique and create an original work of art to keep.
Blake says that she believes that participating in Vino Van Gogh "instills confidence and a sense of accomplishment." She thinks that her students have "a certain amount of pride to be able to go home with a painting to hang on the wall, or to wrap and give as a gift."
As the other students began to arrive, three female friends introduced themselves as Leigh Anne, Jennifer and Nichole. Blake chatted with them easily, as if she'd known them for years instead of minutes. A young woman and her mother, Angelique and Brenda, were next to arrive. It looked as if it would be a ladies' night.
"Pour yourselves some wine," Blake said, handing us plastic cups and corkscrews. She didn't have to tell us twice. Once we'd filled our cups, we gathered around the painting of the night: red poppies with thin green stems on a white background.
Blake began the class, as she always does, with an introduction to orient her students and put them at ease.
"There's no pressure, there's no right, there's no wrong," she said, gesturing energetically and smiling. "Whatever comes out on your canvas, it's still going to be art, and it's going to be your art."
Blake explained that we could paint a background in the color and pattern of our choice. We stood at our stations, where Blake gave us each a couple of Styrofoam plates: one with dabs of acrylic paint, and an empty one for mixing. She placed a cup of water for our brushes at each station.
"If you dip your brush in your wine, it's not going to ruin your painting," Blake said. "It will just make it that much more interesting when you describe it to your friends."
Brushes on Canvas
At Blake's instruction, the other students and I each chose a medium-sized brush from our cups that we wet thoroughly and swiped across the blank canvas. I mixed a bright orange for my background.
I could see the sun setting on the reservoir as I picked up my brush, loaded it with orange paint, and tentatively touched it to the canvas. Each brushstroke seemed dauntingly permanent. I took a big sip of wine—liquid courage—and began swiping more confidently. Almost immediately, I didn't worry anymore about how the painting would come out, because I was having too much fun. I dabbed on yellow and swirled it in with a dry brush until the background looked like a brightly sponge-painted wall. The other women and I talked to each other as we worked, exchanging personal stories and peering over to offer encouragement.
Next, Blake showed us the basic techniques she used to create the stems, loading up a brush with green, yellow, and white and making a single brushstroke upward. She suggested that we paint the buds like upside down teardrops, in two strokes.
Although the green stems I painted stood out nicely against the brilliant orange background, they were several times thicker than everyone else's. I figured that I'd make my poppies bigger, too, to compensate.
"My buds look like they're fighting each other," said Nichole, standing back from her canvas and laughing. "That one looks like Audrey from 'Little Shop of Horrors.Ҕ
The poppies were next, painted in three fat downward strokes of bright red. To create the dark middle of the flower, Blake showed us how to use a dab of black and feather it upward with a dry brush. I painted big petals to make my stems look slimmer, but they still looked wide. Artistic license, I decided.
The other women made comments and laughed good-naturedly about their own work as they went along. I took a lap around the room and saw that we'd all captured the same subject differently. We had painted our backgrounds in different colors and patterns, and each canvas showcased a distinctive personal style.
The Evidence
After we'd run a blow dryer over our paintings to dry them, Blake asked us to gather for a group photo. We obliged, smiling and holding up our work for the camera as proud as a bunch of kindergarteners. She thanked us for coming and gave us each a wooden corkscrew on our way out the door. Several of the women said that they would be back soon to do another painting.
As I walked out into the humid night, holding my painting and a near-full bottle of wine (thank you, screw-top), I felt pleased with myself. I'd been able to silence the little voice inside my head that said I wasn't a real artist. After all, I was holding a painted canvas in my hand, which was evidence to the contrary.
For more information about Vino Van Gogh, contact Karen Blake at 601-316-9005 or visit http://www.vinovangogh.com. Two-hour sessions are $35 per person, and three-hour sessions are $45.
More like this story
More stories by this author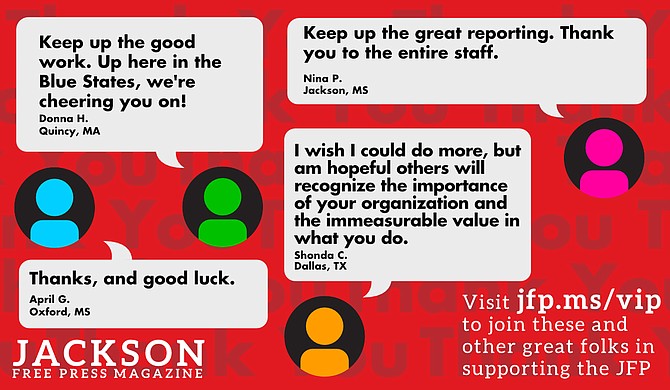 Thanks to all our new JFP VIPs!
COVID-19 has closed down the main sources of the JFP's revenue -- concerts, festivals, fundraisers, restaurants and bars. If everyone reading this article gives $5 or more, we should be able to continue publishing through the crisis. Please pay what you can to keep us reporting and publishing.