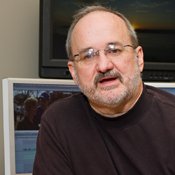 As I walk into Don Warren's office, I can't help but feel the cool vibes that inexplicably come with being a cinematographer. He shakes my hand and immediately begins chatting about his alma mater, The University of Southern Mississippi, and showing me videos he has recently done about the killing fields in Cambodia and inspirational short videos about Marathon Makeover.
Despite his ever-busy schedule, Warren, 52, is getting ready to pack his bags for the Sundance Film Festival, where "Prom Night in Mississippi," a film he helped create, will premiere Jan. 17. The film follows students at Charleston High School in the Delta, attending their first integrated school prom, funded by Morgan Freeman, after years of segregated proms.
What was your role in creating "Prom Night in Mississippi?"
I was one of the cinematographers on it. I got a call because I have a jimmy-jib, a camera crane. Paul Saltzman, who was the director, was coming down in September of 2007 to shoot a film about his return to Mississippi. He had come down and worked in the Civil Rights Movement during the '60s. So, actually, while we were shooting that film, this other film ("Prom Night in Mississippi") happened. Thabi Moyo kind of discovered this story, and Paul (Saltzman) really explored it.
What was the most shocking thing you learned while making this documentary?
My mom was from Charleston, Miss. My mother actually grew up in Cascilla, Miss. My mom should have gone to another high school, but she wanted to go to Charleston High School. So she proposed to her father that he let her go to Charleston. There was a guy in their neighborhood that drove to Charleston every day to go to school, so she told her father that if he let her go to Charleston she would be the valedictorian. I only really found out about this story after I had gone up there.
While I was waiting in the auditorium for Morgan Freeman to show up, I was talking to the principal, Bucky, and I said: "I think my mom went to school here. I think she graduated from school here." He said, "What year?" And I said, "1947, I think." He said, "Come here." We walked into the hallway with all the composite photos. I looked at 1947, and I saw my mom's photo, and it just tore me up. She was the valedictorian.
What message do you hope the film will send to all of those watching at Sundance Film Festival?
I haven't seen the final cut, yet. I hope they will understand this is an extreme case in Mississippi and that probably Charleston High School was the last of any schools that would have a segregated prom. That's just crazy. If you are going to go to school with a group of people, eat in the same lunchroom with these people, sit in class with them, why would you not work on a social level there?
What do large film festivals such as Sundance mean for you and your work?
Wow. It's huge. I guess I am a little skeptical of things—maybe I'm getting too old, you know? I didn't put much stock in that at first, and I was thinking "Yeah, yeah. OK, Sundance. Big deal." But it is a big deal. They make a big deal of it. When I started getting e-mails from the festivals saying: "Hey, you're a cinematographer on this project, you are afforded all of these perks. Will you come?" Then I started thinking, "Hmm, maybe it is worth the time." So I am going to go and spend a little time with our group.
What projects are you working on next?
I have The World Poker Tour next week. I am also doing some local commercials and some in the Delta for a hospital. As far as documentary work, I am all the time doing stuff on (marathon-training program) Marathon Makeover. We have hours and hours and hours of footage. That's kind of a passion of mine right now because I have seen how that has changed people so very much.
Have you ever run in a marathon or think you ever will?
I have not run in it. I ran with my camera a lot in Chicago this last time I went. I probably went 14 miles with my camera, shooting. I would pick our people out of the crowds and, I mean, when you've got 45,000 runners it's quite a job. But I had spotters to come with me and I had a press pass, so I was able to visit with the Kenyans that won. One day perhaps, I'll run a marathon.
Films that inspire Don Warren:
• "Hearts of Darkness: A Filmmaker's Apocalypse"
• "Being There"
• "Wizard of Oz"
• "Star Wars" series
• "As Good As It Gets"
• "Jerry McGuire"
• "Stripes
More stories by this author
Support our reporting -- Become a JFP VIP.
The news business has changed dramatically in the past year, and we need your help more than ever to keep bringing you important stories about Jackson and the Metro. Become a JFP VIP with an annual membership or you can Sign up as a monthly supporter. Thanks for anything you can do to empower our journalism!