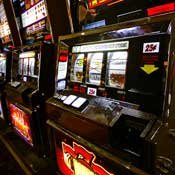 Casino gambling revenue in Mississippi exceeded $221 million in January, reports Forbes.com, an increase of 8 percent over December, though statewide revenues were down $3 million over January 2008.
In the U.S., a report issued yesterday by Ernst & Young, and summarized on Public Gaming Research Institute Web site says that online gambling "will come out better off than traditional gambling forums during the lean times. A world wide market is one factor leading to this conclusion, as is the fact that people are staying at home a lot more these days. During a down turn in the economy we tend to look at easy forms of entertainment with some thrills attached of course."
Last August, the Online Casino Advisory Web site pointed out: "While much of the casino industry suffers from lost business and declining revenues, many Indian casinos continue to show revenue growth and operate in a very healthy economic environment."
The same column pointed out that while Las Vegas revenues may be down, those loses point to Vegas' diversification into "entertainment" venues, including restaurants, Broadway-style shows, hotels and other activities that are not recession proof, according to Sherman Bradley of the OCA.
'Indian casinos provide an atmosphere much like the Las Vegas casinos of twenty-five years ago. Gambling is the engine that drives them, and any shows, events, or satellite businesses are conducted with the single purpose of drawing gambling patrons.
"While Strip casinos may pull in families looking for pooltime and tours, and young hipsters searching for club life, the Indian venues have by and large concentrated on making every decision based on one question: will this increase wagering?
...
"I have said members of the gambling industry is in economic straits because they no longer are in the gambling business. Tribal casinos have largely stayed in the gambling business, and their growth continues despite the country's economy."
Numerous studies have linked gambling to increases in poverty. In 2007, South Africa commissioned a study on a proposed amendment to allow interactive gambling. That study, "COSATU Submission on the National Gambling Amendment Bill," said, in part:
"(Gambling) gives false hope and promises to people that they can escape the misery of poverty, instead often plunging them into debt and deeper poverty. Instead of directing resources to productive investment, gambling takes away from the poor to the rich. It promotes greed. John Maynard Keynes once said that the only people who win from gambling in the long term are those who operate the gambling."
Not surprisingly, the study recommended that the government reject the proposal to expand gambling activity.
In Mississippi, gaming revenues are taxed at 12 percent, which goes into the state's general fund. The industry employes more than 30,000 workers with an annual payroll of $950 million, according to Mississippi Gaming News.
Previous Comments
ID

144143

Comment

With Las Vegas, many millions who visit have to travel long distances to get there, as opposed to casinos run by Native Americans, which tend to be closer. People are not traveling like they have been, thus places like Las Vegas will continue to see the drop-off until the economy gets better.

Author

golden eagle

Date

2009-02-26T18:40:38-06:00
More stories by this author
Support our reporting -- Follow the MFP.