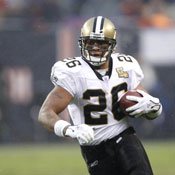 Earlier today, the Associated Press announced that the New Orleans Saints have released running back Deuce McAllister "in a move that reduced the team's payroll as free agency approaches."
According to the story, McAllister has undergone reconstructive surgery on both knees to repair anterior cruciate ligament (ACL) tears, one of the most common knee injuries, especially in athletes. His knees reduced his role on the team last year, with only "107 carries for 418 yards."
McAllister, the Saints' all-time leading rusher with 6,069 yards, was due over $7 million next season. The Saints said they granted McAllister his release so he could seek offers from other teams.
...
"Decisions like this are always very difficult ones to make," Saints general manager Mickey Loomis said. "Deuce has epitomized hard work, leadership and productivity throughout his career and has been a source of great pride for all of us associated with the team."
A first-round draft choice in 2001, McAllister also holds team records for touchdowns (55) and rushing touchdowns (49) and is the only Saints player to rush for 1,000 yards in a season four times.
He played in the Pro Bowl in 2002 and 2003. His last 1,000-yard season was 2006, when the Saints advanced to the NFC championship game.
Previous Comments
ID

143663

Comment

Noooooooooo! Say it ain't so, Joe. Here's hoping the Cowboys pick him up. That'll clear up some allegiances for me. ;-)

Author

Todd Stauffer

Date

2009-02-17T14:50:00-06:00
ID

143669

Comment

This is such a rotten game and it's all about MONEY & POWER. I'm saddened because Duce has been a great Icon for this State. His business investments and positive marketing of MS have been outstanding. I hope that he will stay invested in this State and that he knows that because New Orleans gave him the boot, MS continues to say in the words of an old Aretha Franklin tune : I'll "Take Him."

Author

justjess

Date

2009-02-17T15:35:34-06:00
ID

143673

Comment

I'm actually not surprised of Deuce being released. Towards the end of the season, word was getting around that his time was coming to an end. I actually don't want to see Duece in a Cowboys uniform. Nothing against Duece, but his best days are behind him and the Cowboys have quite a number of backs to choose from already.

Author

golden eagle

Date

2009-02-17T17:28:33-06:00
ID

143699

Comment

If you're on Facebook, click this link to RSVP Thursday's Meet & Greet Deuce. Here are the details: Event: Meet and Greet with Deuce McAllister at Jackson Speaks! "Come meet Deuce McAllister at Jackson Speaks!!!" What: Informational Meeting Host: Friends of John Horhn Start Time: Thursday, February 19 at 5:00pm End Time: Thursday, February 19 at 7:00pm Where: Willie Morris Library

Author

Ronni_Mott

Date

2009-02-18T11:21:21-06:00
ID

143702

Comment

I'm not on Facebook; how can I RSVP?

Author

golden eagle

Date

2009-02-18T11:51:04-06:00
ID

143705

Comment

Try contacting the John Horhn campaign: 601.500.5200.

Author

Ronni_Mott

Date

2009-02-18T13:23:40-06:00
ID

143707

Comment

Cowboys don't need Duece. I concur with goldeneagle...he'd do best to go someplace where he might actualy get some playing time. No surprise, he's been hurt more than he's been healthy. In a perfect world he'd have a spot because he's a good guy, but come on, the guy is hanging on by a small thread...he's not healthy, bottom line. NOw, on the other end of that...he has done MAGNIFICENT things in the Jackson area and I personally believe that he will continue. He seems to be that kind of guy. I look forward to having him play a major roll in the changes Jackson seeks. I'm sure he'll continue to be a part of this movement. I SURE HOPE HE WILL. Golden eagle, I'm not sure you even have to RSVP, it's open to the public and we'd love to see you there. PS. Todd, we need a QB (or at least a poser to put some fire under ROMO)....here's hoping for Micheal Vick!!!!

Author

Queen601

Date

2009-02-18T14:13:19-06:00
ID

143709

Comment

Heard last night on ESPN that Vick will probably get supended for another year after he gets out of prison in July, it will be the 2010/2011 season before he can ever play if he does get another year.

Author

BubbaT

Date

2009-02-18T14:21:23-06:00
ID

143714

Comment

The Falcons are also shopping around Vick's contract, so his days at Atlanta are done. A lot of Saints players do somehow end up with the Falcons, so don't be suprised if Deuce goes there.

Author

golden eagle

Date

2009-02-18T14:34:46-06:00
ID

143715

Comment

Uh... BubbaT...WHAT???? WHY?

Author

Queen601

Date

2009-02-18T14:43:43-06:00
ID

143718

Comment

Roger Goodell has been trying to make examples out of players who commit crimes while in the NFL. I think Vick's prison sentence is punishment enough, though.

Author

golden eagle

Date

2009-02-18T15:02:31-06:00
ID

143721

Comment

Goodell is pissed that Vick lied to him, and he is making a point that he is the "boss" of the NFL and you don't do that. I don't agree with you, Golden, I thik Vick and any other players that commit crimes and are convicted need to be banned for life. It about time to cleaned up pro sports, look at how many players are arrested every year in just the NFL. They need to make an example of Vick and show the league isn't going to tolerate it.

Author

BubbaT

Date

2009-02-18T15:12:55-06:00
ID

143724

Comment

I'm not saying that athletes shouldn't be punished. Vick is already in prison serving his time; what does suspending him for another season do? And I'm not even a Vick fan. This is about Deuce and I don't want to take the focus away from him. I do hope to catch him and John Horhn tomorrow night.

Author

golden eagle

Date

2009-02-18T15:41:48-06:00
ID

143730

Comment

I hope Deuce goes to another team, anywhere but the Cowpunks ;) , I think people are givin up on his ability to play, he still has a few great years left in him.

Author

BubbaT

Date

2009-02-18T16:07:41-06:00
ID

143731

Comment

I'd still like to see him play a little bit longer, but Deuce has two strikes against him as a running back: being on the wrong side of age 30 and recent injuries. Plus, he will probably end up being a backup somewhere.

Author

golden eagle

Date

2009-02-18T16:14:54-06:00
ID

143735

Comment

ABSOLUTELY golden eagle. I totally agree. I mean really, if the Saints let him go, his chances are slim of "playing" some place. I mean he'll get picked up, but being a starter....hmmmm, I'm not so sure. And "cowpunks" -- BubbaT??? OUCH! That would hurt if I hadn't heard it at least a million times before. Now, I am praying that the guy is able to play and that he is healthy again before he decides to retire. He said in an interview that he feels like he can still play the game...that's really all that matters. Hell, Brett said the same thing, he came back and played (a pretty good display too I might add). So, as a Jacksonian, I'm in full support of Duece and his endeavors. As a football fanatic...it's not looking good for the fella being that he's known for being the "hurt guy" these days instead of being known for his effectiveness on the field. But, I am going to ride with the man and hope for the best for him.

Author

Queen601

Date

2009-02-18T17:10:19-06:00
More like this story
More stories by this author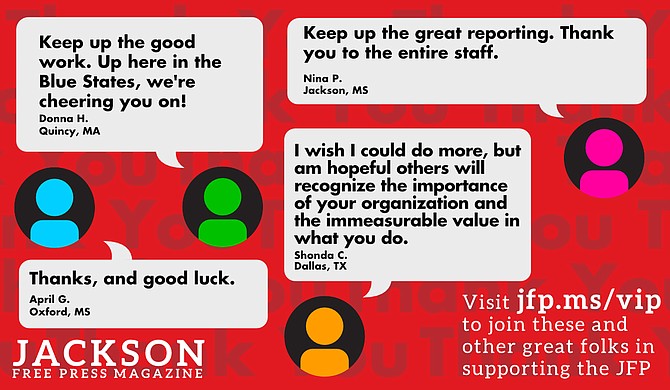 Thanks to all our new JFP VIPs!
COVID-19 has closed down the main sources of the JFP's revenue -- concerts, festivals, fundraisers, restaurants and bars. If everyone reading this article gives $5 or more, we should be able to continue publishing through the crisis. Please pay what you can to keep us reporting and publishing.