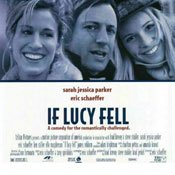 "Kissing Jessica Stein" (2001)
"I was surprised to learn that lesbians accessorized. I didn't know that." —Jessica
Jessica Stein (Jennifer Westfeldt) is a neurotic copy editor in New York who is anything but a risk-taker. After a series of bad dates with a variety of men, she answers an appealing personal ad in the newspaper placed by Helen (Heather Juergensen), a gorgeous "lesbian-curious" woman who runs an art gallery. The women develop a relationship that makes Jessica question whether there's a difference between loving someone and being in love with her. Westfeldt and Juergensen co-wrote the movie and clearly have a passion for the characters in this unconventional love story.
If Lucy Fell (1996)
"You know, I sort of like this dating thing. What I do is sit back and watch as these strange men try to impress you in weird and stupid ways, and then ... you pick the least disgusting one, I guess." —Lucy
Lucy (Sarah-Jessica Parker) and Joe (Eric Schaeffer, who also directs) are best friends and roommates with lackluster love lives. They decide to revive a pact they made in college: If they both don't find love by Lucy's 30th birthday, they'll jump off the Brooklyn Bridge together. Within the date, Lucy agrees to go out with anyone who asks, and Joe has to introduce himself to the
beautiful neighbor (Elle Macpherson) whom he's adored from afar for five years. Ben Stiller is hilarious as Bwick Elias, a concept artist who dates Lucy and takes himself way too seriously.
"Before Sunrise" (1995) and
"Before Sunset" (2004)
"Isn't everything we do in life a way to be loved a little more?" —Celine
These are my two favorite movies of all time. In "Before Sunrise," American man, Jesse (Ethan Hawke), and a French woman, Celine (Julie Delpy), are 20-somethings who meet and hit if off on a European train as it approaches Vienna. On a whim, they leave the train together and walk around the city for an entire day and night. The viewer gets to eavesdrop on their conversation as they discover new places together and become increasingly taken with each other. The movie concludes with the characters agreeing to meet on the Vienna train platform exactly six months later.
"Before Sunset" picks up nine years later. Jesse is an author on a book tour in Paris, where Celine lives, and she astonishes him by showing up at his reading. Jesse has just a few hours before his plane departs, and he spends them walking around Paris and catching up with Celine. It becomes clear that the two did not meet years ago as planned, but they have never forgotten each other. The movie captures the regret the characters have over what could have been and the dream of what could still be.
Directed by Richard Linklater, each movie leaves you eager for the next installment (reportedly, a third is in the works). The movie soundtracks, featuring songs that Julie Delpy composed and sang, are wonderful.
More like this story
More stories by this author