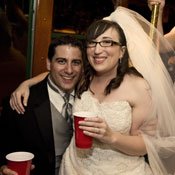 Before Alexis Larkin and Aaron Schwartz met on J-Date, an online Jewish dating service, they each had gone out with people who had stretched the truth about themselves. Alexis had met up with a guy who had said he was 5 feet, 10 inches, but turned out to be shorter than she was, at 5 feet, 5 inches. Aaron had a date with a woman who described her body type as "cuddly" but turned out to be quite a bit larger.
When Alexis and Aaron connected on J-Date in spring 2007, they found each other's authenticity refreshing. After exchanging e-mails for a few weeks and talking on the phone once or twice, they agreed to meet in person. Both felt nervous.
"You've established a rapport at least over e-mail, so on the way there, you're thinking, 'Oh my God, what if we sit there for three hours, silent?'" Aaron says.
Alexis and Aaron met at the Dupont Circle Metro station in Washington D.C., on an unseasonably cold Friday night in April. They felt comfortable with each other immediately and found a place to eat sushi. Afterward, they had drinks at Kramer Books, and by the end of the evening, Alexis knew that Aaron was the man she was going to marry.
Whirlwind Romance
Alexis, a Jackson native who moved to D.C. to attend George Washington University, and Aaron, who grew up in Silver Spring, Md., got serious about each other quickly.
Three weeks into their relationship, Aaron received a scholarship to visit Israel. Around the same time, Alexis happened to find a cheap fare to Ireland, so she proposed a crazy idea: Aaron could meet her in Ireland after his trip, and they could travel together. Aaron isn't normally one to throw caution to the wind, but he welcomed the chance to be spontaneous.
Fortunately, the trip went well. The couple spent two weeks traveling in Ireland, Spain and Portugal. After being together for 24 hours a day, Aaron knew that he wanted to marry Alexis.
The next spring, in March 2008, Aaron was with Alexis' extended family in Los Angeles for a wedding. He pulled Alexis' parents, Dana and Jonathan Larkin, aside and asked for permission to marry their daughter. They happily gave him their blessing.
From then on, Dana and Jonathan were eager for Aaron to pop the question. "Every phone call between March and June was, 'Do you have any news?'" Alexis says.
Fourth of July in Jackson
Although Aaron had thought up a few elaborate ways to ask Alexis to marry him, all of them seemed silly.
"The only thing that I could think of that seemed appropriate for us was just to make a nice dinner and propose," he says. On June 24, 2008, he made a lamb roast, a tomato and mozzarella salad, and vegetables. He and Alexis ate at the kitchen table, a rare occasion because of their small living space.
After dinner, Aaron claimed that he had forgotten something and opened up a kitchen cabinet. He took out the ring that he'd hidden, knelt down on the wood parquet kitchen floor and proposed. Alexis excitedly said "yes." The pair enjoyed a quiet meal together before calling friends and family.
The Fourth of July holiday weekend was a natural choice for the wedding date, because as a teacher, Aaron doesn't get much vacation during the school year. The couple chose to get married in Jackson because it would be much more inexpensive than in Washington, D.C., and because Alexis' family had been longtime members of Beth Israel synagogue. Alexis had been named, bat mitzvahed and confirmed there, and her parents had been married there in 1977.
Mazel Tov!
On July 4, 2009, about 170 guests gathered at Beth Israel at 8 p.m., after sundown on the Sabbath, in accordance with Jewish law. Some of the male guests borrowed silver yarmulkes from a basket in the entryway to cover their heads.
Before the ceremony, Alexis and Aaron had gathered privately with their immediate families, two witnesses and the rabbi to sign the ketubah, the Jewish marriage contract that outlines the responsibilities of the bride and groom. After both had signed it, Aaron lowered Alexis' veil over her face, a tradition rooted in the biblical story of Rachel and Leah. Because Alexis' grandmother couldn't make the journey to the wedding, she watched these rituals via Skype, an online video messaging program.
In the synagogue, dramatic music filled the room as the wedding party processed in. They took their places alongside the Chuppah, the wedding canopy, which one of the members of the synagogue had designed and hand-carved out of wood. In keeping with tradition, the canopy was covered with a prayer shawl belonging to Aaron's dad.
Alexis came down the aisle, looking radiant in a strapless ivory dress with a scalloped neckline and a triple bustle. Underneath, unseen because of her long train, she wore a silvery sequined pair of low-top Converse sneakers. Aaron and his groomsmen were all wearing black Converses. Aaron took Alexis' hand and walked with her under the Chuppah. Their immediate families joined them. Rabbi Valerie Cohen, who officiated the ceremony, guided guests—many of whom were not Jewish—through the rituals. She explained the Havdalah, which separates Shabbat (the Friday to Saturday night Sabbath) from the rest of the week and is made up of four blessings. Nehemiah Luckett, a friend of the couple, sang the blessings to the piano accompaniment of another friend, Josh Wiener.
The ceremony continued with the Kiddushin, the betrothal, during which Alexis and Aaron shared a cup of wine and exchanged rings. Rabbi Cohen recited the Sheva Brachot, the seven marriage blessings, and gave the couple a priestly benediction. She then wrapped the bride and groom in a large prayer shawl, a tallit, which had belonged to Alexis' grandfather.
To conclude the wedding ceremony, Aaron wrapped a glass in a cloth and stomped on it. The breaking of the glass has several interpretations, including the destruction of the Temple at Jerusalem and the irreversible commitment of marriage, but Alexis' favorite is: "This may be the last time Aaron will ever get to put his foot down." As Aaron broke the glass, the wedding celebration officially began, and the guests congratulated the newlyweds by cheering, "Mazel Tov!"
As Alexis and Aaron left the synagogue, Luckett sang Paul McCartney's "Maybe I'm Amazed." Alexis and Aaron then spent a few minutes in seclusion, reflecting on their new life together, according to the ritual known as the yichud. Afterward, they took the Fondren Trolley to the reception, with fireworks exploding overhead.
It was after all, the Fourth of July.
'Sexyback' Meets 'Hava Nagila'
At the glamorous Pan-Asia restaurant, with its 50-foot "water wall" fountain and elegantly lit sushi bar, guests helped themselves to foods like drunken noodles and fresh fish.
The DJ, Danny Brewer, introduced the wedding party, who danced in to upbeat songs like Justin Timberlake's "Sexyback." Alexis and Aaron high-fived their guests as they danced in. Folks from different generations gathered on the dance floor and kept it packed all night.
Later, the DJ asked guests to encircle the couple for the Hora. Alexis and Aaron sat on black chairs with no arms, and several of the strongest men lifted them into the air. The couple stretched a necktie between them and grasped the bottom of their chairs with their free hands, looking both thrilled and terrified as they bobbed up and down. Guests danced around the couple as the Hebrew Folk Song, "Hava Nagila"—"Let Us Rejoice"—began playing, while others stood around and clapped in time.
Once they were safely on the ground, Alexis and Aaron cut their cakes. Alexis' was four tiers tall, with pink fondant cherry blossom branches climbing the sides, in homage to the trees in Washington, D.C. Aaron's cake was shaped like brightly colored giant Legos, the toys he had loved as a kid and still loves today.
Guests snapped their pictures in photographers Adam and Allison Hudson's photo booth, and at the end of the evening they all lined up outside the restaurant. Wedding coordinator Shanna Lumpkin handed each guest a sparkler, which they held up against the night sky as Alexis and Aaron got into a white town car In just a few days, the newlyweds would head off to an adventurous 16-day honeymoon in Turkey.
Vendors
Photography: Adam Hudson Photography (601-317-0595, http://www.adamhudsonphotography.com)
Cakes: Cakes by Iris (601-540-6347, http://www.cakesbyiris.com)
Flowers: Petal Pushers of Madison, Inc. (211 Industrial Drive, Ridgeland, 601-898-8388)
Reception Music: Feel the Beat Entertainment (866-678-0845, http://www.feelthebeatentertainment.com)
Wedding Direction: Shanna Lumpkin Events (601-487-6218, http://www.asouthernaffair.net)
If your fit to be Hitched, e-mail Melia Dicker at [e-mail missing]
Accents
Save the Dates
A friend took pictures of the couple holding "Save the Date" signs in front of the U.S. Capitol building. Alexis added text using Adobe InDesign, and they printed the image on magnets through http://www.magnetstreet.com.
Favors
In lieu of wedding favors, Aaron and Alexis made donations to two international hunger relief organizations, Heifer International (http://www.heifer.org) and Mazon (http://www.mazon.org). Gift Bags
Gift Bags
For out-of-town guests, Alexis and Aaron printed eco-bags with a bold "LOVE" logo and filled them with snacks (http://www.ecologiebags.com).
More like this story
More stories by this author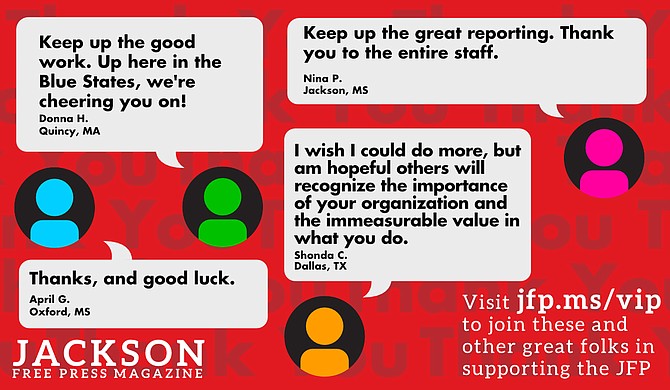 Thanks to all our new JFP VIPs!
COVID-19 has closed down the main sources of the JFP's revenue -- concerts, festivals, fundraisers, restaurants and bars. If everyone reading this article gives $5 or more, we should be able to continue publishing through the crisis. Please pay what you can to keep us reporting and publishing.